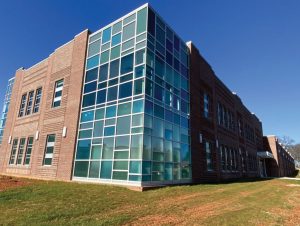 The center's Incubator Program is seeking entrepreneurs looking to realize their dreams.
TW Special Report
Tucked in the foothills of North Carolina across from the railroad tracks in the quaint Catawba County town of Conover with a population of just 8,421, the Manufacturing Solutions Center (MSC) is something of a hidden gem.
But several entrepreneurs with big dreams and little idea how to start a business were lucky enough to find this resource facility — and success has followed. For some entrepreneurs, growth has been exponential. And all of these industrialists credit the MSC for enabling them to find solid footing and not only survive, but thrive.
Nufabrx, InnovaKnits, Yu Apparel Corp. and Evolved by Nature — are four companies that currently are part of the MSC's Incubator Program. More than a decade old, the program allows new companies to set up pilot manufacturing facilities in the center to make product onsite as well as gives them access to the MSC's equipment, resources and services.
As the launching pad for these businesses, the MSC, part of Catawba Valley Community College (CVCC), brings its mission — to help U.S. manufacturers increase sales, improve quality and improve efficiency to create or retain jobs —to life. All in America.
Operating inside the MSC, these featured incubator companies all expanded to a point that the facility has been bursting at the seams in recent years. But fortunately for the center and its tenants, a new 75,000-square-foot facility was recently constructed adjacent to the current space. The Manufacturing Solutions Center II (MSC II) is a joint partnership between the City of Conover, the Manufacturing Solutions Center, Catawba Valley Community College and private investment firm Whiskbroom.
The newly inaugurated building was made possible by $9 million in federal COVID-19 funding appropriated by the state as part of the PPE Initiative, which allowed the MSC to purchase hundreds of thousands of dollars worth of equipment that can be used to test personal protective equipment as well as numerous other products.
Incubator Program Supports Start-Ups
Since 1990, the MSC has offered innumerable services to manufacturing clients, so initiating an incubator program was a logical next step, according to Tony Whitener, Special Projects director at the center. Testing, prototyping, product development, engineering, training, marketing, production sourcing, and cut and sew are just a few of the services offered.
"If you're in manufacturing, it's not just the equipment you have to have to make your product," Whitener said. "It's all the support items such as air compressors, boilers, steam tables, washers, dryers, dye equipment and printers. And then other things we take for granted like meeting spaces, breakrooms and a receptionist. All of that is overhead for companies, so working in this space greatly reduces capital expenses. Plus, we have testing, product development and engineering services available. Within this ecosystem, just think how valuable that is for as startup to have these services in-house."
Each of the incubators also operates in the textile and apparel space, to varying degrees, which allows them to collaborate on specific issues and needs, as well as provide each other counsel, advice and referrals.
Representatives of the four incubator companies all credit much of their success to the MSC. The benefits of locating inside the center have brought cost-effective resources and solutions that could not have been possible as standalone entities, they report.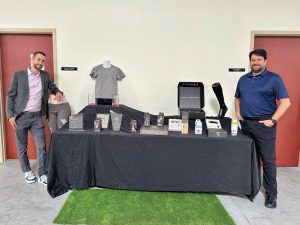 Nufabrx
While in college in Seattle, Jordan Schindler suffered from bad skin, and he learned from his dermatologist that pillowcases are one of the leading causes of acne. That led him to explore the possibility of creating a product to address the issue. After developing a prototype pillowcase embedded with lavender, he solicited the help of MIT scientists, gathered a few angel investors and spent seven years developing proprietary technology to embed active ingredients into yarn itself to make medicinal application easier and more efficient.
After launching the company in 2011, he needed a place to produce in the United States at scale and one of his investors recommended the MSC. So, he flew cross country to meet now-retired MSC Director Dan St. Louis and Whitener, and, "Within 10 minutes of meeting with these guys, I knew that this was the place that we had to be," Schindler said. "It's the only facility of its kind in the country that's designed to promote and grow the domestic textile industry. So we moved the business here."
With very little knowledge of textiles, he quickly learned that the center is a hub of expertise in the discipline, and Catawba County is situated in the heart of the U.S. textile industry.
"Textiles is way more complex than many people think, so having these resources all under roof was going to be incredibly valuable in the success of our business," Schindler said. "I learned that textiles is a 'who do you know' type of industry, and people won't just pick up the phone if they don't know you. But when someone from the MSC makes an introduction, the people who you need to reach respond right away. It really is this network of interconnectivity, which is so important for next generation of innovation."
And "innovation" is the lifeblood of a company such as Nufabrx, he added. Creating a new category it calls "HealthWear™," the company's first commercial products available in market were capsaicin-infused sleeves designed to deliver pain relief directly to areas of the body. During COVID-19, the company developed antimicrobial, shea-butter infused face masks that were such a hit that the Federal Government sent three Black-hawk helicopters to Schindler's facility to pick up 250,000 masks. The company also has launched maternity garments infused with shea butter and shapewear that will combat certain cellulite conditions, while continuing to test many other products.
"We sit at the intersection of pharmaceuticals and drug delivery and textiles and apparel," Schindler said. "So, you think about lots of apparel companies looking for points of differentiation, and they would love to sell in a pharmacy, right? Or vice versa, where a pharmaceutical company would love to sell in sports and apparel. And there is a billion-dollar marketplace where Nufabrx technology sits at the intersection of both of those things."
One of the biggest challenges in modern medicine is patient compliance, he noted. "Consumers don't often remember to take pills or creams as directed, but fortunately we all get dressed every single morning and clothing contacts our skin all day every day," he said. "So, this is the perfect platform for simplifying health and wellness outcomes."
When Schindler moved to Conover, he employed only a scientist and a couple of contractors, so he was wearing a number of hats. But with the MSC's resources at the ready, Nufabrx was able to speed up development tenfold, he recalled.
"There are so many things for a start-up to focus on to get a company off the ground, and the more things that you can remove from that equation, the better off the company's chances of success are," Schindler noted. "A company does not need to be worried about paying the electricity bill or water or how they're going to get a compressed air line. The MSC has done an incredible job of taking all those things off the table. There are all these things in this environment that allows companies to focus on their core innovations of bringing a product to market, which is hard enough without having to worry about all these ancillary things. And so being in that environment allows us to focus on creativity and innovation."
He added: "The ability to do R&D on one side of the building, walk it down a hallway, get it tested for stretch, abrasion, or moisture wicking, for example, then walk it down another hallway and do microscopy analysis and antimicrobial testing is incredible. There are all these things under one roof that you can't find anywhere else. We would've had to send out these products for testing and wait a couple weeks for them to come back versus literally a 24-hour response time, which has enabled us to bring products to market so much faster."
Another advantage of being housed at the MSC is its textile and apparel training sessions, added Brad Seese, vice president of manufacturing and process innovation, Nufabrx.
"Our marketing folks and account managers are able to take classes here to learn about knit construction and different types of machines and processes," Seese said. "That way, they can understand the technology and terminology, denier and filament count and the different types of synthetics."
Today, Nufabrx products are avail-able at several major retailers such as Walmart and Target and pharmacy chains such as CVS and Walgreens. Walmart added Nufabrx products to its shelves in March 2020 at the start of the pandemic, and along with its move into personal protective equipment (PPE), that precipitated the need to quickly expand.
Nufabrx opened an Innovation Center inside the facility of its manufacturing partner, Bossong Hosiery in Asheboro, N.C., and grew its employee base from a handful to now nearly 45. Its space has grown from about 2,800 square feet to about 20,000 square feet at MSC II.
Last year, Nufabrx ranked number 8 on the Deloitte Technology Fast 500™, a ranking of the 500 fastest-growing technology, media, telecommunications, life sciences, fintech and energy tech companies in North America.
"Being located here is one of the main reasons that our company has been successful," Schindler said. "It's because of this ecosystem that still exists here in North Carolina. It's the reason we were able to make facemasks so quickly and bring that product to market. It's the reason we're able to scale. While a lot of other companies are worried about supply chain issues, we're not sitting at a port waiting on a product to arrive. We're able to drive down the road, get all of our raw materials, and then bring it to market. Having a domestic supply chain is the right thing to do for the country, and also the right thing to do for our business in terms of our ability to and execute and grow."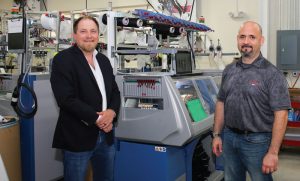 InnovaKnits
After earning undergraduate and graduate degrees in business at Florida State, Jason Wilkins accidentally backed into the textile and apparel industry. But as co-owner of InnovaKnits, one of the first companies to join MSC's Incubator Program in 2015, he's all in these days.
He and his business partner Neil Tagner have built a successful, state-of-the-art textile manufacturing company specializing in flat knit consulting/development and domestic production of flat knit textiles, all produced at the MSC.
Wilkins and Tagner found their way from St. Petersburg, Fla., to Conover after having worked together at a medical device manufacturer that produced lower limb prostheses requiring a skin-friendly fabric liner. And that was the extent of their work with textiles. With the desire to vertically integrate and control the various characteristics of fabric, the company brought fabric production in house. Needing expertise, Wilkins hired Tagner, who had spent his career in textile mills, as a textile consultant. As the company expanded into ancillary apparel products, it invested in more than 30 flatbed or circular knitting machines, and Tagner was hired full time.
After having basically built a textile production mill inside an injection molding company, Wilkins and Tagner began to wonder: Could they strike out on their own and replicate that success as a knitting company?
Having already spent time at the MSC taking Hosiery 101 and 102 classes, the center already was on their radar. So, the pair reached out to Whitener and St. Louis with "tons of questions," Wilkins said. Armed with the proper intel and ambition, and with the MSC beginning to get its incubator program off the ground, they decided to pull up stakes and head to North Carolina.
As flatbed knitting "experts" by this point, they began to look across all product categories and customers to understand the market and how their fabric formation discipline could meet those needs, Wilkins said. Looking at the entire picture, they ended up as a custom contract manufacturer.
"Niche contract manufacturing is really where we are," Wilkins said. "We are flatbed centric. We're very well versed in a particular machine type and a particular technology, and we are focused on products that can be, should be and need to be made with that technology."
With two machines to start, they began to do a lot of design and development work, working with the MSC testing labs to conceive specialty products for a handful of customers. As business grew, they added two more knitting machines, then another, and slowly grew to 20 STOLL by KARL MAYER machines, 10 employees and many more customers today, Wilkins said.
InnovaKnits' markets include performance athletic shoe uppers and compression dance socks/braces; medical items including prosthetic socks, shrinkers and masks; automotive interior fabric; aerospace fabrics; and apparel scarves.
Among the many benefits of being located at the MSC is the many visitors who tour the facility and see InnovaKnits' machines in action, which has led to many conversations and some business, Wilkins said. Major brands and retailers have stopped by to ask questions and have come away impressed with its setup inside the center, he added. "There's definitely a business legitimization component to this," he said. "We have access to shared resources that we could not afford when we first started," Wilkins said. "Things like a boiler, plumbing and forklift. And then not to mention the assistance we get from the MSC personnel, who are experts and who know a lot of people in the industry. Plus, having a test lab onsite is a big deal for us and for a lot of our customers. There is a tremendous cost savings because of those shared resources."
Moving into the MSC II building has provided InnovaKnits with about four times the space it previously had, allowing it to add about 25 percent more machines, hire operators and expand production, he pointed out.
"It's a no-brainer to be located at the MSC because there is no other entity like this in the country that has these resources, is connected to the industry and has your best interests in mind," Wilkins said. "There are hundreds of years of experience in this facility. Having this ecosystem here, in a place where people have a vested interest in your success, is much better than operating a block away and having little resources and nobody to support you."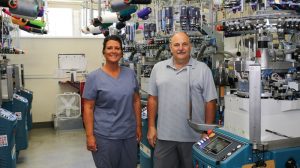 Yu Apparel Corp.
For years, Dr. Chao Yu, a vascular surgeon and phlebologist in Edmon-ton, Alberta, bought compression socks in big volumes from Asian producers. But he wasn't always pleased with the quality, or the "one-size-fits-all" aspects of bulk ordering. He realized there was a growing need for high-quality, true graduated compression apparel at an affordable price. He and his wife Tanya discovered the MSC and visited Conover to learn more about compression socks through hosiery courses taking place at the center. Through conversations with MSC leaders, Dr. Yu decided to have the center run samples before moving forward with the desire to start his own sock production company as an incubator at the MSC.
Knowing an expert would be needed to manage the operation, Whitener reached out to hosiery veteran Mark Bess about the potential of joining the startup. After weeks of conversations with the Dr. Yu, Bess came aboard, part time at first, in 2016 to get the business off the ground, starting with just one knitting machine.
Once launched, the company started reaching out to other vascular practices about their compression sock needs and learned that about half of the doctors would like their own private label in these products, Bess recalled. That led to the servicing of a market with huge potential.
After receiving samples, those doctors were pleased with the quality of the product, the fact that it is made in the USA with U.S.-produced yarns and that minimum orders were low, according to Bess. So, Yu Apparel began to develop brands for some of these new clients, or worked directly with others' patients to deliver compression socks that met their needs.
"They want the product to be right and they want quick delivery," Bess said. "They love our products, which we stand behind 100 percent. And we can do custom orders as needed and expedite it for one-day or two-day turnarounds."
Early on, the company created its own medical-grade brand, Yu Compression Wear, and later expanded its customer base to include airline personnel, medical personnel, education professionals and others. It also has expanded into other areas of socks.
"We have a company in Florida that does high-end dress socks, and we keep two machines running for them year-round," Bess said. "They tried sourcing from Asia, but they said that was a nightmare. Now, they want only made-in-America products, and they love our quality and our turnaround."
During the pandemic, Yu Apparel transitioned some of its production into face masks for medical personnel as well as the general public while also continuing to make socks. All told, the company produced about 20,000 masks that were sent all around the United States and Canada.
Launching the company and finding success would have been difficult if not virtually impossible without joining MSC's Incubator Program, Bess noted. "We could not have gotten off the ground without the MSC," he said. "First of all, we didn't know what machine would be right for us, so they secured a loaner machine for us to test. And we didn't know what kind of finishing we would need, or what kind of boarding equipment, or where we could do testing. And that's where the MSC helped us. We didn't have to spend a lot of money until we knew exactly what we needed."
Collaboration among the incubators is not only encouraged, but practiced, Bess added.
"All of the companies here get along well and work well together," he said. "We help each other. If one of us runs out of yarn and they can't get it quickly, another one will loan them yarn, for example. The goal for each of us is to succeed and make product in America."
Since moving into the MSC II, Yu Apparel has expanded from three Lonati knitting machines to 25 and is hiring more operators, which will greatly enhance its ability to grow.
Evolved By Nature
Drs. Gregory Altman and Rebecca "Beck" Lacourture — Ph.D.s in biotechnology engineering and biomedical engineering, respectively — have been partners in silk chemistry since their days as students. And when Beck was diagnosed with ovarian cancer in her 20s, the duo realized reinventing silk in liquid form could replace harmful ingredients in skincare products and create a platform for entirely unique and biocompatible benefits across nearly any industry.
They launched a startup company producing orthopedic products with silk proteins, which became a success venture that was eventually sold to a large company. Enrico Mortarino, a textile specialist, had joined that company in 2003 and would join Evolved by Nature™ (formerly Silk Inc.) after its founding in Boston, Mass., in 2013.
Mortarino, who had done some testing at the MSC when he was with a previous company, informed Alt-man and Lacourture about the center and soon, the cofounders would open the company's innovation cen-ter in the incubator at the MSC. Mortarino would lead the venture as vice president of Textile Innovation.
Evolved by Nature, which produces sustainable alternatives to the petrochemical coatings used by the leather and textile industries, also operates a full-scale, state-of-the-art manufacturing facility in Med-ford, Mass. The company has created a proprietary technology platform of Activated Silk™ molecules from natural silk protein, which will move global markets away from dependence on synthetics and fossil fuel derivatives and expand the boundaries of regenerative medicine. Evolved by Nature's biodegradable, high-performance finishes have been adopted by fashion brands including Anya Hind-march, nylon mills including Alpine Creations and Apex Holdings, and leather tanneries including Richard Hoffmans GmbH & Co. KG, Cyclica S.r.l. and Curtidos Bengala.
"The issue with a synthesized fiber is no one has really ever figured out how to make the self-assembly part happen," said Chris Valencius, the company's senior vice president, Strategic and Translational Marketing, explaining the technology. "And silk fiber is a miraculous material that has been developed and perfected by nature over millions of years. So instead of having one gigantic reactor, we look at silkworms as our reactor. Every silkworm has a little reactor in it already. And it uses sun-light and mulberry leaves as the inputs. And the little gland in there is our little reactor, and it that produces all these silk peptides."
He added: "It's already a very sustainable process that works incredibly well. We don't have to replicate it. We just have to figure out a way to actually unlock the things inside the silk protein. That's really what Greg and Beck are focused on. There is a whole universe of molecules within silk protein. You can go in and grab a couple, and that becomes the base of your textile finishing chemical."
Utilizing 100-percent biobased products that are biodegradable and offering an alternative to petrochemicals offers a tremendously sustain-able, safer solution, Valencius added. "Chemicals are the great invisible problem," he said. "If you don't solve the toxin and chemical problem, you're not going to be able to achieve or advance sustainability or achieve circularity. As regulations tighten up in the textile and apparel industry, having an inordinate amount of problematic chemistry is going to become a real knot to untangle for the entire supply chain."
Last year, the company closed $120 million in Series C financing, which will ramp up production volumes to 900 metric tons of Activated Silk per year.
As part of the MSC ecosystem, Evolved By Nature's innovation arm is reaping the benefits of shared space and resources, Mortarino said. "For instance, we share costs for utilities, which offers a tremendous savings," he said. "And we have access to a wet lab and all of the equipment here at the center. For a startup, this is an incredibly sweet deal because it allows you to concentrate fully on your projects without having to worry about all of the other things that sometimes crush businesses."
And utilizing those testing labs for a company performing research and development work is a giant plus, Mortarino added. "We are able to do testing on top of testing through the MSC's resources, and we can troubleshoot much easier. These labs also can do third-part validation for brands that require that."
Evolved by Nature's three-employee Innovation Center expanded its space from 1,800 square feet to more than 11,000 square feet upon moving into the MSC II building, he said. "We're planning to grow quite a bit as the center adds more processing and laboratory equipment."
---
Editor's Note: The MSC is seeking conversations with other entrepreneurs exploring launching a start-up. E-mail twhitener@manufacturingsolutions center.org and visit manufacturing solutionscenter.org to learn more.
---
March/April 2023