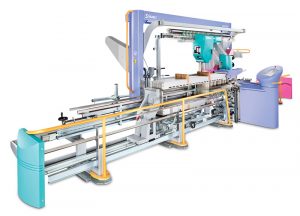 Stäubli Textile offers automation solutions for today's modern weaving mills including the SAFIR automatic drawing-in machines.
TW Special Report
To succeed in today's ever-more competitive textile industry, weaving mills must meet a challenging range of essential requirements, including optimized production workflow, high-quality output, cost-efficient operation and on-time delivery. Mills must examine every step of their production process to identify and exploit their optimization potential. Automation along the entire process chain is central in this effort. Switzerland-based Stäubli Group is a competent global partner for mills that want to increase their productivity, delivering automation solutions for weaving preparation, weaving all sorts of fabrics, and mastering new application challenges.
SAFIR automatic drawing-in machines enable the mill's drawing-in department to supply the required amount of completely drawn-in warp beams to the weaving department. The weaving harness and reed are prepared to perfection, according to Stäubli, with no crossed threads, no multiple threads in heddle, and no drop-wire or repeat errors. This improves the ratio of weaving machines per operator. It also reduces downtime, thereby boosting the efficiency and productivity of each weaving machine. The use of automatic instead of manual drawing-in typically improves the mill's overall weaving efficiency by 1 to 4 percent or more, which over a year can amount to several hundred thousand meters of fabric, depending on the size of the mill.
The trend toward higher-quality fabrics and the use of increasingly finer and more specific yarns increases the number and complexity of warp threads to be drawn in. If the mill relies on manual drawing in, more workers will be required. But finding and keeping suitable workers in this field is becoming increasingly difficult. The willingness to do such work is disappearing, and the organizational effort required for manual drawing in is significant. Another drawback of manual drawing in is that human error creeps in as the thousands of warp threads are drawn into the shafts, heddles, reed and drop wires pinned onto the weaving machine.
When it comes to warp changes, Stäubli Textile provides a complete range of warp-tying solutions that can handle the entire spectrum of fibers and filaments, from the finest silk to coarse polypropylene tape. These high-precision machines are reliable workhorses that can be easily integrated into the workflow of any weaving mill. They feature many state-of-the-art technologies like automatic docking to the warp and a unique auto-reverse function that repeats the yarn separation without operator intervention when a double end is detected.
Stäubli Textile division collaborates with the Stäubli Group's Robotics division to develop new automation solutions for the textile industry. Synergies and intensive know-how exchange among the 600 research and development specialists and application engineers in the Stäubli Group have led to new automation examples like pick and pack bobbin handling, and solutions for loading yarn bobbins on preparation creels for both direct or sectional beaming. Stäubli robots can be designed for any application in any industry where speed, precision, and reliability are required. The comprehensive range of robots — including industrial, collaborative, mobile, and AGV — are all Industry 4.0 compliant to support industry transformation. Textile industrials can count on the Stäubli Group to support their efficient production with proven automation solutions today and new leading-edge solutions tomorrow.
September/October 2022