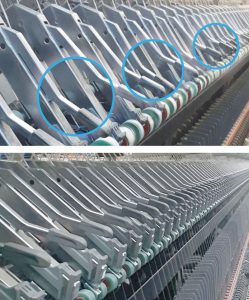 Rieter's guiding arm guiding arm refurbishment kit offers uniform load for reduced yarn breakage and undrafted ends.
TW Special Report
The guiding arm in the drafting system plays a major role in ensuring production and quality in the spinning mill. The guiding arm refurbishment kit helps maintain original quality and performance by reducing load variation, thereby lowering yarn breakages and undrafted ends.
The P3-1 guiding arm is a proven drafting system which was introduced more than 25 years ago by Switzerland-based Rieter and is still being produced in accordance with the original specification. This is strong proof of its solid performance that has been validated over a long period of time. Depending on the operating conditions, some internal parts of the guiding arm are subject to wear-and-tear and therefore need to be replaced with new parts.
In addition to an original P3-1 guiding arm replacement, Rieter also offers a refurbishment kit which helps restore the original performance. The Rieter service engineers recently successfully implemented the refurbishment kit at the Orta Anadolu spinning mill in Turkey.
After the installation was completed, spinning mill Manager Orhan Herdem said to the Rieter service engineers: "As a result of the guiding arm refurbishment, there is an improvement in both quality and efficiency. With the support of the technical service from Rieter, the machine operation is now more economical."
Rieter recommends refurbishing the guiding arm after eight to 10 years to ensure uniform and consistent load across the machine. Replacing worn out and aged parts can help restore the original performance of the drafting system. A new guiding arm enables a more effective load distribution, consistent drafting and output yarn quality. The improvements in terms of load uniformity and performance can be witnessed before and after the repair service conducted by Rieter service engineers (See Figure 1).
India-based Sreedhara Textiles was experiencing guiding arm load variation, quality and productivity issues in its Rieter ring spinning machines. These were not the only concerns Rieter's service engineers had to contend with. They also were asked to find the most economical solution.
After the guiding arm refurbishment at the company's ring spinning machines was completed, the factory manager, S.J. Aananthakumar, expressed his satisfaction to the Rieter service engineers: "The individual parts for the guiding arm refurbishment of our ring spinning machines were delivered with perfect packing and on time. The costs of this repair service offering are characterized by high price performance ratio, and ultimately, we are very satisfied by the consistent quality and productivity levels which were achieved. We are experiencing fewer breakages per 100 spindles per hours, imperfections and Autoconer clearer cuts per 100 kilometers."
July/August 2022