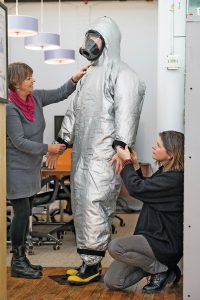 Propel, a woman-owned small business, is focused on using technical textiles as problem-solving tools to meet its customer's challenges.
By Jim Kaufmann, Contributing Editor
It's fair to say that anyone meeting Clare King for the first time will quickly come to the realization that she enjoys solving problems, so much so, that problem solving was the primary impetus that led her to found Propel LLC in 2006. "I was bored and felt limited in working for other companies that just wanted to bring something very specific to market," King said. "I've always been more interested in solving the problem rather than selling a solution. So, I wanted to work on more challenging issues and started Propel in order to develop new ways of solving harder problems."
Woman-Owned Small Business
Based in Pawtucket, R.I., Propel is a woman-owned small business that focuses on applied research projects and building a bridge between design and technology. The company's core competencies are in developing unique textile-based products with clear-cut performance driven attributes and sometimes e-textile technologies. The company has garnered a well-earned reputation for being innovative and resourceful. Much of Propel's work has been funded directly or indirectly by the Department of Defense (DOD) through either specific contracts or via the Small Business Innovative Research (SBIR) grant process. "There's certainly been a lot of proposal writing over the years," said King, and Propel's hit rate has been better than average in receiving SBIR grants. Propel was awarded its first SBIR in 2012, and to date has received a total nine SBIR projects — six Phase I and three Phase II. A couple of projects have led to Phase III contracts to actually produce and supply the technologies developed during Phase I and II research efforts.
Today, the U.S. Navy is Propel's biggest customer, but the company also has built a solid history of work experience with other segments of the DOD. "Our business is currently an approximate 80/20 split between DOD and non-government related projects," King noted. "That 80 percent does include products or components we're making for clients who then supply to the DOD. Our projects can take anywhere from a couple of months to potentially eight  or nine years from start to delivery of product. Unfortunately, there can be a lot of time spent waiting for decisions to be made when dealing with government agencies or large corporations. The 20 percent representing our commercial work is typically on a much faster timeline and we are working to increase this percentage in order to balance things out with the government projects."
People generally find Propel through word of mouth and its collective reputation. "Presently we're heavily defense focused, but we don't have to be. It's just turned out that way so far," King said. "Regardless of the project's intention, we try to completely understand what the problem is. Then our efforts are to not only solve it, but also address the different connections to that problem and resolve those as well. Our preference is to do work that builds on and expands our knowledge base and capabilities. It really doesn't matter to us who the work is being done for."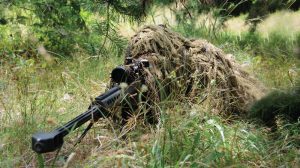 A Textile Approach To Problem Solving
King graduated from the England-based Oxford University and Princeton University, Princeton, N.J., with a bachelor's and Masters of Public Administration in Economics respectively, which makes it all the more curious that King is now admired for her high-level working knowledge of textile technologies.
"I think my interest in textiles started as a child," King mused. "I come from a very creative family and at an early age was using textiles to make things. I remember being about 12 and destroying one of my mother's favorite pans while teaching myself batik dyeing. I picked up hand knitting in my late teens and by then already sewed a lot. After graduate school I worked as an economic analyst in New York City and started going to Parsons School of Design at night for fun where I learned pattern making, draping, and tailoring."
While at Parsons, King also took small business-oriented classes that provided the basic skills needed to start her first business — a children's outdoor clothing company named Cherry Tree. After growing the business to several million dollars in annual sales, Cherry Tree was sold to venture capitalists. King went on to further pursue her growing interest in technical textiles, working for several different companies before founding Propel. "I've picked as many brains as possible and had amazing mentors along the way," King said. "Plus, I read extensively and am always listening to those with specialized knowledge. The learning never stops. I think my expertise has developed from all the opportunities I've been given from that creative family through my excellent education. I've learned to recognize that I'm adept at identifying and connecting to develop new ways of making and doing."
Suffice to say that King's knowledge base is built on many years of valuable hands-on experience, and this extends into Propel's capabilities, which range from fiber development through creating finished products. "I have found that the textile component is not necessarily addressed at the beginning of a development project," King noted. "In fact, it's often held to the end, because people tend to think or assume that textiles are easy. They're not!"
Propel focuses on technical textiles and performance-driven fibers and fabrics as tools to meet the challenges its presented with. "We're not really interested in the fashion business at all as they tend to only be about design, not necessarily in solving technical problems," King said. "We're much more focused on form, fit and function. We've established a unique niche that you don't really see many other companies in. We want our work to lead somewhere and actually get solutions out into the hands of people who need them."
Monetizing The Development Efforts
One of the biggest challenges faced by many businesses contracted to do research and development or consulting work is how to turn those identified opportunities into reality? Or more specifically how can they monetize it? This is one of the primary reasons why universities and some companies that work on research and development projects often require a level of ownership in any intellectual property (IP) generated. King regards Propel's IP as the crown jewels of the company and the key to its commercial success. She is always looking into ways to leverage Propel's technical capabilities and intellectual property. "You don't always have to do it the way you always have," stated King. "We're constantly thinking what is the result? How can we monetize it? A lot of the IP and know-how we have developed is capable of solving more problems. We just have to identify them."
Propel does not have the in-house facilities to manufacture its products. "We focus in house on prototyping, but early in any project, Propel identifies the best subcontractors for transition into the manufacturing stage," King said. It is these sub-contractors, who've been vetted and established through collaborations over the years that manufacture Propel's highly technical products. As a result, "We've become really good at project management," King noted. "Large companies have advantages and disadvantages in that they can't easily shift from product to product because of their capital investment considerations and technical capabilities. We don't have those concerns because of the various contractors we've established relationships with, and as a result, can quickly adapt to our customer's particular needs." These relationships also help to explain how Propel has been able to develop and produce both a unique and diverse range of offerings.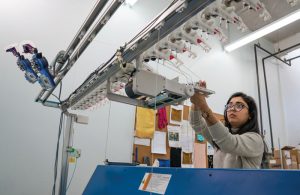 Diversity In Product Offerings
Products and technologies developed to date by Propel include:
A "steam suit" used by damage control first responders in emergency situations aboard submarines;
Stitchless seaming technologies to replace traditional needle and thread on technical garments;
E-textiles and smart integration technologies;
A wearable advanced electronic sensor platform to monitor the wearer's physiology and indoor location; and
Specialized materials, such as a unique polyurethane membrane with superior water-resistant and abrasion resistance properties.
In each instance, Propel was instrumental in developing the specifications and testing methodologies necessary for these unique and highly technical products. Propel also was one of several companies that at the beginning of the COVID-19 pandemic was able to pivot quickly and use its textile knowledge and resources to create and produce cutting-edge protective masks for individuals and institutions. In addition, Propel is involved in trade studies to help better understand the current state-of-the-art for different technologies that includes identifying who is involved, as well as defining where there may be gaps in the collective efforts.
"One of our biggest challenges is finding the customers for the technologies we've developed," King said. "A lot of what we have is capable of solving existing problems. The steam suit was a complete rethink of how to protect someone, and I'm sure there are other applications for its technology out there. In addition, there are two or three other textile materials we've developed that are potentially viable technologies for other applications. We just have to find and identify them."
Sales and marketing has been, and remains, another of Propel's biggest challenges. King has tried having a sales person on staff at Propel, "but it ended up making more work for me,"she said. "When you do R&D for commercialization, it's not always a consistent or straight path. Our 'sales' are generally highly technical in nature and it is rather difficult to find someone who can clearly communicate to our customers what generally ends up being an overlap between textiles and physics."
Going Forward
King remains interested in additional collaboration opportunities, but has gained a level of comfort in Propel's present size and structure. "Pre-pandemic, we were heading towards being three times the size and number of people that we have now, but I'm happy with where we currently are," King noted. "Ours is an interesting business to be in at the moment. At Propel, we've developed a level of maturity, clearly established the way we work and what we're good at. This allows us to quickly figure out if we're the right ones to solve a problem or not.
"I'm not a backwards looking person," King added. "Definitely a build on and move forward type. Give us problems to solve. We have the knowledge base and capabilities to make it happen. We bring an open mind and tons of experience to the task at hand, and I'd like to think we're able to push the boundary to provide more options for a better outcome. When you work with us, you're able to sleep better at night because of the quality of work we do on the project."
Given that the company has now been in business for more than 15 years, it is safe to say that Propel has helped many to sleep better at night and is positioned to continue to do so.
March/April 2022