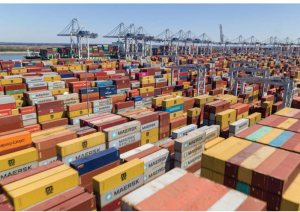 The Covid-19 pandemic tests the integrated nature of today's global economy and exposes the fragility of its interdependence.
TW Special Report
The term "supply chain" swiftly entered common usage as the covid pandemic took hold in early 2020. For most consumers, the term and what it refers to was typically of no concern. Consumers relied on retailers and service providers to fulfill their daily demands at a moment's notice. There was little need to know or understand the breadth of connections in global trade that put food on the table or packages under the Christmas tree.
In general, consumers rarely experience scarcity and empty store shelves — perhaps only in the run-up to a predicted storm that leaves supermarkets devoid of bread and milk, and home improvement stores out of plywood and sandbags. But consumers always had the confidence that once the storm cleared, abundance would be restored.
As the pandemic took hold with no reliable information regarding the depth or duration of the impending crisis, this experience with scarcity would be put to the test.
Trying To Forecast The Unforecastable
Good economic forecasts require stability in data. When data is lacking, and shifts and changes create uncertainty, it is impossible to make accurate forecasts — a fact that became evident as the Covid-19 pandemic unfolded.
Textile World magazine has posted more than 470 Covid-19-related news releases on its website since the pandemic took hold. The first post related to personal protective equipment (PPE). At that stage, the real effects of the disease were still relatively unknown, and no-one knew how important PPE was to become. The first such website posting, on February 3, 2020, was titled "Berry Global Increases Production To Aid In Coronavirus Protection." The company, a major nonwovens manufacturer, acknowledged the importance of nonwovens "used in face masks, N95 respirators, and protective apparel, all of which have recently been in high demand in the plan to prevent the spread of not only the coronavirus, but also other communicable diseases."
As the global economy began shutting down in early 2020, "non-essential" workers were furloughed or let go as factories around the world closed. "February is historically a slow month for imports because of Lunar New Year and the lull between retailers' holiday season and summer, but this is an unusual situation," said NRF Vice President for Supply Chain and Customs Policy Jonathan Gold in the National Retail Federation (NRF) Global Port Tracker press release in early February 2020. "Many Chinese factories have already stayed closed longer than usual, and we don't know how soon they will reopen. U.S. retailers were already beginning to shift some sourcing to other countries because of the trade war, but if shutdowns continue, we could see an impact on supply chains," the report continued.
"Projecting container volume for the next year has become even more challenging with the outbreak of the coronavirus in China and its spread," Hackett Associates Founder Ben Hackett reported in the same NRF press release. "It's questionable how soon manufacturing will return to normal, and following the extension of the Lunar New Year break all eyes are on what further decisions China will make to control the outbreak."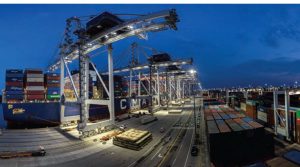 The NRF Global Port Tracker report was correct, uncertainty was the state of mind. Unfortunately, this led to several assumptions which, although reasonable at the time, in hindsight would set the stage for supply chain challenges. The general consensus was that if workers aren't working, consumers have less money to spend and demand for goods in general would fall. In addition, lower levels of manufacturing would lead to less shipping and trade. But, in fact, demand shifted from services to goods, and rather than falling, created unexpected demand in the marketplace.
U.S. Textiles Responds To The Shift
Berry Global's early warning about the need for PPE in early February 2020, was a sign of things to come. The company's factories in Nanhai, China, and Suzhou, China, were prioritizing the production of nonwoven healthcare products where "… dedicated teams are working around the clock to manufacture as much of these materials as possible to help prevent the spread of the virus," said Curt Begle, president of Berry's Health, Hygiene, and Specialties Division.
On February 25, 2020, National Council of Textile Organizations (NCTO) President and CEO Kim Glas issued an announcement on the industry's response to the coronavirus crisis stating: "The coronavirus has impacted Asian textile and apparel manufacturing productivity and output, and our concerns lie with the affected companies and workers during this terrible crisis.
"The U.S. textile industry continues to be ready, able, and willing to help in any way possible. Our industries have been in touch with U.S. government officials to help identify key U.S. textile suppliers to provide surgical masks and other items to help contain the spread of the coronavirus. In addition, several companies have donated much-needed medical textile supplies and other sanitary items to help address this outbreak."
In March 2020, the NRF's Global Port Tracker reported, "There are still a lot of unknowns to fully determine the impact of the coronavirus on the supply chain," Gold said. "As factories in China continue to come back online, products are now flowing again. But there are still issues affecting cargo movement, including the availability of truck drivers to move cargo to Chinese ports. Retailers are working with both their suppliers and transportation providers to find paths forward to minimize disruption."
"Now that we are in the coronavirus environment, uncertainty has expanded exponentially," Hackett Associates Founder Ben Hackett said in the NRF March 2020 report. "Our projections are based on the optimistic view that by the end of March or early April some sort of normalcy will have returned to trade."
And soon, as shipments of PPE vital to combating Covid-19 spread globally — from China to Africa, and China to the United States — long established shipping routes and divergent demand would disrupt the flow of shipping containers and a shortage of containers would ensue.
Soon those disruptions would log jam U.S. ports and create shortages of trucks, truck trailers, drivers, warehouse space and more.
Domestic PPE
By early April of 2020, the U.S. textile industry had quickly organized a manufacturing response to demand for PPE. "Coordinating with local hospitals, healthcare organizations, the entire U.S. production chain and federal agencies, the textile industry has been at the forefront of the incredible manufacturing effort, contributing to the country's rapid response to the rising needs of frontline workers," said NCTO President and CEO Kim Glas in a press release. "This industry has taken the lead in this effort, utilizing American manufacturing facilities and workers, despite facing many challenges in this environment," Glas continued. "Our industry will continue to do all they can to serve the American people, frontline hospital workers and patients at this time."
A broad coalition came together with companies like Parkdale Mills and Beverly Knits organizing a team of more than 25 companies employing some 4,000 American textile and apparel workers, to manufacture personal protective masks.
Shift In Demand And Working From Home
Early demand assumptions quickly backfired as consumers shifted demand from service industries to manufactured goods. Parents faced school closings and distance learning for their children. Trade shows, annual meetings and the like looked for virtual solutions. Business that could, quickly adjusted to work from home policies using virtual meeting solutions. But other businesses struggled and some closed. In addition, many workers, though severely challenged, received government assistance and pumped money into the economy.
Not understanding the duration of the pandemic, retailers didn't know how best to respond. On March 19, 2020, a Bed, Bath and Beyond press release said the company would: "… temporarily close more than 50 percent of its stores across all its banners, within the United States and Canada, to help reduce the spread of the novel coronavirus (COVID-19)."  The closures affected the majority of its core Bed Bath & Beyond retail stores. Soon, other retailers followed suit as they attempted to manage the situation.
As retail stores closed, consumers shifted purchasing to online shopping. Delivery businesses sprung into action, often the only way restaurants could stay afloat. And virtual solutions took hold.
Port Bottlenecks
Shanghai's problems were soon U.S. port's problems. Goods of all stripes stacked up in California's San Pedro Bay Ports Complex, which consists of the ports of Los Angeles and Long Beach. The ports were bottlenecked with sometimes 80, or close to 100, ships anchored outside the bay standing ready to deliver. Lack of trucks, trailers and drivers intensified the shipping jam. Christmas jitters put even more pressure on the stressed supply chain leading consumers to shop early. By the lead-up to Christmas 2021, trans-pacific shipments had risen 30 percent, the container shortage worsened, and the cost to ship from Shanghai to Los Angeles increased to nearly $20,000 from $2,000 in just 18 months.
In December 2021, the Port of Savannah in Georgia marked 16 consecutive months of record growth. The Georgia Port Authority's (GPA's) response to the crisis was growth. "Infrastructure projects at the Port of Savannah will add 400,000 twenty-foot equivalent units (TEU's) of annual capacity before January, and 1.6 million TEUs by June," GPA reported. "The GPA handled nearly half a million TEUs in November. GPA is also expediting the completion of its Berth 1 expansion which will add 1 million TEUs of new berth capacity and eight ship-to-shore cranes at its docks. The project is now 30 percent complete and will come online at the end of Q2, 2023."
GPA also noted that container storage was a major issue, stating: "Off-terminal, GPA has activated four flexible "pop-up" container yards near manufacturing and distribution centers. The sites in Atlanta, Savannah, Statesboro, and Murray County in Northwest Georgia bring cargo closer to customers and reduce the length of container storage time at the Port of Savannah. The GPA is also arranging additional sites, which will bring the total annual capacity for the off-port locations to 500,000 TEUs."
Improvements in port congestion, even with growth, was achieved with The Journal of Commerce reporting in early January of 2022, "The number of vessels anchored outside Savannah has fallen to fewer than five, a significant improvement from September when the number was as high as 30."
U.S. Textile Exports
A look at textile exports to major trading regions illustrates the pandemic's impact on the flow of goods. With data captured by The Office of Textiles and Apparel (OTEXA), Washington, the group "Textile Mill Products" is a strong proxy for a broad swath of U.S. textile manufacturing that, in general, captures textile products that come from the transformation of basic fiber into products, such as yarn or fabrics, that are further manufactured into functional items like apparel, sheets, towels, and bags for individual or industrial use.
For year ending November 2021, a full 70.6 percent of U.S. exports of Textile Mill Products went to the Western Hemisphere, 51.2 percent went to USMCA member countries — Mexico and Canada — and 15.6 percent went to CAFTA-DR member countries — Central America and the Dominican Republic.
As illustrated in Figure 1, U.S. exports of Textile Mill Products to the Western Hemisphere declined 15.6 percent in 2020 from shipments recorded for 2019, a decline of 9.9 percent was exported to USMCA and there was a whopping 31.5-percent decline to CAFTA-DR members.
However, year-to-date November 2020 shipments compared to year-to-date November 2021 show a significant rebound. As illustrated in Figure 2, U.S. exports of Textile Mill Products to the Western Hemisphere increased 17.6 percent in 2021 from shipments recorded for 2020, an increase of 13.2 percent was exported to USMCA and there was an increase of 33.3 percent in shipments to CAFTA-DR members.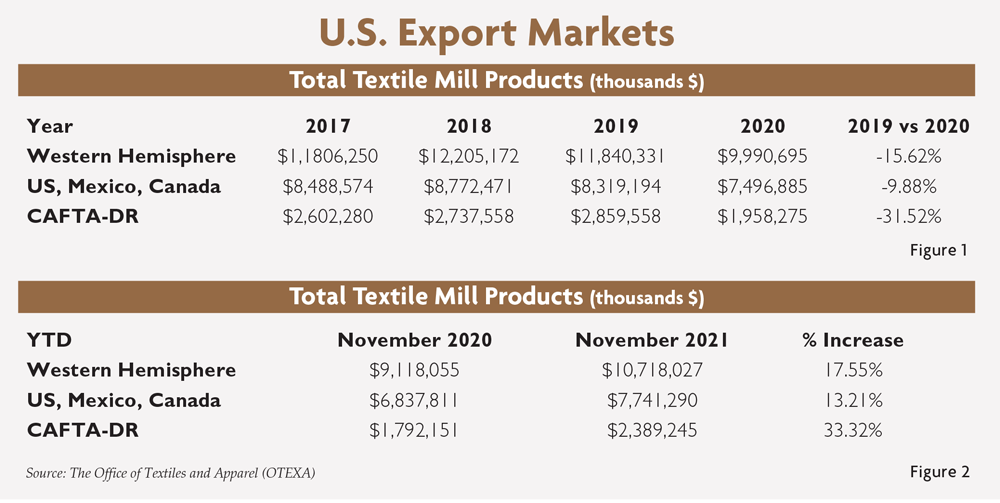 U.S. Textile Yarn Exports
Yarn exports are very important to the U.S. textile industry and benefit trading partners who utilize the "Yarn Forward Rule" — the basis of many U.S. trade agreements.
A similar pattern of recovery is illustrated as displayed with mill products, and the November year-to-date data points to a positive 2021 outcome.
For year ending November 2021, a full 64.9 percent of U.S. exports of textile yarn went to the Western Hemisphere, 19.0 percent went to USMCA members, and 41.8 percent went to CAFTA-DR members.
As illustrated in Figure 3, U.S. exports of textile yarn to the Western Hemisphere declined 31.0 percent in 2020 from shipments recorded for 2019, a decline of 22.9 percent was reported to the USMCA region, and there was a sharp 35.71-percent decline in shipments to CAFTA-DR members. But again, year-to-date November 2020 shipments compared to year-to-date November 2021 show a significant rebound. As illustrated in Figure 4, U.S. exports of textile yarn to the Western Hemisphere increased 37.0 percent in 2021 from shipments recorded for 2020, an increase of 20.1 percent was exported to USMCA and there was a strong recovery of 48.4 percent to CAFTA-DR countries.
This is good news for the textile supply chain, but 2022 is still throwing head winds with rising commodity prices, fuel and energy costs trending higher and spotty delivery of components used in basic textile formulations.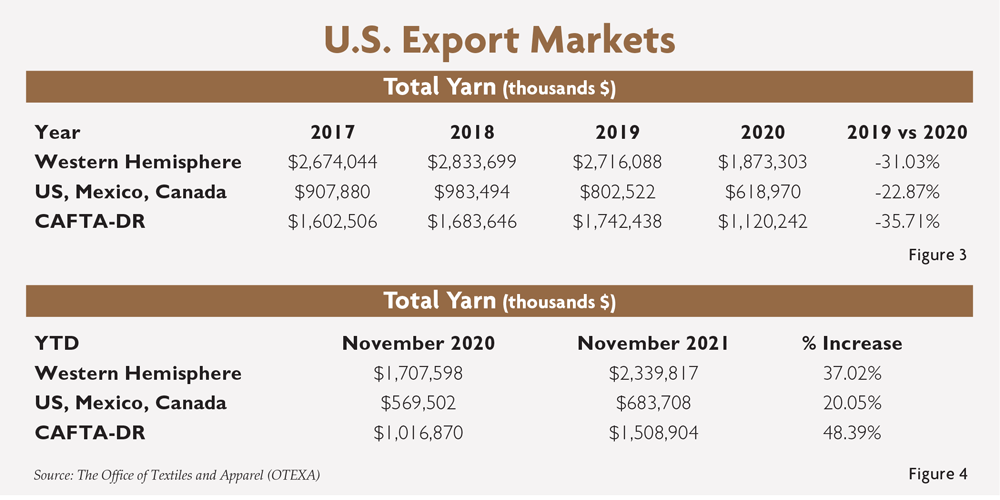 Supply Chain Relief Ideas
In November of 2021, an open letter to President Biden undersigned by a broad coalition of associations, representing agriculture, food service, trucking, warehousing, manufacturing, retail, construction, energy, and other key supply chain participants was issued. The extensive list of undersigned organizations included: the American Apparel & Footwear Association; American Chemistry Council; National Cotton Council; and National Retail Federation, to name just a few.
The letter outlined a plan regarding five immediate supply chain solutions, summarized from original letter following:
Younger Driver Pilot Program: A pilot program that will enable employers to create a two-stage, safety-focused apprenticeship program to allow younger, qualified drivers — between the ages of 18 and 20 — who satisfy rigorous safety, training, and technology requirements to operate in interstate commerce.
Promotion of Careers in Transportation and the Supply Chain: Encourage federal agencies, including the U.S. Departments of Transportation and Labor, to collaborate with industry and state and local partners to promote transportation and supply chain occupations, particularly commercial truck driving, as a career of choice.
Flexibility in Vaccine Mandates: The organizations asked for flexibility for transportation and supply chain essential workers, particularly truck drivers who spend most of their time in their trucks and have minimal contact with colleagues and customers
Hours of Service Relief: Continue to support last year's changes to the hours of service regulations that give commercial truck drivers greater flexibility while improving safety and efficiency. The Biden administration was encouraged to not only retain the changes, but also provide additional flexibilities.
Flow of Goods through Ports: Continue to investigate the causes of inefficiencies at the nation's ports, draw input from a wide variety of supply chain stakeholders, and work collaboratively to minimize the bottlenecks and operational practices that prevent the seamless movement of cargo through the supply chain.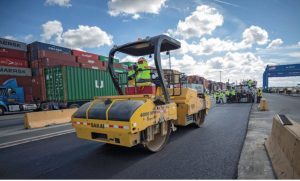 Relief On The Horizon
This year, 2022, is an unprecedented time in a world that has been bound together with global trade and integrated economies, while facing new geopolitical challenges and varying political structures — be it China, Russia, Central and South America, Europe or the United States.
Unfortunately, "supply chain challenges" are just part of the issues facing businesses and consumers today, but the term is on the brink of becoming a catchall phrase that includes all of the problems in today's economy.
Business and consumers discovered that computer chips are in everything, and that a shortage could lead to a delay in buying a new truck — if one could be found. A supply chain issue? Maybe, but investment in additional microchip plants and equipment may help.
Consumers learned that shortages of commodity products like toilet paper could produce empty shelves for fairly long periods of time, a problem further impacted by some buyers hoarding more than they needed.
Consumers learned that food supply chains could by hit by multiple issues driving food prices ever higher. When fertilizer prices rise, feed crop prices rise, beef prices rise, labor shortages cause an increase in processing costs, and transportation — fuel and labor — costs rise, how can the cost of a hamburger not go through the roof?
Supply chain challenges are real, and some issues will be worked through more quickly than others. The year 2022 presents a real time of reawakening and rebuilding the economy. A new look at labor and the nature of work. A new look at sourcing and locating supply chains. A new look at sustainable manufacturing for other reasons than being green.
The U.S. has a robust, innovative and creative economy — supply chain solutions are on the horizon.
January/February 2022