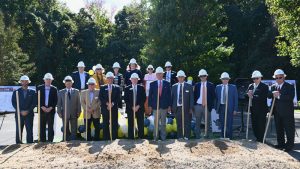 Two major additions to Gaston College's Textile Technology Center are intended to service the textile industry's needs.
By Jim Kaufmann, Contributing Editor
Recently, Gaston College's Kimbrell Campus, Belmont, N.C., hosted a doubleheader event as it introduced two new significant additions to compliment and strengthen the college's Textile Technology Center (TTC). The doubleheader first featured an introduction to the newly formed Textile Academy, which was established to address textile industry educational needs; followed by a formal groundbreaking ceremony for the new Fiber Innovation Center (FIC) — a stand-alone building devoted to fiber and yarn development opportunities adjacent to the TTC.
Textile Academy At Gaston College
The newly established Textile Academy's mission is to "cultivate highly skilled workers for local industry employers."
"It introduces students to the basic concepts of textile technology and careers within the textile industry and is focused directly on addressing the workforce skills gap currently found there," said Jasmine Cox, director of Textile Technology programs. The Textile Academy is modeled after Catawba Valley Community College's Furniture Academy, but its offerings will be customized and tailored around meeting the specific needs of the textile industry. "This industry continues to change at a rapid rate," noted Karen Menting, vice president of Human Resources for Parkdale Mills, Gastonia, N.C. "The challenges today as a textile manufacturer are even greater than in years past, and Parkdale Mills is committed to help build this worker training and education resource and future talent development because we need to be able to meet the demands of the business we want going forward, not just the business we already have."
The Textile Academy is intended to be industry driven, with a strong focus on hands-on training utilizing TTC's fiber, yarn and fabric processing labs, as well as relying on the experiences of its technicians and operators. Initial offerings will include apprenticeships and entry-level training in a variety of textile-related disciplines to address current employment vacancies at local textile companies. "The programs are intended to be cost effective and will consist of targeted training using a common framework that is customizable as warranted by the individual company and/or specific position," Cox stated. "Potential costs are expected to be as low as $200 per student, and there is also the potential for funding from state, local and other agencies to offset the training costs." The apprenticeship segment is currently up-and-running for several company sponsored programs, and TTC is in the process of building a pool of instructors including industry professionals and TTC employees to meet additional training needs.
New course offerings between six and eight weeks in length are in development, along with degree track programs with a tentative program catalog expected to include courses in textile fundamentals, quality and testing, and yarn and fabric formation. According to Cox: "We're in the process of building out what the complete program will look like, but it will initially focus on machine operator through shift supervisor tracks. We'll first target current textile industry employers with training needs, and then begin filtering down to tech schools and high schools to raise interest in textiles as a career where students can grow with the industry."
The course offerings are intended to yield certificates of completion and stackable credentials that can be used to transfer into degreed programs at institutions such as NC State University, Raleigh, N.C.
"TTC is a strong resource for the local textile industry," explained Sam Buff, TTC's vice president and general manager. "We function with and for the industry. We are committed to making this happen. We will listen to the industry's comments and adjust accordingly and will be flexible to meet their needs and wants, but the textile industry really needs to drive it in order for us to be successful."
Fiber Innovation Center Groundbreaking Ceremony
After the introduction to the Textile Academy, Gaston College held a formal ceremony with college leaders and assorted luminaries for the groundbreaking of the new FIC building. The FIC, an expansion of Gaston College's Kimbrell Campus, will be a state-of-the-art facility dedicated to advancing fiber and yarn technology towards new and innovative applications.
"Roughly 12 months ago, CVCC [Catawba Valley Community College] and Gaston College joined together to create the Manufacturing and Textile Innovation Network (MTIN), a partnership formed to improve both and benefit from the power of one," said John Hauser, president of Gaston College. "This, along with the events related to the COVID pandemic and resulting immediate need for the development, testing and evaluation of personal protective equipment, created a push for new facilities at both locations in order to more closely support the U.S. textile industry."
Construction of the $16.5 million FIC facility is slated to begin later this year or in early 2022. When completed, FIC will be the only North American facility open to industry housing the entire range of advanced fiber through fabric development capabilities. As Davis Warlick, executive vice president of Parkdale Mills, explained: "When combined with the resources already available within the Textile Technology Center and the Manufacturing Solutions Center, this will essentially be a one-stop shop. It'll be the only facility in the United States able to take a fiber idea through all the related or subsequent processes and convert it into actual textile products."
"This will be the first of its kind in the world focused on textiles," noted John Lowery, president of the Gaston College Foundation Board of Directors. "It will be an ideal facility to promote the importance of the textile industry, not only locally, but around the world, leading to better textile solutions for sustainable, innovative products and applications."
The FIC's cost is largely funded by private donors from industry and institutions, the state of North Carolina, and through assorted grants. "This project has so much support from state, county, city, academia, industry and philanthropy," said Anderson D. "Andy" Warlick, chairman and CEO of Parkdale. "Fiber innovation is key! It represents the future of the textile industry in the United States. New fibers that can be used in a wide variety of applications across the textile spectrum, including sustainable, recyclable, biodegradable, antimicrobial and other possibilities are key to the growth or re-growth of the U.S. textile industry."
With the additions of the FIC and Textile Academy, TTC is certainly positioning itself to be a viable long-term resource for the textile industry — locally and globally. "TTC's mission hasn't really changed dramatically since its beginning though everything around us has," Buff noted (See "Evolution of a Talent-Driven Textile Industry Resource," TW, March/April 2020). "We see the Textile Academy and the FIC as game changers for the textile industry. There will be nothing like it anywhere else!"
November/December 2021