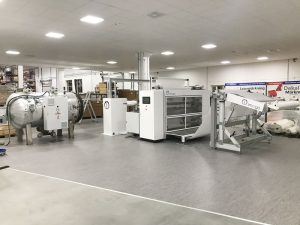 The dyeing and finishing industry continues to make strides in developing technologies that make the processes more environmentally friendly and sustainable.
TW Special Report
As is the case for many areas of the textile industry, sustainability is at the forefront of machinery innovations for the dyeing and finishing sector. Developments firmly focus on reductions in energy, chemicals and water use. The sector also is working on Industry 4.0 solutions and intelligent machine controls. What follows is a look at just some of the latest technologies available for dyeing and finishing.
While digital textile printing technologies are advancing at a rapid rate for decorative fabrics, England-based Alchemie Technology Ltd. is using digital printheads to color fabrics in a different way. A newcomer to the dyeing industry, Alchemie recently debuted its Endeavour Waterless Smart Dyeing process — a digital, on-demand textile dyeing process for polyester fabrics. Alchemie reports it is trying to solve pollution issues, reduce costs and increase flexibility in the dyeing process. The Endeavour system is not completely waterless, but according to the company, it reduces wastewater by more than 95 percent, and offers significant savings in energy use, materials and labor costs compared to traditional dyeing processes. The digital application system allows manufacturers to "dye on demand" and offers quick changes and fast runs similar to digital printing at 25 meters per minute (m/min) — minus the images or patterns. The technology has demonstrated color consistency of +/- 1 percent and excellent wash and rub fastness, according to Alchemie.
Sweden-based imogo AB is another newcomer to the dyeing industry with its Dye-Max spray dyeing technology. Imogo partnered with ACG Kinna, Sweden, to build the first Dye-Max line, and the technology made its debut at ITMA 2019.
Imogo reports the Dye-Max reduces the use of fresh water, wastewater, energy and chemicals by as much as 90 percent compared to conventional jet-dyeing systems. These savings are achieved with an extremely low liquor ratio of 0.3 to 0.8 liters per kilogram of fabric and by using a series of spray cassettes located in a closed chamber. Precision nozzles in the cassettes accurately and consistently apply the dye in conjunction with the patented imogo pro speed valve that controls the volume of dye that is applied. The closed system is kept free from contaminating particles with an exhaust system and droplet separator.
"The spray cassettes are a key part in the Dye-Max line," explained Imogo's founding partner Per Stenflo. "There is one set of spray cassettes for each of the three separate dye dispersion feed lines and they can be easily exchanged without the need for tools in less than a minute. This allows for extremely fast changeovers between different colors without the need for cleaning. And because the spray cassettes are removable, all maintenance can be performed offline. After applying the dye dispersion the fabric is rolled onto a shaft and moved to the autoclave for deep dye fixation via heat and pressure."
Dye-Max operates at up to 50 m/min. The company also offers a Mini-Max for laboratory-scale runs. "With the Mini-Max it is possible to run miniature production tests to set the precise color recipe," Stenflo said. "… The user simply sets the recipe with the Mini-Max and transfers the parameters to the Dye-Max recipe database for the system to be fully production ready."
The company recently opened a showroom to fully demonstrate its technologies to potential customers.
The Netherlands-based DyeCoo Textile Systems BV offers a patented waterless dyeing technology that uses reclaimed carbon dioxide (CO2) from its closed-loop system as the dyeing medium instead of water. The CO2 is pressurized into a supercritical form, which has high solvent power and can easily dissolve the dye. According to the company, the dyes are transported easily and deeply into the fibers resulting in vibrant colors. The process boasts a 98-percent uptake of dye and no additional processing chemicals are required. With no water used during production, cost savings are achieved also in wastewater treatments; and further processing to dry the fabric is unnecessary resulting in additional energy savings. DyeCoo reports the technology has been proven to deliver great results on an industrial scale.
Italy-based Karl Mayer Rotal S.r.l., a subsidiary of Germany-based Karl Mayer GmbH & Co. KG, recently launched Greendye® indigo dyeing technology. The development dyes the yarns in a nitrogen atmosphere, which reduces the environmental impact of indigo dyeing by limiting the number of baths required and chemicals needed. According to the company, with a high concentration of dye in the bath, the dye diffuses and migrates more intensely into the fiber in the nitrogen atmosphere and the fiber can absorb three times more dye compared to conventional dyeing processes. The use of hydrosulfite and caustic soda may be reduced by as much as 50 percent, which reduces costs and also makes the process more environmentally friendly. Also, because the nitrogen atmosphere fixes the dyestuff well, less water is needed during washing.
Karl Mayer acquired the patents for this nitrogen dyeing technology from Italy-based Master S.r.l. in 2018. After fine-tuning the technology, Karl Mayer Rotal expanded its denim center of excellence with a competence center featuring a Greendye pilot line, showroom, meeting rooms and academy for training. The 13-meter-long pilot line maps the industrial process at a scale of 1:10.
China-based CHTC Fong's International is a group of textile companies — Fong's National Engineering Co. Ltd., A. Monforts Textilmaschinen GmbH & Co. KG, Monforts Fong's Textile Textile Machinery Co. Ltd. and Fong's Europe GmbH — focused on textile dyeing and finishing machinery.
Fong's National Engineering's Tecwin high-temperature piece dyeing machine is designed for versatility. Patented features include:
A combined air and front spray nozzle to increase the degree of dye liquor exchange;
an automatically controlled adjustable nozzle;
a liquor dispersion storage chamber designed for improved liquor dispersion;
an upper overflow to maintain pump operation with a low water level to prevent disturbance when rinsing at a high water level;
and lower overflow adopted for conventional overflow rinsing.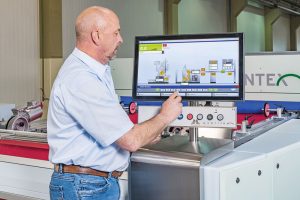 Germany-based A. Monforts Textilmaschinen had many innovations to share at ITMA 2019. Two that were of great interest to customers included the MonforClean exhaust air treatment system and the CYD [continuous yarn dyeing] multicolor yarn dyeing system.
The MonforClean module is incorporated into its Montex tenter frame, which simplifies the configuration and supporting structures typically required to process the exhaust air to adhere to emissions limits. Waste heat from the drying process is utilized to preheat the drying air to reduces the conventional heat supply required. An automatic exhaust air filter washing system is designed to automatically clean the module, ensuring consistent efficiency of the filter and heat recovery modules. The MonforClean system automates the heat recovery and exhaust air treatment processes making sure exhaust air is "highly purified" before it is released into the surroundings.
"The latest energy-optimized Monforts tenter frame — especially combined with a downstream Eco Applicator — sets new benchmarks in terms of energy efficiency and helps conserve resources," said Klaus Heinrichs, Monforts vice-president. "Setting the initial moisture content requirement for a specific process, before drying to a minimum value with an automated process, helps reduce heat evaporation and consequently, energy consumption."
The Eco Applicator, when installed in front of a Montex tenter, can minimize the amount of finish that is applied compared to a padder/foulard, according to Monforts.
"In addition, the hermetic sealing of the tenter frame prevents the loss of heated air as well as the ingress of excessive cold air — which has to be heated back up," Heinrichs noted. The MonforClean module automates the heat recovery and exhaust air treatment processes, while eliminating odors. As a result, the maximum possible energy savings no longer depend on the machine operator, but are instead harnessed in automatic operation."
Monforts' CYD multicolor yarn dyeing technology is based on the Econtrol® pad-dry technique. Econtrol, a registered trademark of Dystar Colours Distribution GmbH, refers to an established dyeing process for denim fabrics in which the reactive dyestuff is fixed to the cellulose fibers during drying. Monforts now has applied this concept to yarn dyeing with the CYD system. The company reports improvements in fabric quality and dye fixation; as well as time, water and energy savings.
The CYD system allows spinning, direct beaming, warping, assembly beaming, sizing and dyeing to be incorporated into the weaving preparation process. The multicolor technology also includes the addition of an Eco Bleach step combined with the washing units and prior to dyeing. This is compared to a conventional system where bleaching occurs in a separate processing step. CYD makes it possible to process short batches of up to 10,000 meters of yarn to produce up to 300 meters of fabric in a single continuous process. The CYD multicolor yarn dyeing system integrated into the Econtrol process offers manufacturers full dyeing pretreatment.
Monforts' Industry 4.0 offering is a digital twin capability using the latest advanced sensor technology to virtually map technical machine data in the cloud in real time. Users can access the data using the Monforts Smart Support and Smart Check apps. Smart Check sensors notify operators when maintenance is required or key components need replacing to prevent machine downtime, among other advanced operations. "The Monforts digital twin system and apps are being made available for all of our machine ranges going forward and will make the operations of our customers considerably smarter, and at the same time, simpler," Heinrichs concluded.
Fong's Europe GmbH comprises the European brands Goller, Then and Xorella.
Germany-based Goller recently introduced the Knit Merc, a machine designed for dry-on-wet mercerization of cotton and cellulosic fiber knitted fabrics using the lowest possible tension with less than 3-percent variation in dimensional stability. According to the company, Knit Merc can accommodate 8.4 meters of fabric in its impregnation compartment as well as 4 meters in the first chain section. Total production speed is 25 m/min at 30 seconds dipping time. The Knit Merc features an inlet comprised of scroll and slat rollers to guide the fabric, a Tandematic uncurler in front of a rubberized de-airing roller, and a grooved 320-millimeter (mm) bottom roller paired with 320 mm and 600 mm perforated upper drums. An integrated lye tank and automated circulation and filtration units ensure a low liquor ratio. The Knit Merc may be combined with Goller's Sintensa Cyclone drum washing compartment.
Germany-based Then recently introduced the THEN Supratec LTM hydraulic long-tube dyeing machine and the Smartflow TSF hydraulic high temperature dyeing machine.
The angle of the Then Flexkier featured on the Supratex LTM can be varied to accommodate either dry/jet or wet/overflow modes. This allows the dye liquor ratio to be optimized from 1:15 to 1:4 depending on the material processed. The Supratec LTM can handle woven and knitted fabrics in weights ranging from 25 to 380 grams per linear meter. The low
lifting height between the variable nozzle and plaited fabric means the fabrics are handled under very low tension. Each kier has a capacity of up to 230 kilograms (kg), and operating speeds range from 80 to 600 m/min. "Existing Supratec machines on the market are providing excellent performance for a wide range of delicate synthetic fabrics, from polyester to polyamide with high content of elastane," said Fong's Europe Director of Sales and Marketing Richard Fander. "Heat-setting often can be avoided, which improves the handle of the material and saves costs and the lengthwise-elongation of the fabric being treated is lower than on winch-driven machines."
The Smartflow TSF high temperature dyeing machine was designed to achieve low energy and water consumption rates compared to other jet dyeing machines. According to the company, for a full load of up to 300 kg, liquor ratios of 1:3.5 for cotton and 1:2.5 for man-made fabrics may be achieved. The fabric transport design is just one feature of the machine that is patent-pending. Then reports this winchless fabric transport system eliminates the need for a loading rope, and a circular plaiter with programmable rotation speeds offers full filling of the drop zone. The Smartflow TSF offers flexibility with dyeing chambers that can accommodate variable loads in terms of weight and material type, and each machine can be equipped with up to eight chambers while taking up 40-percent less floor space than other systems, according to the company. "The newly-developed nozzles and reel-less transport in combination with smart controlled circular plaiting and variable chamber adjustment provide even fabric treatment without entanglements and the highest loading capacity with the lowest kier volume," Fander explained. "As the process times of jet machines have been continuously optimized over the past few decades, they have required an increasing number of service tanks for dyes, auxiliaries and hot water, adding both expense and additional space requirements. Our new BPU and satellite tank, with its automatic dosing and mixing programs, working in combination with the Then temperature management system, ensures the recipes are supplied in exact quantities, with dyes and auxiliaries well diluted and heated to the required temperature extremely rapidly."
Germany-based Xorella offers conditioning and heat setting equipment for textiles. The latest company development is a reengineered controller and software. The company reports the latest generation offerings were designed with easy operation by less skilled personnel in mind. New interfaces with pictograms assist with troubleshooting. Data also can be saved and shared with the company's service department for analysis and support. Additionally, Xorella's controller allows the machines to be connected to external systems allowing for integration with customers and other third parties.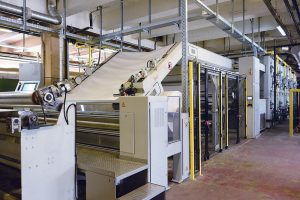 Germany-based Brückner Trockentechnik GmbH & Co. KG offers drying, coating and finishing machines for fabric, nonwovens, carpet and glass. In recent years, the company has heavily invested in digitization and Industry 4.0 technologies to increase productivity, improve quality and reduce resource use. One area of focus is on intelligent assistance systems to monitor machine settings that can be used to optimize production parameters. Such optimization "can increase production speed by up to 40 percent and/or reduce energy consumption by up to 30 percent," according to Brückner.
The company also has invested heavily in developments for the denim sector. The Brückner Sanfor line POWER-SHRINK is particularly useful in denim finishing. The process compacts and stabilizes woven fabrics at speeds of up to 100 m/min, while imparting a shine and soft hand to the fabric. According to the company, large diameter compacting rollers extend the service life of the machine's rubber belt; bearings are positioned outside the wet machine area to eliminate bearing corrosion; and an integrated rubber belt grinding unit can be operated using a menu to eliminate operator errors. An optional automatic shrinkage control system also is available.
Brückner also offers the Brückner Power-Frame VNE multilayer tenter that features the entry and exit on the same side, thus requiring only one operator per machine and less floor space for installation. According to the company, such multilayer tenters are suitable for finishing woven or dimensionally stable knits, nonwovens, needle felts, technical textiles or wool fabrics. The VNE dryer is equipped with Brückner's patented split-flow air circulation system, and an alternating arrangement in each half compartment ensures optimum and uniform air circulation as well as thermal treatment of the fabric, according to Brückner. The machine's lubricant-free transport chain offers the additional advantage of zero oil in the dryer's interior, thus removing the potential of oil stains on the finished fabrics.
Germany-based Thies GmbH & Co. KG has introduced a new generation of T390 controllers for Industry 4.0 applications and interfacing appropriate MES systems. The latest version of the company's Maintenance Manager software features the Condition Monitoring module. The software schedules, executes and controls all maintenance and servicing, including procuring spare parts and providing digital technical documentation, according to the company.
The soft-TRD SIII, the third generation of Thies' universal dyeing machine, offers liquor ratios starting at 1:5 and is designed to run fabrics sensitive to processing — including wovens, knits and nonwovens — in a gentle manner. The machine can be configured with up to four chambers with maximum nominal loadings of 100 kg, 150 kg and 200 kg per chamber for versatility in production. According to Thies, free material flow and a low intensive transport zone coupled with a swimming material transport design guarantee relaxation and uniform rope treatment for a wide range of fabric types and weights.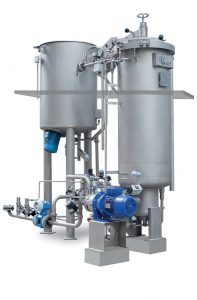 The Thies iCone is used to bleach and dye fibers in a variety of forms including packages, warp beams, combed tops or flocks. The machine may be operated in a traditional manner using reciprocating liquor circulation, or may be operated using a single flow direction and ultra-short liquor ratio starting at 1:3.6.
Last year, Switzerland-based Benninger AG celebrated its 160th anniversary. The company specializes in continuous open-width treatment of knit and woven fabrics, and also offers systems for tire cord production. Some of the company's latest textile offerings include the Benninger-Küsters CPB dyeing center — a salt-free cold pad batch dyeing process for knits and wovens; the Tempacta washing steamer for knitted fabrics; and the Benninger-Küsters Multipad for complex impregnation jobs.
The CPB process features the Benninger Küsters DyePad; as well as the original S-roller technology, which produces an even dyeing result across the entire fabric width.
The Tempacta washing steamer is designed for low-tension washing including diffusion washing. According to the company, the unit features a consistent counterflow water supply, and measures the degree of contamination in process in order to regulate the amount of fresh water needed to guarantee the lowest amount of water is used at the same time.
The new Benninger Küsters Multipad unit comes with an optional double impregnation feature that makes it suitable for both very lightweight knitwear and heavy denim and other fabrics in between. The Multipad may be used for cold bleaching and knitwear pretreatment, as well as denim over-dyeing and mercerizing.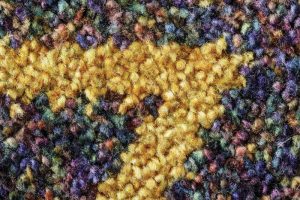 France-based Superba Sas, a Vandewiele company, recently launched the MCD/3 space dyeing machine for carpet yarns. The machine can handle a layer of 72 ends of bulk continuous filament or spun yarn. Dye is applied using a high-pressure spraying technique for even impregnation in a "one-pile/one-color" process. When paired with the TVP3 heat-setting line, the MCD/3 can space dye polyester or nylon yarns in up to six colors. Bicolored printing effects also can be achieved. In conjunction with Superba's high capacity DL/5 heat setting line, the MCD/3 can also be used to space dye acrylic carpet yarns.
According to the company, benefits of the technology include:
Improved carpet coverage because the yarn dyed without tension for a bulky and round yarn;
Reduced production costs with no minimum lot size;
No wasted dyestuff;
Reduced water consumption;
No dyestuff migration; and
High color fastness.
When used with Superba's new MF400 stuffer box, space dyeing, frieze application and heat setting can all take place in a single continuous process.
Austria-based J. Zimmer Maschinenbau GmbH's (Zimmer Austria's) Magnoroll is a multipurpose coating machine that offers endless possibilities through use of exchangeable modules. Liquids, pastes, lacquers and foams can be applied to a variety of substrates including traditional textiles, nonwovens, carpets, foils, glass, plastics. The Magnoroll can be modified for each customer depending on their coating needs.
Available modules include:
Magnoroll coating module for magnetic low add-on or magnetic direct roll coating;
Single or double screen coating module equipped with magnet roll rods or magnet blade squeegee;
Magnoknife Over-Roll or Over-Air coating module featuring a reversible high precision knife holder, and two knives each containing two blades;
Magnojet module for paste or foam coating in a closed system; and
Variopress module for stable and metastable foams.
The modules can be changed out in a few simple steps to minimize downtime.
Zimmer also markets the Magnoroll for pre- and post-coating in pigment digital printing processes for improved rubbing fastness. Using the Magnoroll to precoat the fabric removes the need to purchase an expensive preprepared substrate for digital printing.
Process automation equipment manufacturer Baldwin Technology Co. Inc., St. Louis, introduced the TexCoat 4G last year. This non-contact spray application system — which has its origins in a 35-year-old spray system used in the paper industry — can apply a variety of chemistries in a precise manner to either one, or both, sides of a fabric at the same time. The spray nozzles overlap slightly to ensure total coverage, but using smart technology, are programmed to cycle on and off to avoid overlapping spray that could cause striping. The technology does not employ a pad bath so there is no dilution of the chemistry, which solves the problem of tailing out. Also, because the system is totally enclosed, there is virtually zero chemistry waste or contamination. Instead of dipping fabric or padding a coating on, the fabric simply passes through nozzles in a controlled manner which results in a high-quality, uniform and consistent application. Clean-up is greatly simplified, and changeovers can be done quickly and efficiently via the fully automatic flushing system that performs a chemistry change in less than five minutes. A wide range of low-viscosity water-based chemistries, including water repellents, softeners, antimicrobials and more, have been effectively demonstrated to date with more developments in the works. Brands have taken notice of the sustainability and eco-friendly nature of the technology coupled with its flexibility. Baldwin recently completed several installations of the TexCoat in the United States.
The dyeing and finishing industry continues to make strides in developing technologies that make the processes more environmentally friendly and sustainable. Innovation in the sector is continuous and adoption of these technologies will create a more sustainable global textile industry.
September/October 2020