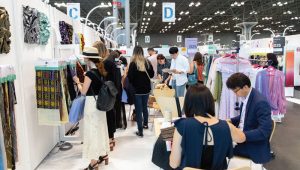 Texworld USA is heading in a new direction for the January 2020 edition of the event to be collocated with Apparel Sourcing USA.
TW Special Report
Atlanta-based Messe Frankfurt Inc., organizer of Texworld USA, reports a new direction for the January 2020 edition of the show, which will return to the Javits Center in New York City January 19-21, 2020. Texworld USA will, as always, collocate with Apparel Sourcing USA.
Texworld USA — an apparel sourcing event for buyers, research and product development specialists, designers, merchandisers and overseas sourcing professionals — covers more than 18 product categories including cotton, denim, functional fabrics, jacquards, drapery and silky aspects. The focus for the January event is "a spotlight on innovation through the evolution of today's fabrics: denim, cotton and functional fabrics."
Messe Frankfurt noted updates and a new artistic direction for the January event. The Texworld Showcase, led by New York City-based The Doneger Group, will highlight trends and offer insights on the latest colors and textiles available for the Spring/Summer 2021 fashion season. Named "The New Dimension," the trend showcase will organize functional and quality-made fabrics into four themes — Fundamental, Diaphanous, Alteration and One World.
Local Loft will again feature at Texworld USA. This designated area is focused on domestic suppliers, connecting apparel service providers with companies looking for U.S.-based production options, in-stock goods and inventory, and small quantity options to address the growing demand for low- to mid-level minimums.
Apparel Sourcing USA — a long-term joint venture partnership between Messe Frankfurt and the China-based Sub-Council of Textile Industry, China Council for the Promotion of International Trade (CCPIT-TEX) — is designed to offer apparel brands, retailers, wholesalers and independent design firms a dedicated sourcing marketplace for finding the best international apparel manufacturers. Focused on finished apparel, Apparel Sourcing USA specializes in ready-to-wear for men, women and children, as well as accessories.
Education
The Texworld USA Educational Program, including the Lenzing Innovation Seminar Series and Textile Talks, is open to all registered Texworld USA and Apparel Sourcing USA participants. Seating is available on a first-come, first-served basis.
The Lenzing Innovation Seminar Series, hosted by Austria-based Lenzing Fibers, will again feature a strong educational program "focused on finding dynamic solutions to industry and environmental problems," according to Messe Frankfurt. "We're looking forward to a new year in sustainable sourcing opportunities," said Tricia Carey, director of global business development, Lenzing Fibers. "Despite the apparel industry's sourcing challenges, we see Texworld USA as an opportunity for alternative sourcing solutions for today's market. The Lenzing Innovation Seminar Series includes topics ranging from sustainability, tech and sourcing."
To continue the conversations that began at the last edition's FASHIONSUSTAIN event, FASHIONINNOVATE will make its debut on Sunday, January 19, 2020. This one-day conference, dedicated to tools and innovative fabrics, will cover such topics as technology tools, biosynthetics and smart textiles. The hope is to address industry challenges and assist companies in the quest for sustainability.
The winter edition also will host an Innovation Showcase that features a curated selection of textiles, materials and technologies.
"We chose innovation as the direction for 2020 as a way to call attention to the inventiveness in the industry and take steps towards synchronizing sustainability and innovation," said Jennifer Bacon, show director of fashion and apparel, Messe Frankfurt.
"By adding elements like FASHIONINNOVATE and the curated innovation showcase, we achieve our objective to elevate our platform by bringing in the brightest minds to spread awareness on these topics."
Registration is complimentary for qualified trade industry professionals. Attendees are encouraged to preregister online but may also register on-site using a business card and photo identification. The show is open Sunday, January 19, and Monday, January 20, from 10 a.m. to 6 p.m.; and from 10 a.m. to 4 p.m. on January 21.
---
For more information about Texworld USA and Apparel Sourcing USA, please visit texworldusa.com and apparel sourcingshow.com.
---
November/December 2019