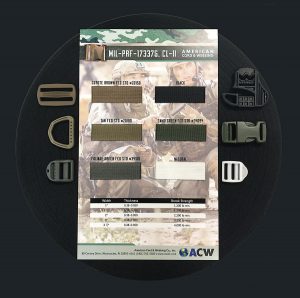 Company credits thinking outside the box and innovation for its longevity.
By Jim Kaufmann, Contributing Editor
In this age of digitalization, hyperactivity and seemingly constant change in virtually every aspect of business and life, it has become very rare to find a textiles manufacturer, or any company for that matter, that has remained in business for more than 100 years. It is even more unique to find a successful company solely owned and operated by four generations of the same family which is still going strong 102 years later. If you are not familiar with any such companies, meet Woonsocket, R.I.-based American Cord and Webbing (ACW) proudly owned and operated by the Krauss family since its incorporation in 1917.
"Our success over the years can be traced to two core principles" offered Jordan Krauss, who with his brother Alex represents the next generation of the Krauss family's leadership in ACW. "Having a sound base of knowledgeable, committed employees, and always striving to do the right thing to keep our customers happy. We firmly believe that price is not everything. The real question is how high a level of value can we provide to our customers," he explained. These basic principles have certainly served ACW well since its inception.
ACW was started by Max Krauss, Jordan and Alex's great-grandfather, who in 1915 began selling narrow fabrics and cord products in New York City's textile district. A few years later in 1917, ACW was incorporated in New York City as a small distributor to the city's growing fashion industry. Under Max's leadership, the company maintained and grew through some rather turbulent times including two World Wars and the Great Depression, while increasing ACW's capabilities and product offerings. In 1962, a few years after Jack Krauss, Max's son, took the helm, ACW's manufacturing facility, which now included strap assembly and a distribution center, moved to Lincoln, R.I., where the company continued to grow and broaden its offerings at a steady pace.
Mark Krauss, Jordan and Alex's father, started working for ACW in 1979 and officially took over the business from Jack in 1988. A few years later he relocated ACW to its current facility in Woonsocket. Growth and diversification have continued along with ACW's commitment to building upon its founding principles of growing and treating its employees well while remaining focused on providing exceptional value to their customer base. "Being located less than 20 minutes from Slater Mills where the U.S. textile industry essentially began is a nice reminder of the importance of core values and that we are helping to continue the textile industry traditions here in New England," offered Jordan.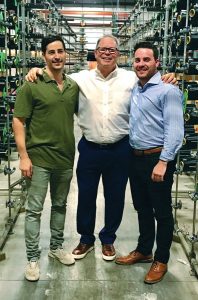 Valued Employees
Having a concentrated focus on workforce development has proven over and over to pay dividends to both ACW and its customers. "We have a strong core of experienced employees which has been built up over the years" said Susan Lake, ACW's director of sales and marketing. "When young people join the company, we employ a mentorship and apprenticeship program that all go through. It really works wonders in fostering relationships between different generations of workers, nurturing cross-training and ultimately maintaining ACW's knowledge base that has continued to grow over many years.
"We've also been fortunate to receive a generous amount of grant funding from the state of Rhode Island which allowed us to implement several focused training programs for operators, mechanics and others throughout the company" Lake added.
Maintaining a focus on its core values has undoubtedly helped ACW survive through several historical and also unforeseen events that could have certainly damaged lesser companies. As explained by Jordan: "A few years ago our father [Mark Krauss, then president of ACW] had a completely unexpected health scare that forced him to step away from the business. We witnessed first-hand the value of having a diverse, knowledgeable and committed group of employees. It was incredible to see everyone immediately step up and take charge of the situation without any hesitation. This was especially true of those who led our operations, sales and engineering, each of which had 15 to 25 years of prior experience at ACW. There were some obvious adjustments, but ACW continued on.
"Our entire family was, and remains, incredibly grateful to the people at ACW and those relationships we have," emphasized Jordan.
Customer Oriented
The knowledge of the employees, as well as the cross-training efforts instilled throughout ACW from its beginning have proven beneficial to building and supporting solid customer relationships, a major contributor to ACW's longevity and success. "ACW is unique in that for a narrow fabrics company, we can do a little bit of everything," Jordan said. "Our sales force is trained in all ACW products and capabilities, which allows us to approach existing and potential customers from the perspective of being a resource and problem solver. We make every effort to really understand all of the customer's particular needs for each application. We can break it down, analyze it, tell them how to make it better and then help them make more accurate informed decisions. Then we create and tailor our products to meet those specific identified needs."
Product Focus
From its start as a sales and distribution company, ACW has progressed, through inspiration, acquisition, investment and listening to their customer's needs and expectations, into a multi-faceted manufacturer with a global reach and a growing list of capabilities and product offerings. Today, ACW is the only domestic manufacturer of both narrow fabrics and plastic hardware in the country, remains privately held and currently employees approximately 100 people.
"We are now comprised of three different divisions — narrow fabrics and webbing, hardware and molded products, and custom fabrication and assembly," Lake said. "ACW is the only U.S. manufacturer with these three leading product offerings under one roof. Our biggest selling point is that while most of our competitors focus heavily on one or two areas in this market, ACW is able to do it all. Most of our manufacturing is located here in the United States, which allows us to remain compliant with the Berry Amendment requirements, however we also have a growing manufacturing presence and resources overseas." ACW is ISO 9001:2015 certified and holds several other accreditations.
Narrow fabrics and webbing, a mainstay of ACW's business since its inception, remains the core product offering. The company manufactures a variety of narrow fabrics and webbings from inputs including nylon, polypropylene, polyester, aramids and elastics to meet diverse application needs. ACW also recently invested more than $500,000 in a new dyeing range to expand capabilities and product offerings. "This equipment allows us to custom dye narrow fabrics in virtually any color," Jordan said. "We now use an acid steam dye process that enables dyes to more effectively penetrate the fibers providing a strong chemical bond and creating excellent color consistency and high resistance to abrasion and crocking." ACW also offers a variety of textile finishes that include fire retarding treatments, water repellency, mildew resistance and other fabric property enhancements. In addition, it has started exploring sublimation printing as a way to further enhance product offerings.
In-house injection molding of plastics allows ACW to design and manufacture virtually any molded product from acetals, nylons, polys and other polymers. According to Glenn Florio, ACW's head of engineering and materials: "We specialize in injection molded plastic parts ranging in size from 3/8 inches to larger parts which can be up to 8 inches in size for military, industrial and commercial applications. Our molding machines range from small to large as well allowing us to produce a complete line of proprietary, Berry Amendment compliant, plastic hardware buckles as well as custom molded products for specific customers." In addition, "We're the only company we know of in the world offering a full line of UL approved heat stabilized plastic hardware" Lake added.
Combining the efforts of the narrow fabrics and molding divisions resulted in ACW creating its innovative FireLoc® flame retardant products. Introduced into the marketplace in 2012, FireLoc encompasses flame retardant and treated webbings as well as a complete line of heat-resistant thermoplastic hardware engineered to meet UL/ULC and NFPA Standards for Safety. This line of products has found favor in firefighting and other emergency services, high heat and hazardous condition industrial applications.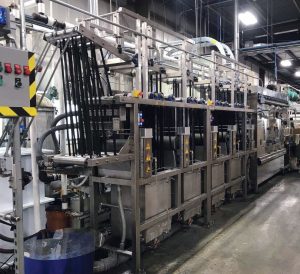 "Our custom fabrication and assembly division takes the narrow fabrics and molded components that we produce and assembles them into custom products that we've either designed or our customers have brought to ACW to make for them," Jordan said. "This can include belts, lanyards, dog collars and other more complex assemblies. Pretty much everything we make is customer specific. Knowing our products and capabilities intimately allows us to work backwards from the application's particular requirements to define the needs of the products we produce. We can certainly guide customers on the direction they want to go and then quickly turn around samples for them to evaluate."
"We're also able to import assemblies as necessary from a selection of approved vendors," Lake added.
Future Path
"Sometimes we think about moving more downstream to producing our own line of OEM products, but for now, we're comfortable being where we are," Jordan explained. "We're a small to medium-sized manufacturer that is able to take on the bigger companies by thinking outside the box with our innovation and diversity. We really strive to do the right thing for our customers. We always strive to expend the extra effort and make things work to keep our customers happy. A lot of times that's not normally the case for this industry."
An excellent commentary for all companies, old or new, to embrace in this day and age and one that will likely propel ACW through another 100 successful years and more.
July/August 2019