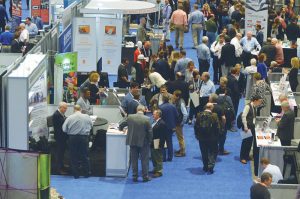 Messe Frankfurt's odd-year technical textiles show drew record crowds to Raleigh, N.C.
TW Special Report
Techtextil North America's odd-year trade show held recently in Raleigh, N.C., once again disproved the myth that size matters. The number of exhibitors was on the small side at 165, but the 3,185 visitors in attendance represented an increase of 52 percent over the Chicago event in 2017, and made the 2019 edition the highest attended odd-year show in its history.
One only had to look around the exhibit halls to see the large crowds — at times navigating the aisles or finding an empty seat in the dining and break areas was difficult because of the sheer volume of people gathered in groups clearly engaged in interesting conversations.
"The first hour of the show that I witnessed was phenomenal," said Dennis Smith, president, show organizer Atlanta-based Messe Frankfurt Inc. "We want to create events that drive business discussions and from what I have seen so far, we are delivering on that."
The overall satisfaction of the exhibitors backed up the positive numbers and show floor buzz.
Bill Christmann, vice president of sales, Gehring Textiles, commented that while the show floor was smaller than past events, the traffic and discussions were good. "If you come to a show with an open mind, it's almost always a good show," Christmann said. "We see suppliers, customers, old friends and new, and that combination along with the potential opportunities gained justifies us coming back again and again because we always seem to make new worthwhile connections."
Lumat USA highlighted its ultra-high molecular weight polyethylene filament at the show. Lumat's Manager of Sales Bart Krulic offered: "This is the best odd year Techtextil thus far. Everyone I've spoken with had nothing but positive things to say about the show." Tony Webber, sales director, Adaptive Control, mentioned: "The show has been great for us. Lots of good conversations."
The show floor provided the usual array of interesting offerings from exhibitors, once again displaying how vast and diverse the applications for technical textiles have become. Several of the symposium presentations, student posters and floor talks also provided further indication of new applications and opportunities still to come.
R&M International was a first-time exhibitor at Techtextil North America. "We are launching some new products – textured yarns, plied yarns and large denier yarns — and have had a lot of inquiries and met new customers, people we don't normally do business with," said Dominic Rawson, managing director. "The show has been great for us to showcase the new products."
Collocated Open House
Hosting the show in Raleigh also provided the opportunity to attend an open house at North Carolina State University's (NC State's) Wilson College of Textiles to tour the various labs and meet the next generation of textile industry employees. The Nonwovens Institute (NWI), also housed on the NC State campus, was a highlight of the tour, showcasing its state-of-the-art equipment and capabilities, as well as demonstrating a refreshing philosophy that emphasizes working with industry partners to advance technology and applications. The NWI may not be well known to all, but for those companies in the know, it has certainly become a valued industry asset.
Future Events
Smith reported that launching the odd-year show has been an interesting journey, but "we know there is a demand for a technical textiles show in the United States annually." Organizers were not yet ready to go public with the location for the next odd-year Techtextil North America, but Smith said it's looking most likely to be a venue in the Southeast.
Techtextil North America returns to Atlanta for its flagship even-year edition May 12-14, 2020.
March/April 2019