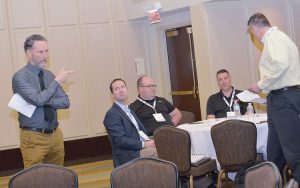 Two-day industrial digital printing conference offered the community insights on developing new business opportunities.
TW Special Report
The InPrint USA Industrial Inkjet Conference recently wrapped after two days of informative presentations and round table discussions at the Palmer House Hilton in Chicago. The conference was designed to provide "the industrial print community with unique, thought-leading insights on adopting digital technologies to develop new business opportunities." And the great news for the textile industry is that many leaders in the industrial printing community see lots of growth and opportunity in textile printing especially in home décor.
Multiple presenters mentioned digital textile printing during their presentations, and textile applications were often mentioned during the Industrial Inkjet Roundtable Discussions, which was facilitated by Frazer Chesterman, co-founder, InPrint and Pure Digital.
The round table offered the chance for conference attendees to learn from one another "by sharing insights, experiences and challenges related to the adoption of inkjet technology," according to organizers.
During the round table when asked, "Which sector offers the best immediate growth for industrial inkjet?," participants overwhelmingly answered décor — including textiles, flooring and wallcoverings — as well as packaging. And when asked, "Is single-pass inkjet technology the key to opening market opportunities for industrial print manufacturing?," respondents agreed there is some value in single-pass technology for the right markets — primarily packaging and textiles.
Following the initial presentations on both days, conference attendees then had the opportunity to select from a Technical track or Creative track to obtain information specific to their own business interests. Rachel Nunziata, product development manager, 4Walls, a designer and manufacturer of wallcoverings for residential and commercial contract markets, gave a presentation in the Creative track entitled, "Industrial Print Opportunities in Décor."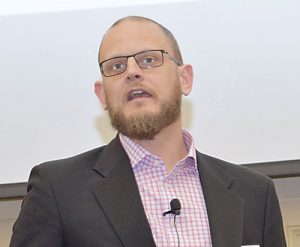 In the Technical track, Dr. Hamid Shirazi, Aqueous Inkjet Ink Product Manager, Fujifilm Imaging Colorants presented, "Inkjet Technology: Latest Trends and State of Fujifilm Technology. "Fujifilm has major development efforts in key aqueous inkjet markets including commercial printing, textile, packaging and décor, including flooring and laminates," Shirazi said. "However, each of these markets and their sub-segments are at a different digitization conversion rate so we encounter very different requirements and demands for each segment. Our scientists and application specialists find that many of the lessons learned and experience gained in one market can be very relevant to other market segments at a lower digital conversation rate."
"The content of the InPrint Conference was focused on where the industrial inkjet market is headed and how manufacturers can implement the technology into their production to drive business growth," stated Kevin Jackson, InPrint USA exhibition manager. "Implementation has its challenges, but our goal at InPrint is to help the manufacturing community learn from each other and provide access to the information and technology they need to succeed in their business goals."
The next InPrint event in the United States — InPrint USA – the International Exhibition of Print Technology for Industrial Manufacturing — will be held April 9-11, 2019, in Louisville, Ky.
May/June 2018