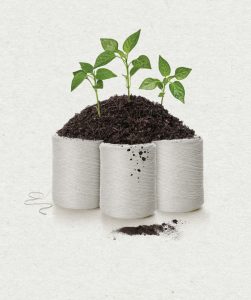 Austria-based Lenzing Group is capitalizing on its fiber knowledge as it seeks inventive applications for its sustainable fibers.
By Marina Crnoja-Cosic
Lenzing Group, a producer of high quality, botanic, cellulose fibers, has worked to expand its 80 years of experience creating sustainable textiles fibers to other markets. The Austria-based company established a stand-alone business unit to focus on inventive applications for its sustainable fiber technologies to new industries. The department of industrial applications has identified several areas of interest including footwear, technical textiles, technical nonwovens, packaging and filtration. However, agricultural applications are showing particular promise for reducing plastic use without sacrificing the performance farmers must have for successful operations. Botanic fibers also offer benefits in food applications.
"The agriculture industry is coming under scrutiny by consumers, regulators, and NGOs [non-governmental organizations] for its plastic waste generation," said Marina Crnoja-Cosic head of the business unit. "The industry puts out about 5 million metric tons of plastic waste a year with approximately 60 percent of that waste going into our oceans." In light of those figures, many agriculture industry leaders and governments, particularly in Europe and North America, are looking for change.
Plastic use in agriculture extends from the farm to the grocery store. Farmers use disposable products like films, twine, rope, packaging, and other items, most of which are currently made out of plastic with the vast majority trashed after the first use. Plastic is used extensively in consumer packaging for agricultural products as well. Nets, bags, labels, films, and other packaging elements are routinely made out of plastic. In addition to concerns about plastic waste, consumers increasingly are worried about harmful chemicals in food packaging, especially with the corresponding growth of interest in organic and other sustainable food sources. The combination of these consumer issues suggests that botanic options can offer solutions on many fronts.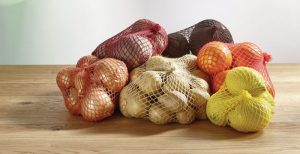 A Viable Botanic Solution
LENZING™ Lyocell fibers based on wood offer tremendous promise in agricultural applications. The fiber's sustainability profile is well-known. First, the raw material is wood harvested from responsibly managed and renewable forests. Next, the Lenzing Lyocell fibers are produced in a proprietary closed loop manufacturing process that is water and energy efficient and boasts almost 100-percent solvent recovery and recycling. In fact, this special manufacturing technique has earned Lenzing the "European Award for the Environment" from the European Commission.
The natural origins and responsible manufacturing methods combine to make the fiber extremely attractive for sustainable agriculture. Lenzing Lyocell fibers deliver on the industry's stringent performance requirements as well. The fibers are known across the textile industry for their tenacity. As an option to the other choices agricultural operations have, ropes and twines made out of Lenzing Lyocell fibers can deliver similar performance to the plastic-based product.
Most importantly for agriculture's plastics issue, the Lenzing fiber is 100-percent biodegradable. That means that if agricultural products made using Lenzing Lyocell fibers end up in the trash, they will break down into harmless chemical components in a fairly short amount of time. And, perhaps more importantly, Lenzing Lyocell fibers have been proven to be 100-percent biodegradable in seawater as well. That's even better news for the planet and can reduce the burden that agricultural waste imposes on the oceanic ecosystem.
More good news about Lenzing's Lyocell fibers is that they are 100-percent compostable. Instead of trashing the fiber materials after use, farmers may compost and convert them through natural processes into beneficial materials that will nourish the soil. Because the fiber is made from wood, a renewable raw material, and is sustainably manufactured, it decomposes without depositing harmful chemicals into the ecosystem.
Raise A Stein To Botanic Fibers
Hops farming perfectly showcases the multi-level value a strong, yet compostable, fiber like Lenzing Lyocell can bring to the agriculture market. Hops, a grain cherished by beer lovers, requires steel supports for the hops plants. After the grain is harvested, these steel supports must be separated from the hops plant stalks and thrown away. They are not reusable.
When the steel supports are replaced with products based on Lenzing Lyocell fibers, many benefits are gained. Tests show equal performance with regards to holding up the plants effectively throughout the growing cycle. However, after harvest, the fiber supports simply are composted with the plant stalks. Labor costs to separate the steel supports from the plant stalks are eliminated; landfill burden caused by disposing of the steel supports is removed; time is saved; more enriching compost, a valuable asset for a farmer, is generated; and not to mention that breweries targeting today's sustainability-minded consumers will have a great story to enrich their marketing campaigns.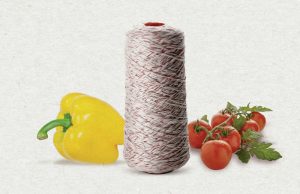 From Land To Sea To Shelf
The benefits of botanic fibers for agriculture on land are evident and the fiber also may find use in aquatic applications. The inherent strength makes it an ideal fiber for net structures for shellfish farming. Lenzing has tested mussel nets and socks made using Lenzing Lyocell fibers with great success and these botanic nets currently are in use in the Adriatic Sea.
Sustainability advantages in aquatic farming are evident when the netting is housed in the oceanic ecosystem. If pieces of the nets break off, they harmlessly will decompose rather than building up in the ocean. The fiber is strong enough to withstand the long mussel growth season and provides a reliable infrastructure on which the shellfish can thrive. The new nets also stand up to the mechanical rigors of harvesting and processing. After harvesting and processing, the nets can be composted to close the sustainability loop. If they are just discarded instead, botanic nets will biodegrade in seawater or in soil.
The botanic fibers are exceedingly pure and free of potentially harmful chemical contaminants. They are tested according to stringent European Union criteria for materials that come into contact with food. Therefore, they can be used without concern in a wide variety of food applications, which includes food packaging. Net bags made using Lenzing botanic fibers provide clean, sustainable packaging that meets all performance criteria. Lenzing for packaging completes a sustainability statement for farmers trying to present their produce, fruit and vegetables, or other foodstuffs to consumers as healthier, cleaner, or more environmentally responsible.
Lenzing is looking at other opportunities to replace plastic with botanic fibers in agriculture and packaging. Mulches, trellises, and other packaging applications are in the product development hopper. "Farmers need help with plastics reduction now," Crnoja-Cosic said. "Farmers are coming under pressure from consumers, regulators, and food retailers to improve the sustainability of their operations and comply with the emerging demands for circular economy in all markets.'
Future Developments
While Lenzing has borrowed extensively from its textile heritage to develop botanic innovations for the agriculture market, the company's new business unit also intends to close the loop back to technical textiles and industrial applications. "We are just beginning to develop the extensive opportunities to work with the agriculture industry to improve farming sustainability, reduce the burdens plastic use places on landfills and oceans, and to offer consumers more botanic options," Crnoja-Cosic said. "The knowledge we gain from agriculture will help us expand applications for technical textiles as well."
Technical textiles obviously are a market where wood-based fibers from Lenzing can deliver the same functional performance as plastic without the environmental negatives. Currently, Lenzing is evaluating additional promising applications where sustainability meets demanding technical performance criteria required for coated fabrics, filters and even thermoplastic reinforcement and composite materials. Footwear offers exciting opportunities and is addressed in Lenzing's sole-to-lace commitment to finding botanic fiber solutions for shoes.
Botanic fibers can offer a sustainable choice without sacrificing technical performance for many industries that currently rely heavily on plastics. Made using renewable raw materials, manufactured in a resource-considerate, closed-loop process, and fully biodegradable in soil and seawater, botanic fibers like Lenzing fibers can help companies address the increasing calls-to-action from consumers, NGOs, governments and market leaders.
"Lenzing has shown that botanic fibers provide a highly effective and sustainable option, and we are eager to partner with companies who want to make the switch to environmentally considerate materials," concluded Crnoja-Cosic.
Disclaimer: LENZING™ is a trademark of Lenzing AG
March/April 2018