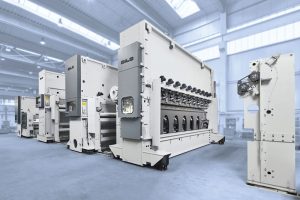 The multi-year trend of confidence and investment in U.S. textiles remains
TW Special Report
Investment, new plant and equipment, expansion, and merger and acquisition activity continue to provide evidence of the multi-year trend of confidence in U.S. textiles. The following is a round-up of just some of the reports on the subject featured in Textile World and on
TextileWorld.com.
Fiber, Spinning Announcements
Uxbridge, England-based Coats Group recently announced the acquisition of Patrick Yarn Mill Inc., Kings Mountain, N.C. Coats is a well known industrial thread manufacturer. Patrick Yarn is a manufacturer of high-performance engineered products that specializes in cut-resistant and flame retardant yarns. Patrick was founded in 1963, and in 2016 annual sales totaled $36.5 million.
"Patrick Yarn Mill is an exciting acquisition that supports a key aspect of our growth strategy," said Rajiv Sharma, group chief executive, Coats.
"Patrick Yarn Mill becoming part of the Coats family creates many opportunities for both companies as there is a lot of synergy between our product offerings and technology," said Gilbert Patrick, president, Patrick Yarn Mill. "A key one is being able to leverage Coats' unrivaled global footprint and strong corporate brand to accelerate market growth, which will benefit not only Patrick Yarn Mill, but also our employees and our community."
Leigh Delaware Holdings — a global company focused on sustainable product engineering through manufactured, traded, and reprocessed fibers and polymers and parent company of Leigh Fibers Inc.— announced that it has signed a non-binding letter of intent to acquire J.E. Herndon Co., a privately held company based in Kings Mountain, N.C. J.E. Herndon reprocesses textile fibers and by-products primarily connected to the cotton industry.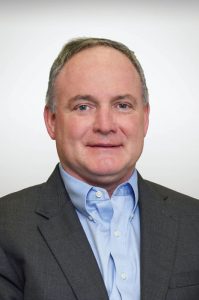 "We are excited to take this next strategic step in our growth journey through the acquisition of J.E. Herndon Company," said Don Bockoven, president and CEO, Leigh Fibers and ICE Recycling — an affiliated company of Leigh Fibers. "This acquisition complements our overall service and product offerings while adding to our capacity and geographic presence."
The company stated that the expertise and capability that J.E. Herndon has built over the past 90 years in the cotton area aligns with Leigh's overarching vision of becoming the global preferred provider of sustainable recycled solutions across diverse markets, materials and product lines.
Wichita, Kan.-based INVISTA reports it has entered into a definitive agreement with China-based Shandong Ruyi Investment Holding for Invista's Apparel & Advanced Textiles business. Closing is anticipated by the company no later than mid-2018.
Invista reports its apparel brands and fibers including LYCRA®, LYCRA HyFit®, COOLMAX®, THERMOLITE®, ELASPAN®, SUPPLEX® and TACTEL®; TERATHANE® polytetramethylene ether glycol, 1,4 butanediol and tetrahydrofuran production; related global manufacturing assets, research and development centers and sales offices; and approximately 3,000 global employees in technical, operations, commercial and administrative roles are included in the transaction.
Invista has announced it will focus on its three remaining major business units — Intermediates, Performance Solutions and Invista Performance Technologies.
"The Apparel business has always been a strategic and valued part of our portfolio," said Jeff Gentry, chairman and CEO, Invista. "We engaged the market because we want this business to be owned by the company that can create the greatest value for customers, employees and stockholders. In this case, we believe that Shandong Ruyi Investment Holding has the knowledge and capability that will enable this business to thrive the most and succeed over the long term."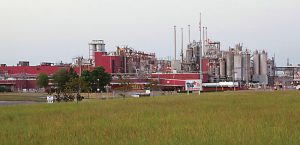 Houston-based Ascend Performance Materials, a fully-integrated producer of nylon 6,6 resin, announced plans to increase production capacity across its intermediate chemicals and polymers portfolio by 10 to 15 percent to support the continued growth of its customers.
"The global demand for nylon 6,6 and our intermediate chemicals continues to grow at 3 to 4 percent per year in a range of diverse applications," said Phil McDivitt, Ascend's president and CEO. "Ascend has cost effective expansion opportunities that allow us to bring additional capacity online as the market needs it."
Ascend announced it will increase capacity of adiponitrile (ADN), hexamethylene diamine (HMD), adipic acid and polymers through 2018.
"We have consistently added capacity through our entire nylon 6,6 value chain since 2015, increasing our production by 10 to 30 percent depending on the product with no impact on our customers," McDivitt said.
Unlike many other nylon 6,6 producers, Ascend sells polymers and intermediates into nearly every end use market and geography. "Our more than 60-year history of serving a wide variety of markets has given us an unparalleled understanding of the entire nylon 6,6 value chain," said Scott Rook, Ascend's vice president of nylon. "The unique qualities of nylon 6,6 have made it the material of choice in numerous innovative applications."
In 2017, the company consolidated nylon fiber production at its plant in Greenwood, S.C., and added compounding capacity at its site in Foley, Ala., to better align its business with the market.
North Carolina Governor Roy Cooper announced recently that Triangle Tyre Co. Ltd. has selected Edgecombe County, N.C., as the location for its first manufacturing facility in the United States, Triangle is set to invest nearly $580 million and will create 800 jobs in Kingsboro, N.C. According to press release on the matter, the project is estimated to contribute more than $2.4 billion to North Carolina's economy.
"Triangle Tire chose North Carolina for its first-ever manufacturing center outside of China because they know our workers share their commitment to innovation, education and excellence," Governor Cooper said. "I'm excited to see these 800 skilled manufacturing jobs go to Eastern North Carolina where I grew up and raised my family, a place where people have an unshakeable dedication to getting the job done."
Edgecombe County will become the home of Triangle's two-phase tire manufacturing facilities — phase one focuses on a passenger tire facility, and phase two focuses on a commercial tire facility — with both phases expected to be complete by 2023. When fully operational, the plant will produce 6 million tires annually. Triangle reports salaries for the new positions will vary, but the average expected annual salary will be $56,450 once all positions are filled. The average wage in Edgecombe County is $32,642.
Nonwovens Developments
Germany-based Dilo Group reports it has received an order from Rome, Ga.-based Foss Floors for a complete Dilo needlepunch line that is suitable for producing floorcovering felts. The line includes a DiloTemafa opening and blending line, 3-meter-wide DiloSpinnbau MC 3-5 carding machine, a DLBS 30/50 DiloMachines crosslapper with CV1 system, two DI-LOOM series needlelooms as well as the DILO-PCS integrated process control system.
Engineered Floors LLC, Dalton, Ga., reports it has completed the purchase of substantially all of the operating assets of Beaulieu Group LLC, Dalton. Beaulieu Group, with a history reaching back to the mid-1970s, had entered bankruptcy proceedings back in the summer to better position itself for the future.
"We are pleased with the quick approval of the bankruptcy court of our purchase agreement," said Robert E. Shaw, founder and CEO, Engineered Floors. "We can now move forward building an even strong floorcovering industry in our community."
According to a statement from Engineered Floors, the company: "… is now in the process of determining the integration of Beaulieu America personnel, as well as physical and intellectual property assets and brands for its continued growth. The company will make announcements over the next few months regarding these decisions."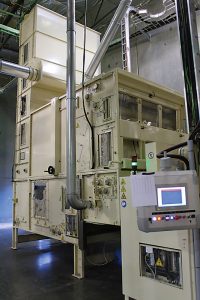 Humboldt, Tenn.-based Jones Family of Companies, announced new production capabilities and capacity at the Jones Nonwovens plant in North Las Vegas, Nev., position the company to fulfill the rapidly growing demand for natural fiber and other sustainable fiber products for manufacturing and packaging. The new line increases the company's overall capacity and doubles its capacity in North Las Vegas.
"The investment in new manufacturing technology and innovation at our nonwovens plant in North Las Vegas demonstrates the commitment of the Jones Family of Companies to meeting customer-driven demand for sustainable materials in bedding, packaging, and other markets," said Richard Ayers, president and CEO, Jones Family of Companies.
Beaver Dam, Ky.-based WPT Nonwovens Corp. has announced a $6 million investment in a second plant to add capacity for materials used in hygiene and filtration products. The new plant, to be located in an existing 60,000-square-foot facility, will house a state-of-the-art nonwovens line and add 40 jobs to the company's existing 57 employees. WPT completed an expansion on its current facility in 2015, which now is nearing capacity.
"We're excited to grow our company in Ohio County, and most of all, I'm proud of the hard work and dedication from our team of employees," said Travis Robbins, plant manager, and grandson of company founder Wayne Robbins. "Without their countless hours, attention to detail and dedication to our customers, this would not be possible. Our new state-of-the-art facility will be online in late March, and we look forward to the opportunity to supply a high-quality product to the region's and commonwealth's nonwoven hygiene and filtration markets."
Technical Textiles News
Summerville, S.C.-based Thrace-LINQ Inc. — a member of The Thrace Group, Greece — has announced an $9 million expansion and equipment investment at its operation in Dorchester County, S.C. Beginning in early 2018, the company will install a state-of-the-art production line, which will create at least 10 jobs. Hiring will begin sometime during the second quarter of 2018.
"This new production line is one of a series of planned investments for our growing company here in South Carolina,"said George Braimis, COO, Thrace Group, and chairman of the board, Thrace-Linq. "The Thrace Group continues to invest in people and technology, and we are excited about the future of Thrace-Linq."
"The people of Thrace-Linq have worked hard to make this investment become a reality," said Brian Sparks, general manager, Thrace-Linq. "We look forward to this important milestone in our strategic plan with great anticipation."
Stamford, Conn.-based Hexcel Corp. completed the acquisition of all of the shares of Structil S.A., a France-based producer and supplier of high-performance composites to the aerospace, defense and industrial markets. Structil is a joint venture between Safran Ceramics, a wholly-owned subsidiary of Safran, and Mitsubishi Chemical Corp. The company employs approximately 70 people at a 68,000-square-foot production plant, and its sales in 2016 totaled approximately $21 million. Structil's product lines include prepregs, structural adhesives and pultruded profiles used in engine nacelles, aerospace interiors, military jets and more.
"We are pleased to complete the transaction and to welcome the Structil team to Hexcel," said Nick Stanage, chairman, CEO and president, Hexcel. "Together, we will strengthen our development capability and technologies for next-generation aerospace and industrial applications."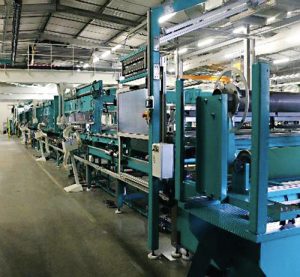 France-based Chomarat reports it has invested in a new carbon multiaxial machine designed for and by the company to increase line productivity during high-speed carbon fiber placement. According to the company, the machine is
10 times more productive than previous generation machines. The purchase is part of the company's previously announced 35 million euro ($41.2 million) three-year innovation and upgrade investment plan. The machine allows Chomarat to manufacture its C-PLY™ high-performance multiaxial materials in different widths and large volumes in a variety of constructions including isotropic, specific angles ranging from 22.5 to 90 degrees, and thin plies.
"With this new carbon multiaxial, we are boosting our competitive power in France and abroad to meet the needs and requirements of our markets and customers, and also pursuing our innovation strategy," said Michel Cognet, managing director, Chomarat.
Home Furnishings, Apparel Investments
In news from the home furnishing area, Home Fashions International (HFI) announced that it is expanding its existing operations in Cherokee County, S.C. The $5.5 million investment is expected to create 60 new jobs. According to HFI, over the past two years the company has experienced exponential growth in the outdoor cushion business. The company has purchased a 350,000-square-foot facility in Gaffney, S.C., to accommodate the new manufacturing and shipping location. The new facility, known as Gaffney Manufacturing, will allow the company to quadruple its business over the next five years and reduce its reliance on imported and out-of-state raw materials.
"I have been very happy with both the caliber of the workforce and the business-friendly environment in Cherokee County, S.C.," said David Li, owner, HFI. "When the business conditions dictated expansion, we considered other locations, but determined that the best course of action was to stay right here where we knew the labor force and business climate would allow us to be successful."
In other home furnishings news, Atlanta-based The Home Depot® acquired The Company Store, an online retailer of textiles and home décor products, from Hanover Direct in December 2017. The acquisition does not include The Company Store's five retail locations. Terms of the deal were not disclosed.
The Home Depot reports that in addition to its success as an online retailer, The Company Store has strong relationships and industry leading capabilities in the development and sourcing of high quality textiles across bedding, bath, and related categories.
"The acquisition of The Company Store provides product development and sourcing capabilities to help us expand our online décor business into broader categories across the entire home," said Craig Menear, chairman, CEO and president, The Home Depot.
Greensboro, N.C.-based VF Corp. announced that it will open a new distribution center in Jonestown, Pa., in early 2019. VF stated it will invest up to $52 million in the project, which is expected to bring more than 175 new full-time jobs to the area over the next three years.
"As our direct-to-consumer business continues to grow, we see the consumer-focused opportunity to expand our distribution operations so that we can more quickly service our consumers in the Northeastern U.S.," said Steve Rendle, VF's chairman, president and CEO.
VF reports it will lease a 500,000-square foot facility in Jonestown to support the distribution of products for its Vans®, The North Face® and Timberland® brands. The lease will begin in July 2018, and the company expects to begin hiring in mid-2018. It is anticipated that the distribution center will be operational in early 2019.
"Originally founded in Pennsylvania, VF has a long history in our state," said Pennsylvania Governor Tom Wolf. "We're pleased that VF has chosen to expand on this successful foundation by bringing more than 175 good-paying jobs to families in Lebanon County."
January/February 2018