The latest offerings from digital textile printing solutions providers continue to advance this fast-growing area for textile decoration.
TW Special Report
Digital printing technologies are rapidly increasing and improving, and are slowly changing the face of the textile printing industry. At ITMA 2015 held in Milan, the growth in digital textile printing was apparent as organizers added a chapter dedicated to printing and digital printing technologies, auxiliaries and accessories to the show's lineup.
In "The Future of Digital Textile Printing to 2021" market report, England-based Smithers Pira forecasts 17.5-percent growth over the next five years for the digital textile printing market to a total market value of $2.66 billion. In the same report, the market intelligence, testing and consulting firm estimates 870 million square meters of fabric worth $1.29 billion were printed in 2016 using digital technologies, which represented just a tiny 2.8-percent slice of the overall volume of printed textiles.
As digital technologies improve, more and more traditional textile printing companies are looking at the benefits of digital printing, which include shorter lead times, customization options, improved design aesthetics, workflow efficiencies and cost reduction.
Supplier Growth, Sector Partnerships
To support the production of digital inks, The Netherlands-based SPGPrints opened a 1,000-square-meter (m2) addition to its headquarters location during the final quarter of 2017. The addition is part of an 8-million-euro total investment plan covering 3,000 m2 of additional space, and represents the second expansion at the facility in two years.
"The increase in the volume of our ink production means that we will continue to be able to serve the expanding digital textile printing market that we have helped to build over the last three decades," said Jos Notermans, commercial manager, digital textiles, SPGPrints. "The global retail markets are now in a position to take advantage of the benefits of digital printing as it moves into the mainstream as a production method."
The company also opened the Experience Center, a 700 m2 demonstration and training facility dedicated to innovation in digital textile printing. The center houses two 1,850-millimeter-wide single-pass PIKE® printers — SPGPrints' flagship printer engineered for large or short volume production at speeds of up to 40 meters per minute — in addition to a 3,200-mm-wide JAVELIN® multi-pass printer for home furnishing applications. According to the company, the center acts as a showcase for suppliers and buyers to learn about digital production using SPGPrints' technologies.
"Digital printing undoubtedly represents the future for textile printing," Joustra said. "It is transforming the supply chain, making a wider variety of designs possible, shortening delivery times, delivering major cost savings and eliminating waste. The opening of the Experience Center marks our commitment to driving the adoption of the digital workflow. Not only will this provide the opportunity for brand-owners and printers to gain a first-hand, real-time insight into this technology's tremendous potential; it will provide a dedicated space for further innovation in quality, productivity and sustainability, complementing our resources for the continued development of traditional rotary screen technologies."
Italy-based Durst Group recently announced a partnership with England-based fabric printing company Standfast & Barracks for a Centre of Excellence. The center will be located at Standfast & Barracks' headquarters in Lancashire.
Standfast & Barracks recently installed two Durst Alpha 190 systems, which comprise a super high-performance multi-pass printer and the One-Step Pigment Ink Greentex P. The Alpha 190 can be configured in a variety widths and set-ups for fashion garments and apparel, home textiles and upholstery applications. The environmentally friendly One-Step pigment ink was developed for the Alpha Series and is based on the Durst Water Technology.
"Our investment in Durst's digital technology has transformed the market dynamics for our business and helped trigger a new wave of innovation," said Stephen Thomas, managing director, Standfast & Barracks. "The initial trials for the pigment inks have been extremely successful and we are looking forward to driving forward this planned Centre of Excellence. Thanks to the huge advances in our digital fabric printing capabilities with Durst, we are now expanding into further industrial production for our premium quality products. Digital gives us unlimited opportunities and color variations."
Long Beach, Calif.-based Epson America Inc. recently announced a partnership with Portsmouth, N.H.-based CIT Group to offer streamlined financing options to commercial and digital print customers. According to Epson, this collaboration will simplify the financing process and make for a more straightforward customer experience.
"CIT is pleased to provide Epson dealers with a single online finance solution that enhances the customer experience," said Mark Boyer, vice president, business development, CIT Direct Capital. "By maximizing efficiency and providing greater transparency on transactions, dealers can focus more attention on their clients and business objectives."
"Epson strives to provide our customers with every avenue to success and provide support on all aspects of the purchase, from selecting the equipment, purchasing, maintenance and warranty," said Mark Matthews, vice president, Epson America. "Partnering with CIT Direct Capital provides the ability for Epson to offer a variety of acquisition methods to our customers, ensuring they can select the method that best fits their financial and business needs."
Machinery Introductions, Advancements
Epson also announced a successor to its SureColor® F2000 direct-to-garment (DTG) printer, the SureColor® F2100, which will be available beginning March 2018. This high-performance printer features PrecisionCore® TFP® printheads and UltraChrome® DG garment ink system. Epson reports the machine is capable of printing at speeds that are up to twice as fast as its previous generation DTG printer with a consistent print quality. Features on the F2100 include quick-load platen for increased productivity; Epson Garment Creator software with tools for layout and text, color management, ink control, cost estimation and hot folders; and an integrated self-cleaning system with a fabric wiper and in-line cleaning cartridge to reduce downtime. The machine uses Epson's UltraChrome DG inks, holding four colors plus white. The machine's highlight white ink mode permits simultaneous printing of white and color inks on the color pass to offer increased image quality, speed and efficiency. According to the company, to lessen nozzle clogs and reduce downtime, the white ink is triple filtered prior to reaching the printheads.
"We listened to our customers and addressed common direct-to-garment pain points with the new SureColor 2100," said Tim Check, senior product manager, Professional Imaging, Epson America. "The SC-F2100 delivers on reduced maintenance, while providing increased speed and efficiency with newly developed print modes to help customers increase business needs."
The SureColor F2100 is suitable for printing on garments — including T-shirts, hoodies, jackets and tote bags — ranging from 100-percent cotton to 50/50 blends, and comes with a one-year limited on-site warranty.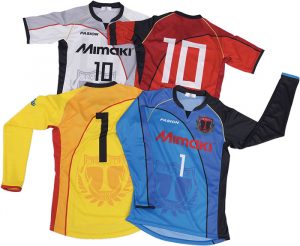 Suwanee, Ga.-based Mimaki USA introduced the 74-inch-wide TX300P-1800B direct-to-textile printer designed for sample runs or short-run pieces. The printer features an advanced belt transport and conveyor system to help feed stretchy and thin fabrics in a stable manner.
According to Mimaki, new print heads with a high gap setting allow printing on thick or thin substrates, dimensionally unstable fabrics, woven substrates or substrates with raised fiber surfaces while maintaining accurate ink droplet placement. The company offers five types of ink that are optimized for the TX300P-1800B — Sb420 for direct-to-fabric sublimation, Ac400 acid dyes, Rc400 reactive dyes, Tp400 textile pigments and Dd400 disperse dyes. In addition, the printer features dual ink capability, which offers the user the option of printing on natural materials using pigment inks, or printing on polyester fabric using sublimation inks, using one machine.
Mimaki also announced the Tiger-1800B printing system now is available in the Americas. The 74.8-inch-wide machine is offered in a direct-to-textile or transfer dye sublimation model and is suitable for large-scale production and high-volume textile runs. The direct-to-textile version features 16 printheads in a staggered arrangement, while the transfer dye sublimation model houses 8 printheads. According to the company, the Tiger-1800B is capable of printing at speeds of up to 4,144 square feet per hour.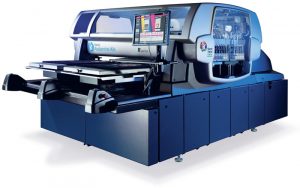 Israel-based Kornit Digital has launched a new HD printing technology for its Avalanche direct-to-garment printing systems. The HD6, the successor of the Avalanche Hexa, features Kornit's HD print engine, NeoPigment™ Rapid Ink, as well as six color channels plus white for a wider color gamut.
The HDK, which is a HD version of the Avalanche 1000, has four color channels plus white.
Kornit reports that the machines deliver a significant drop in cost-per-print via reductions in ink consumption of up to 46 percent compared to previous recirculated and non-recirculated ink technologies.
The NeoPigment Rapid inks — which were developed especially for its HD technology, and meet environmental standards including Oeko-Tex Standard 100 and GOTS V5 pre-approval — offer improved gamut for spot and brand color matching, increased opacity and saturation of white ink, and improved fabric hand.
Previous versions of the Avalanche Hexa and Avalanche 1000, with or without ink recirculation technology, may be upgraded to the new HD technology to allow customers to take advantage of the NeoPigment Rapid inks.
"Today's market trends put traditional screen printing service providers under pressure given increased demand for short run production with frequent inventory cycles, coupled with the online and direct-to-customer business models, the demand for personalized garments, and demand for shorter delivery times," said Omer Kulka, vice president of marketing and product strategy, Kornit Digital. "Kornit's HD technology, based on our 15 years of digital textile printing experience, provides an excellent and profitable alternative for print runs of one to 500 pieces with quick turnaround times."
Tustin, Calif.-based Ricoh USA Inc. and AnaJet — a wholly owned subsidiary of Ricoh Printing Systems America Inc. and pioneer in DTG printing — will launch the cost-effective RICOH Ri 100 compact DTG printer in the United States this spring. Small enough to fit on a desk or countertop, the printer — which prints up to 1,200 by 1,200 dots per inch in vivid mode — is geared toward small business-use for branded items such as T-shirts, canvas bags, pillows and other such textile items. According to Ricoh, the printer was created for cost-effective one-off and short run prints to help manage supply and demand. Customers can use Ricoh Design Software to create and print designs, or choose to work with an RPCSdriver to utilize a software program of their choice for printing. The machine also features a heating system that creates a smooth printing surface by removing wrinkles from the fabric, and then cures the ink after printing.
"As Ricoh continues to invest in the industrial print market, we do so with one goal in mind — to make it easier for our customers to grow their businesses," said John Fulena, vice president, Commercial and Industrial Printing Business Group, Ricoh USA Inc. "The Ricoh Ri 100 fits perfectly into that mission: it's affordable, it's easy to use; it works fast to produce quality, unique applications."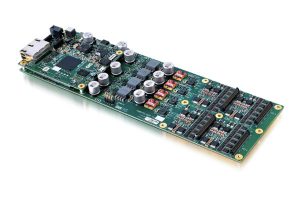 Supporting Technologies
England-based Global Inkjet Systems (GIS) has introduced a new HMB-FD-GMA Head Management Board to support the Samba GMA 33 and GMA 99 printheads manufactured by Santa Clara, Calif.-based Fujifilm Dimatix. GIS reports the board can drive up to 4 printheads, and work in conjunction with the GIS Atlas® Machine Control Services (MCS) software. The HMB is based on GIS' new Ethernet platform, which integrate datapath buffering, printhead management and fire waveform generation. Designed for scanning applications including textiles and soft signage, the Samba GMA 33 and GMA 99 printheads offer 300 dpi native resolution, 384/1152 nozzles and a 5 picoliter drop size.
"The new Head Management Board for the GMA printheads presents another step forward in GIS' Ethernet platform, which we are now using for all new printheads that we support," said Debbie Thorp, business development director. "The Samba G3L printhead has been very successful in single pass systems, and we expect the GMA printheads to do the same in scanning applications."
Fremont, Calif.-based Electronics For Imaging Inc. (EFI), a long-time player in the digital printing world, strengthened its portfolio when it acquired Italy-based Reggiani Macchine in 2015. EFI Reggiani has continued to innovate technologies for digital textile printing, and most recently introduced the EFI™ Fiery® Textile Bundle design and production workflow products to complement the EFI Reggiani digital inkjet printers. The bundle includes Fiery DesignPro plug-ins compatible with familiar programs Adobe® Illustrator® and Photoshop® to assist with design creation, as well as version 6.5 of EFI's Fiery proServer digital front end (DFE) for color consistency in production workflows.
"The Fiery Textile bundle brings valuable new tools to further automate and streamline the design and prep process for EFI Reggiani customers looking to stay on the leading edge of innovation," said Adele Genoni, vice president and general manager, EFI Reggiani. "Now, with this bundle, including the newest Fiery proServer, Reggiani customers get the proven, high-end advantages Fiery technology offers so they can be more efficient, more productive and more profitable."
Ink Advancements
Kiian Digital, a brand of Italy-based JK Group S.p.A., recently introduced Digistar Bravo disperse inks for direct printing. The range features 11 colors including two blacks with deep intensity, and high rubbing and lightfastness. Kiian reports the inks were created with industrial textile printing needs in mind and they offer high runnability as well as printing performance.
"Digistar Bravo is part of Kiian Digital's branding strategy to meet the cutting-edge demands of commercial digital textile printing; bringing together the highest quality inks with global support," said Alessandra Borghi, sales director, Kiian Digital.
Switzerland-based Sensient Imaging Technologies, a division of Sensient Technologies Corp., recently introduced ElvaJet® Opal digital dye sublimation inks and Xennia® Emerald PC digital pigment inks.
According to the company, ElvaJet Opal achieves improved color, latency and print performance through a new dispersion technology. The inks also are easy to install and use over long production runs and have low maintenance requirements.
"Our world class team of ink designers created Opal from the bottom up, starting with a revolutionary core dispersion technology," said Mike Geraghty, president, Sensient Colors. "We have increased the color strength of the Opal inks and maintained the Sensient signature black shade.
According to Sensient, Xennia Emerald PC's color strength and printing performance are a result of its innovative dispersion and binder technology, which also eliminates the need for a post application fixing polymer. The optimized ink set offers an extended color gamut
The ink is suitable for direct textile printing applications.
"Key to the performance of Emerald PC is including a binder within the ink whilst increasing color strength at the same time as maximizing open time and latency," said Dr. Ian Whitehead, innovation director, Sensient Inks.
Both ElvaJet Opal and Xennia Emerald PC inks are formulated for Piezo-based printers and may be used for fashion, sports apparel, home textile, and sign and display applications.
Digital Couture
The fourth annual Epson Digital Couture Project was held recently in New York City. Under the theme "Cosmopolitan Couture With Impossible Colors — How Does Your Culture Dress Up?" thirteen designers from North and Latin America created textiles using Epson's dye-sublimation printing technology and used the fabrics in couture garments. Before the fashion showcase, Epson hosted a Fashion and Technology panel to discuss market trends and how digital technology is evolving the fashion industry.
"The future of fashion is customization — from the colors and prints, to the size and shape of garments — all on demand," said Keith Kratzberg, president and CEO, Epson America. "This Digital Couture event showcases how the design potential and impact on the fashion marketplace is limitless."
January/February 2018