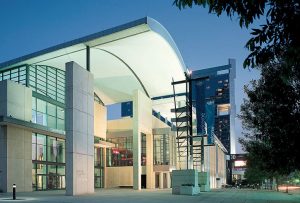 IFAI Expo 2016 offers educational events, tours, workshops and roundtables geared to the industrial fabrics sector.
TW Special Report
IFAI Expo 2016, organized by the Roseville, Minn.-based Industrial Fabrics Association International (IFAI), will be held October 18-21, 2016, at the Charlotte Convention Center in Charlotte.
IFAI expo serves all aspects of the industry, and features segments targeted to specific markets including:
Specialty fabrics — featuring traditional market suppliers from fabric and equipment to hardware and services needed to manufacture end products;
Advanced textiles — covering supply chain relationships in technical textile markets including medical, automotive, wearable, safety/protective, performance wear and aerospace; and
Shade and weather protection — highlighting end products such as retractable awning systems, shade structures, canopies and other weather solutions.
The expo features a show floor with more than 400 anticipated exhibitors, equipment workshops, an Advanced Textiles Lounge, the IFAI TechStop, IFAI Membership Lounge, Fabric Sourcing Center, an updated ShowStoppers competition, and the IFAI International Achievement Awards, among other attractions. The opening night reception will be hosted at the NASCAR Hall of Fame (See "Schedule At A Glance" for a complete listing of events). As the schedule illustrates, the four-day event offers a varied and jam-packed lineup for expo attendees.
Organizers also will continue the format implemented last year where classroom education sessions are held prior to the show floor's open hours to avoid conflicts in schedules. Super Tuesday features the Advanced Textiles Conference as well as educational programs for the specialty fabrics and shade and weather protection markets.
In addition, IFAI will host triple the number of educational campfire sessions on the show floor during the expo.
New Testing Program
IFAI has partnered with the Raleigh, N.C.-based North Carolina State University (NCSU) College of Textiles in 2016 to offer an expanded three-part testing program featuring two certificate options as well as demonstrations hosted by experts on the show floor. The Advanced Textiles Conference Testing Track includes classroom sessions on Tuesday and Wednesday presented by industry experts and NCSU professors, in addition to lab time. Participants can earn a NCSU Textile Testing Essentials Certificate, which may be credited towards NCSU's Textile Technology Certificate Program.
The NCSU Intro to Testing Certificate seminar features both classroom and lab time to teach the basics of textile testing. Participants also will earn a certificate upon completion of this seminar.
Throughout the expo, the Testing Demo Zone will give attendees the chance to interact with testing experts during live and video demonstrations on the show floor. NSCU will conduct the demonstrations along with a variety of companies and organizations including Advanced Testing Instruments, FITI Testing and Research Institute, Hohenstein Institute, Instron, Manufacturing Solutions Center, Netzach, Product Investigations, Textile Technology Center/Gaston College, Thermetrics, and Weber & Leucht.
Keynote Speakers
Three keynote speakers will feature at this year's IFAI Expo. On Super Tuesday, the keynote speaker Chuck Gallagher — an entrepreneur, speaker and author — will talk about setting the stage for ethical success. The Wednesday Opening Session will feature Linda Kaplan Thaler, an advertising and non-fiction writer, and chair of the ad agency Publicis Kaplan Thaler. Dennis Snow, a 20-year veteran of the Walt Disney World Co., will present the keynote speech on Thursday on the topic of creating perfect customer experiences.
"We are happy to return to the Southeast and the home of the American textile industry in Charlotte," said Mary Hennessy, president and CEO, IFAI. "We have more than 400 exhibitors ready to show their products and we are ready for the biggest and best IFAI Expo show ever."
---
For more information about IFAI Expo 2016, visit ifaiexpo.com
---
September/October 2016