NCSU's Textile Engineering/Textile Technology Senior Design Program partners students with industry to prepare students for life in the workforce.
By Dr. Jesse S. Jur and Dr. Russell Gorga
Dr. Jesse S. Jur and Dr. Russell Gorga, faculty at the College of Textiles at North Carolina State University (NCSU), are codirectors of the Textile Engineering (TE)/Textile Technology (TT) Senior Design program. The year-long capstone course presents student teams with relevant industrial and/or research problems that require them to leverage prior classwork to create a solution. Company sponsors engage with students to develop new products, understand potential markets, and solve technical challenges. These open-ended problems are defined by the sponsors, and challenge the students to think outside of standard educational classroom learning environment to prepare them for the workplace.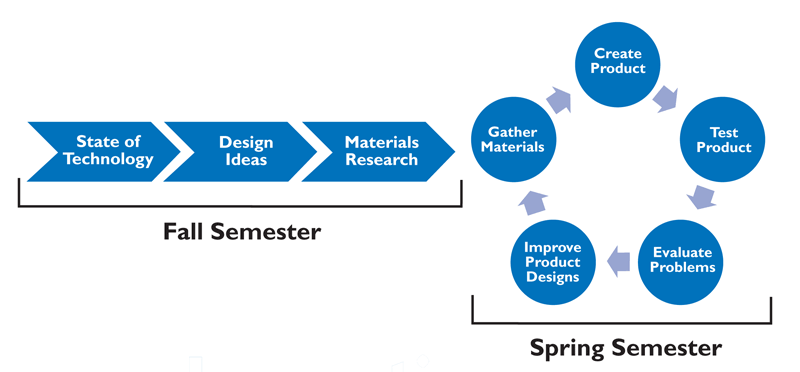 Course outcomes have included patents, new company investments, empowerment of local supply chains, and even the development of an electronic collar for African elephants. Most importantly, the course is at the forefront in design education and principles for the textile industry and beyond, providing students a unique hands-on approach to answering the question "How do I do that?"
Since its inception in 2013, Senior Design at the College of Textiles has graduated 171 students and completed 53 industry/federal agency sponsored projects. Sponsoring companies vary from small to very large and include traditional and non-traditional textile companies such as adidas, American Flocking Association, BSN Medical, Cotton Incorporated, Eastman Chemical, Eterno Bike, Firestone Fibers and Textiles, Gildan, Gryppers, Hanesbrands, Hunter Safety Systems, Johnson Controls, Mann+Hummel, Monterey Mills, National Aeronautics and Space Administration (NASA), the National Science Foundation, Nike, The Nonwovens Institute, Patagonia, Porticos, SAAB Barracuda, Secant Medical, Sector 212, Trig Innovation, the U.S. Army Research Office, Under Armour, WillowWood, and VF Corp.
There Are No Wrong Answers
The Senior Design capstone course serves as the final stage in the students' undergraduate education challenging them to apply their skills to unique problems. Student entering this course in the department of Textile Engineering, Chemistry and Science (TECS) already have gained valuable expertise in engineering fundamentals, information systems, medical textiles, product development, supply chain management and consumer behavior. The course provides students the opportunity to work with industry to creatively synthesize solutions to relevant problems. The students work on teams to solve technical problems, study commercialization processes, utilize project management tools, think globally, understand/develop intellectual property and apply patent mapping principles. Students in TECS are expected to graduate with the skills necessary to conceive — design and create — specify, implement, test, produce and market complex engineering systems. Often, teaming with other departments' senior design courses offers an experience that is similar to what they'll experience professionally after college.
The ultimate goal of the TE/TT Senior Design program is to teach students how to solve an open-ended question. This may be quite obvious for someone in industry where products and solutions to process challenges are continuously being developed and solved. But for a student graduating college, solving a question in which an answer is not known is a big challenge as prior instruction has involved solving directed questions in which a single answer exists. The reality is that the world provides many solutions and pathways to get to that solution.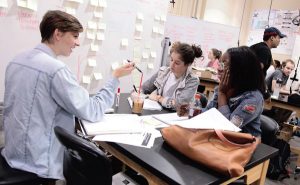 Project Selection And Teaming
The course starts officially at the beginning of the fall semester, but in reality, the course planning starts much earlier. During the late spring and early summer, program directors meet with companies to define all of the projects and build a mutual understanding of the course expectations. Experience has shown that a project's success has very little to do with the project topic or the name of the company, but is strongly correlated to the commitment the sponsor has to interacting with the student team. If the sponsor has a strong commitment to communicating including providing feedback, answering questions, and generally being responsive to the team, the project has the highest probability for success. Therefore, the program directors have developed screening tools to aid in sponsor selection and provided guidelines and guidance to the sponsors once selected to help ensure a successful sponsor/team interaction.
"We need to teach the students to think creatively while coming up with new solutions. They need to challenge conventional wisdom and address their assumed constraints. To do this well, they need to learn to ask a lot of questions, no matter how obvious the questions may seem."
— Dr. Russell E. Gorga,
codirector NCSU's TE/TT Senior Design Program
In addition, the directors use assessment tools to develop student teams based on diverse skill sets, leadership preferences and the students' interest in projects. By mid-summer, a list of potential projects has been identified and the project summaries are delivered to the students, who choose five unranked projects and provide a suitable justification for their interest in the project. Setting expectations in this way prepares students to take their place on teams on the first day.
Engineering Design
The engineering process is essential to providing a roadmap for creative problem solving for the team projects. With the project description in hand, criteria and constraints are defined and a state of technology report is made to gain a thorough understanding of the relevant prior art or materials. Based on this background, the directors guide the teams through an ideation process, where dozens of ideas may be generated and then narrowed down to match the criteria and constraints. The final result is two to four primary ideas. The ideation process is not only the most enjoyable part of the class for most students and project sponsors, but is also the most challenging. The ideation exercise allows for the development of a creative skill set that is often not explored in a technical educational curriculum. The next step, creating the first prototype, also can be challenging for some students. For these reasons, a diverse set of skills are needed when the teams initially are defined.
Through the second semester, the teams develop their skills in creative problem solving and their abilities to design experiments and fabricate and test prototypes. Often, new materials are employed in the project and new test methods are needed to appropriately benchmark the material or product.
Project Scope – Think Big
Sponsors often underestimate how talented, resourceful and creative the undergraduate TE and TT students are, especially when all of the resources are provided for their success. During initial meetings with a prospective sponsor, collaborators are encouraged to think big and the students will too. Likewise, in initial meetings with student teams, they are told to think big and their sponsors will follow.
As the program has grown, so have the expectations. This past year, 18 out of 21 teams developed their products at NCSU using the five labs run by the College of Textiles' Zeis Textile Extension, directed by Dr. Jon Rust. Six of those teams started their process by spinning new yarn blends, and all of the teams developed novel textile structures on weaving or knitting machines. Some teams trialed their processes on their sponsors' production lines or utilized new or existing vendors to develop a trial run. One team even had its product evaluated at the NCSU football team's spring game. Upon entering the class, the students are one year from being degree-holding engineers and technologists. By the end of the class, they are graduates with real-world experience.
"The Engineering design process is an engaging way to put structure around how to solve complex problems.  With this skill, students are able to make themselves and their future employer more competitive."  
— Dr. Jesse S. Jur, codirector NCSU's TE/TT Senior Design Program
Entry Into The Real World
Feedback from the students sums up the program best. "The course was extremely fun and is a great learning course," said one student. "I have learned more in this course due to hands-on experience than many other classes. This class makes you think and it makes you do." Said another student: "Although this course is the most frustrating and time consuming, it is the one course that has prepared me most for the real world."
This class is a lot of work for the teams, but the students, sponsors and faculty all buy in. It is rewarding for the students to see the growth in themselves and feel confident about going to get that first job. The soft skills they develop round out the edges of the technical skills they have acquired and are the key to success. This includes a wide interpretation of communication from texting, writing and drafting emails to interpersonal communication both in teams and in presentations. The students are continuously assessed and receive direction from faculty and peers.
---
NCSU 2015-16 Research Projects
Temperature Regulating Activewear Clothing (TRAC)
Develop a temperature-regulating garment with both warming and cooling features to adjust to external temperature variations between 50 and 95°F.
Team: Voulitsa Koloustroubis, Fernanda Diomede, Garrett Hill and Halie Price
Sponsor: Hanesbrands Inc.
Innovative Flame Retardant Space Apparel
Create novel flame retardant apparel to be used on NASA's Orion spacecraft within an environment that has 30-percent oxygen.
Team: Tori Hausman, John Schwind, Haley Callahan and Nadeen Abdelhamid
Sponsor: NASA
3-D Fabric For Prosthetic Liner
Research and develop different options to create 3-D fabric materials and designs that improve the breathability and flexibility of prosthetic liners, in order to provide the best comfort for all amputees.
Team: Dessy Tio, Ross Mason and Erin Quinn
Sponsor: WillowWood Co.
Canine Biometric Undershirt
Develop a textile enclosed electronic device for canines that is capable of detecting and quantifying stress levels.
Team: Kelly O'Donnell, James Schaefer and Kate Mestelle
Sponsor: U.S. Army Research Office
Advanced Camouflage Surface Treatments
Explore ways to improve the multispectral performance of Saab Barracuda's current camouflage systems by investigating more efficient conductive surface treatments and reducing the weight of the camouflage system, with additional goals of improving camouflage coloration and durability.
Team: Whitney Brown, Joshua Humphrey and Bobby Keefe
Sponsor: Saab Barracuda LLC
Energy Harvesting Shade Unit
Incorporate energy generation modules — such as solar and thermal — into flexible, lightweight and durable textiles used in military shade units.
Team: Brian Iezzi, Casey Kivett and Jamie Barbuto
Sponsor: Saab Barracuda LLC
Causes and Solutions to Torque in Apparel
Examine the entire manufacturing process of Gildan T-shirts and identify factors within this process that cause torque.
Team: Ciara Oden, Rachel Foote
Sponsor: Gildan Activewear Inc.
Next-Gen Grypper Technology
Explore new cost-effective options for materials and manufacturing based in the United States for a Gryppers athletic glove replacement technology that helps to improve athletic performance by providing tackiness, fit, and knuckle support.
Team: Shannon Tart, Jamie McLean and Desirae Scruggs
Sponsor: Gryppers Inc.
Porticool Cooling Vest v2.0
Explore integrative strategies for regulating the cooling in an innovative vapor-based cooling vest.
Team: Peiheng Feng, Jordan Lohn, Emily McGuinness and Emily Price
Sponsor: Porticos Inc.
Auxetic Structures In Garment Construction
Evaluate a design of experiments for outlining the structure-property relationships of auxetic yarns as well as identify a potential market and prototype an innovative product.
Team: Leena Godbole and Mitch Hicks
Sponsor: Hanesbrands
Novel Paint Transfer Materials
Introduce new technologies to current the paint roller design that will improve the pick-up of the paint from the paint pan to the roller and improve the dispersity of the paint from the roller to the wall.
Team: John Joyner, Spencer Boykin and Charles Suaris
Sponsor: Monterey Mills
Fabric Durability Optimization
Assess durability and comfort of existing materials in Patagonia's technical and lifestyle product lines, as well as construct a new optimized textile product that can be integrated into Patagonia's supply chain.
Team: Dominique Koontz, Patrick Balogh, Trishna Patel and Lizzie Johnson
Sponsor: Patagonia Inc.
Strategies For Active Jeans
Design new strategies for improving the waistband and seams of jeans to better the comfort and performance, while keeping the process simple and cost effective.
Team: Callen Burril, Maggie Arnold and Dezerae Barnes
Sponsor: VF Corp.
Cellulose Acetate Spun-Yarn Technologies
Create an innovative cellulose acetate yarn and fabric, as well as explore the use of that material in the garment market.
Team: Jade Luna-Ramos, Vernon Holman and Courtney Reiman
Sponsor: Eastman Chemical Co.
Quick-To-Market Textile Product
Analyze Under Armour's process and propose a fully U.S.-based supply chain that can reduce a garment lead time to between three and six weeks.
Team: Adam Barksdale, Lauren Weichinger, Michaela Snavely, Jon Duncan, Robert Wright and Ivana Mbullah
Sponsor: Under Armour
Liner For Use With Prosthetics
Using seamless knitting designed to develop a liner used in the junction of the prosthetic that is comfortable for the user, but does not compromise the stability of the prosthetic.
Team: Zach Dean, Colleen Kaiser and Lindsay Peden
Sponsor: WillowWood
Reflective Garment & Analysis
Explore commercially available materials to produce reflective athletic clothing at minimal cost and design a reflective garment for safety and visual appeal.
Team: Symone Woods, Marvin Graser and Kaitlyn Kramer
Sponsor: Hanesbrands
Textile Composite Support Structure
Define a composite textile replacement for traditional steel structures that offers improved product lifetime and lower weight.
Team: Vishal Rutanen-Whaley, James DeCoster, Bradly Tull and Sam Stout
Sponsor: Firestone Fibers & Textiles
Cool Cotton
Engineer a cotton based fabric that changes its structure to provide increased ventilation and air circulation in response to rising temperature of the wearer or environment.
Team: Tiffany Kelly, Kassi Wehbie, Kale Whetstone and Marcus Zeigler
Sponsor: Cotton Incorporated
Biometrics Feedback Shirt
Develop a launderable, multi-sensor garment designed to increase access to biometric data for athletes at all levels.
Team: Mandy Hall,
Nate Weiner, Hunter Hendrick and Katherine Barrows
Sponsor: ASSIST Engineering Research Center & Hanesbrands
Wading/Submersion Fabric Durability Optimization
Create a test method for fabrics that will determine whether or not the fabric will stay waterproof through use and then developing a prototype fabric that is able to meet required criteria.
Team: Chelsea Lloyd, Jesse Noble, Chris West and Ken Everhart
Sponsor: Patagonia Inc.
---
Interested? To learn more about the program and the recent projects, visit textiles.ncsu.edu/tecs/student-experience/senior-design/ or visit the NCSU booth at IFAI Expo 2016 in Charlotte in October.
The College of Textiles currently is soliciting projects for the 2016-2017 academic year. If you are interested in sponsoring a project this year or in the future, please contact Dr. Jesse Jur, jsjur@ncsu.edu; and Dr. Russell Gorga, regorga@ncsu.edu.
---
July/August 2016