New digital printing inks and technologies are changing the textile printing business.
By Mike Todaro
Switzerland-based Sensient Imaging Technologies S.A. is a supplier of ink-jet inks for digital textile, industrial digital and sublimation printing. The company is a business unit of Sensient Technologies Corp. — a Milwaukee, Wis.-based manufacturer and marketer of colors, flavors and fragrances. Sensient Imaging has a laboratory in Morges, Switzerland, dedicated to developing new digital inks.
Dr. Christophe Bulliard, marketing director, Sensient, said that 2.5-percent of fabric printing today is digital and half of that total is sublimation. Sensient reports it has worked with the early risk takers, the true pioneers of digital fabric printing. Bulliard observed that, "The only way it works is to either start with digital printing or create a separate department because traditional Textilians resist this technology."
Textilians? Sounds like a mythical Swiss valley populated by Textilians, their suppliers the Yarnistas, the early warning attributes of the Trimitrons, the constant movement of Logistiserves, all feeding the Factorissimos with everyone responding to the only question the Garmentos ever asked, "What does it cost?" Does Bulliard mean textile mills are resisting this change? Why? One theory is because they know this is taking their power and transferring it to the apparel factory. More on that later.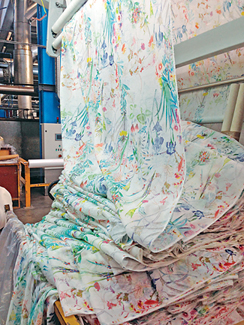 Miroglio Group uses Sensient Imaging Technologies' ink-jet technology to print 100-percent cotton fabric at a speed of 1 yard per second.
Ink Jet
Inks and dyes have been around for a long time. Ink-jet inks were developed for digital applications, most notably table-top printers. Next, much wider printers were developed to print long banners one at time. These same printers then were adapted to print sublimation inks on paper largely because of research and development investments by Sensient. While all the components involved in digital printing are complex and require skilled staffs, the development of inks literally requires the work of Ph.D.s.
One of them, the color chemist Dr. Olivier Morel, said: "Color is not an ink, it's a chemical. I tell my engineers and chemists that they are really scientists and they are not creating liquids, they are creating an aesthetic." Morel is leading a strategy to expand ink jet to all textiles and all fibers by investing in the development of reactive inks for cotton and cellulosic fibers, acid inks for nylon and animal fibers such as silk or wool, and pigments for any natural fiber blends.
Sublimation inks commonly were printed onto paper for subsequent heat transfer to man-made textiles. Initially, this was for very short, small runs used for team jerseys for bicycle teams for example, such as the bright skintight jerseys worn by Tour de France riders. But then three things happened in concert — paper got thinner and better, printers got wider and faster, and inks went thru Nobel Prize levels of invention and response.
Miroglio
Italy-based Miroglio Group has invested millions of euros in a partnership with Sensient for digital printing. This partnership involves both companies solving problems that the industry at large still doesn't know exist. The partnership allows the developments of the technology of tomorrow. Miroglio's CEO Andrea Ferraro said sustainability and innovation drove Miroglio's large investment in digital printing.
Miroglio's digital printing technology is certainly cutting-edge. A tour of its facility reveals sublimation ink-jet inks sprayed directly onto man-made fabric that was then routed through a heater so sublimation transfer of color could occur — without paper. Regular ink-jet inks are used in a process whereby ink is printed directly onto cotton fabric moving at 60 yards per minute while rolling 3 millimeters below 95,000 ink-jet nozzles firing dots at the speed of a bullet onto the fabric without using paper. Miroglio also performs sublimation ink-jet paper printing at 120 yards per minute, which is an amazingly fast 2 yards per second.
How does the cost figure into an order for 10,000 yards of a magnificently detailed work-of-art printed fabric, turned out of the mill three days after order? Greater speeds, amazing efficiency, lower water consumption, less ink waste, less chemical preparation, fewer samples, elimination of set up, elimination of storage of conventional ink drums and the ability to print at the speed of the consumer redefines cost.
Power Shift
Value can be defined as solving the perceived problems of a specific segment in an innovative way. So, the key is problem solving and the catalyst is innovation. Innovation caused a power shift in the apparel supply chain at El Salvador-based Textiles Opico S.A. de C.V. (TexOps).
Firstly, some time ago, TexOps committed to Lean Manufacturing, which changed how the company worked. It became more efficient, flexible, responsive and faster. This shift allowed TexOps to take power away from regional cut, make and trim (CMT) factories that only sold labor.
Secondly, was TexOps' investment in 2-D and 3-D technologies in partnership with its customers. This investment changed the way design and product development was executed. It became faster, more self-sufficient, and allowed the company to developed expertise in its niche, specifically yoga pants. This expertise took power from the brands.
Finally, the company's expansion of sublimation printing with its own printers and Sensient inks changed the way fabric was produced. The change allowed unlimited garment and textile creativity, shortened the supply chain, reduced cycle times and created independence, which took power from the fabric mill.
The factory took power from cheap CMT factories, then the brands and retailers, and finally the mills. And, because of its proximity to market, it was closer and therefore faster. And because it is a leader in sustainability and innovation, it also is safe. TexOps became the supply chain's problem solver. What does this means to the brands?
Business Models
One day, a merchandising manager visited TexOps. On his tour he saw a pair of yoga pants with brightly printed panels. He ordered thousands of pairs of pants on the spot, received them in record time, put them on the sales floor and sold them without markdown. What kind of textile industry business model does this rapid sourcing most emulate?
Costco places one big order and does not replenish. What one retailer would designate as 20 stock-keeping units (SKUs) to Costco is just one — a palette with a tall stack of different colors and sizes of a garment with one SKU. Was this order just one big SKU?
Chico's model is to purchase 5,000 units of a sample garment created by a factory. Chico's put a price on it and sends it to stores with no plans to replenish it. This garment is the factory's design through and through. Is this something the factory could do more of and expand?
Zara turns orders quickly and daily. Quality was not how the garment was made, it was the fun of shopping where there was constant product churn. A designer gets an idea for a garment and three weeks later it is hanging on the rack. Could these speeds be what U.S. retailers need?
HSN preaches that it's not the brand, it's the stand. The company tells stories. It describes the products on television with embellished value and discussion of the application. Is the infinite possibilities with fabric printing what the United States needs to feed the omnichannel?
American Speed
Digital is now. Everything in the cloud got there for one reason only — it was digitized. Everything we see including who is phoning us, descriptions of restaurants, maps of cities, photos of people, images of designs and full-length movies come to us for one reason — they are digital. The time has come when rain must fall back down from the cloud, the dots that head to the cloud from the textile industry now are raining down as dots onto paper and fabric, aimed at the pixel level, taking days, weeks, months out of the cycle.
If the highly regarded Dr. Morel is to be believed, in five years; ink jet will grow from 2 percent to at least 15 to 30 percent; and in 10 years, Sensient predicts that ink-jet printing will take over as the leading technology for printing fabric.
What Miroglio is doing with its own fashion brands sold throughout Europe is not fast fashion, it's fashion streaming, the literal flow of ideas and design, patterns and production, styles and services through the tightly integrated processes. Being closer to the U.S. market already, knowing the U.S. supply chain gets better every day, and observing technology that make the industry much faster puts together two words that perhaps no one never dreamed would the U.S. industries competitive advantage — American Speed.
---
Editor's Note: Mike Todaro is the managing director of the Atlanta-based Americas Apparel Producers' Network (AAPN). AAPN is a private sector, non-profit, members-only apparel industry business network of more than 600 company owners and senior executives from 200 companies across the apparel supply chain.
---
November/December 2015