Will Chinese currency devaluation influence the success of the upcoming ITMA 2015?
By Jurg Rupp, Executive Editor
ITMA 2015 will be held November 12-19 at the Fiera Milano Rho fairgrounds in Milan, Italy. Milan hosts ITMA for the fifth time since its inception at the now 17th edition of the show. ITMA is owned by CEMATEX, and is organized in 2015 by Singapore-based MP Expositions Pte. Ltd.
For the first time in its history, ITMA will take place in November, because from May 1-October 31, 2015, the 2015 Milan Universal Exposition, or World's Fair, takes place at the same newly built fairground.
Fiera Milano Rho is one of the largest fairgrounds in the world, spanning 345,000 square meters (m2) of covered gross exhibition space. The venue is well equipped with 10 conference rooms and a host of restaurants, bars and coffee houses. Fiera Milano Rho is located in the west of Milan and connected to the city centre via a metro station, Rho Fiera. It is also served by railway and there are 14,000 parking spaces for visitors.
Show organizers announced back in 2014 that more than 95 percent of the 200,000 m2 of floor space already was booked by exhibitors. "Global textile and garment technology suppliers have snapped up space at next year's ITMA exhibition in Milan," reported CEMATEX. "ITMA 2015 … has attracted over 1,300 applicants from 43 countries by the application deadline of July 4." Since then, the remaining exhibit space has been booked, and ITMA 2015 is presumed to be sold out despite rumblings from the industry that an ITMA in Europe doesn't make sense anymore. This viewpoint springs from growing importance of the Asian textile market. But things are changing.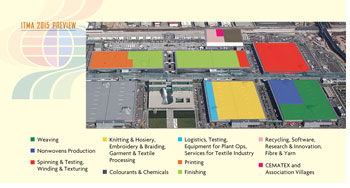 Economic Uncertainties
As of Textile World's press time, bad news about the economy in China and the growth rate of its gross domestic product is a hot topic of conversation around the world. Will China's economic woes influence the show in Milan? Of course, nobody knows yet.
Some governments estimated the growth of the Chinese economy in the first quarter of 2015 to be "only" 7 percent; indeed proof of a solid economy. In this figure, the growth of energy intensive and polluting products decreased, while services increased and are today the driving force of the Chinese economy. Also, the domestic market is growing. Domestic retail trade grew over the past year by 10.8 percent, not forgetting Internet sales — this sector increased by more than 40 percent in China.
Labor and energy costs influence the Chinese market heavily. However, thanks to its sheer size, China is still the most important global market. Some Chinese manufacturers already have reacted to changing conditions, and now invest heavily in foreign countries to get cheaper labor costs and stay competitive on the global markets. It is well known that China is by far the largest man-made fiber producer in the world, and there are plans to add capacity. Also, there are still many million tons of cotton in stock.
Italy The Biggest Exhibitor Country
Some 30 percent of the total exhibition space at this year's ITMA has been reserved by machinery manufacturers from Italy. In numbers, 430 companies will occupy 31,000 m2 of space. According to the Association of Italian Textile Machinery Manufacturers (ACIMIT), textile machinery sales in 2014 were totalled 2.3 billion euros ($2.7 billion), with exports accounting for around 1.94 million euros ($2.1 million). Exports to Asia amounted to 41 percent in 2014 and those to Europe totaled 40 percent, with a further 16 percent sold within Italy itself. In the first three months of 2015, sales of Italian machinery within Europe increased by 9 percent, with those to France up 29 percent, those to Germany up 23 percent and those to Portugal up by 100 percent.
Exports of textile machinery represent 84 percent, going to some 130 countries. In the first quarter of 2015, Italian exports of textile machines was divided as follows: Asia, with 42 percent; Europe, with 41 percent; Latin America, with 7 percent; North America, with 5 percent; and Africa, with 5 percent. During the same period, the biggest contribution to Italian exports of textile machinery came from China, valued at 58 million euros ($65 million). China is followed by Turkey with 47 million euros ($53 million), Bangladesh with 31 million euros ($35 million) and India with 25 million euros ($28 million).
While China remains the biggest destination for Italian machines, exports to the country fell by 25 percent in 2014, and dropped by a further 14 percent in the first three months of 2015. A full recovery in exports to China, however, is anticipated for the remainder of 2015.
Associated, Collocated Events
In more recent editions, ITMA has hosted collocated events including seminars and conferences. The list of events includes the Textile Colourant & Chemical Leaders Forum and the Nonwovens Forum at ITMA (See Table 1).
According to the organizers, the Textile Colourant & Chemical Leaders Forum will help attendees "learn about sustainability in dyeing and finishing processes from international experts." A wide range of topics and issues will be covered in three sessions:
The Issues: Chemical pollution and environmental concerns and the impact on the marketplace.
The Solutions: How does the supply chain respond?
The Future: What are the trends and game changers?
Specific presentations will cover the chemical and colorant suppliers' response to current environmental issues, updates on REACH regulation, and new dyeing and printing technologies and their impact on a more sustainable supply chain. The event will be held on November 14 at the Stella Polare Convention Centre, Fiera Milano Rho in the Sagittarius Room.
Nonwovens more and more form an important part of global textile production. Recognizing that, ITMA organizers have added a Nonwovens Forum to the ITMA conference schedule. The event will be co-organized by The International Association for the Nonwovens and Related Industries, Belgium, and MP Expositions. The forum will be held all day November 16 at the Stella Polare Convention Centre, Fiera Milano Rho, Sagittarius Room.
The program will benefit ITMA visitors who are involved in, or have the intention to move into nonwovens manufacturing. The theme for the forum is, "Nonwovens: A World of Growth and Opportunities." Interested parties can find out directly from industry leaders in nonwoven manufacturing how one can grab opportunities in the rapidly evolving world of nonwovens. The forum will be broken into two main sessions.
Session 1: Applications and Technologies for Nonwovens — Lecturers include speakers from Andritz Nonwoven, DiloGroup and Oerlikon Neumag.
Session 2: Added Value Ingredients and Finishing for Nonwovens — Lecturers include speakers from CHT R. Beitlich and Pulcra Chemicals.
In addition, Jacques Prigneaux, market analysis and economic affairs director, EDANA, will give a lecture entitled, "The Nonwovens Industry and Markets in Numbers."
It will be interesting to see if the blend of Italianità, approximately 1,400 exhibitors, news from the Chinese economy and the collection of events will be a successful mix for the global textile machinery industry.
Textile Industries Media Group will be at the show and is more than happy to welcome readers of Textile World, Textiles Panamericanos and Textile World Asia to its booth in Hall 7, Booth F-109. Ci vediamo in Milano!
September/October 2015