Since 1951, the European Committee of Textile Machinery Manufacturers (CEMATEX) has organized what is generally regarded as the largest textile machinery show in the world. Held once every four years, ITMA has become a platform for emerging trends and innovative solutions, new knowledge and best practices, and establishing relationships with textile industry leaders. The next edition of the show will be held November 12-19 at the Fiera Milano Rho fairgrounds in Milan, Italy. Milan hosts ITMA for the fifth time since its inception at the now 17th edition of the show.
ITMA is owned by CEMATEX, and is organized in 2015 by Singapore-based MP Expositions Pte. Ltd.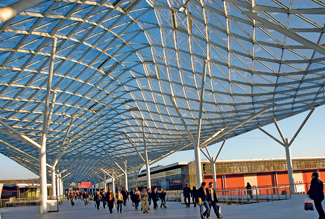 ITMA 2015 will be held at the Fiera Milano Rho fairgrounds in Milan, Italy.
Strong Exhibitor Demand
ITMA 2011 in Barcelona, Spain, attracted 1,350 exhibitors from 45 countries; and more than 100,000 visitors from 138 countries. As of Textile World's press time, organizers report 1,500 exhibitors from more than 47 economies have booked floor space at ITMA 2015.
Exhibitor demand for 2015 was strong early in the lead up to the show. So much so, organizers announced an additional hall more than a year before the show was scheduled to take place. "The demand for space has been very strong with applications still streaming in, and we have therefore added an eleventh hall to the show that will house the Fibre and Yarn, Research and Education, Colourants and Chemicals, Software and Recycling sectors," said Charles Beauduin, president, CEMATEX.
"We are delighted with the strong take up of space at the show, which reinforces ITMA's position as the world's leading textile and garment manufacturing technologies exhibition," said Eileen Ng, executive director, MP Expositions.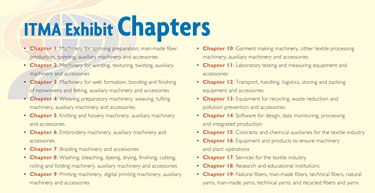 Click image to view ITMA exhibit chapters
What's New?
Exhibits at ITMA 2015 will be divided into 19 categories (See Table 1). Chapter 9, featuring printing and digital printing machinery is new; the fiber and yarn chapter — Chapter 19 — has been expanded with a new sub-chapter on recycled fibers and yarns; and the dyestuffs/chemicals group, Chapter 15, has been rebranded as colourants and chemical auxiliaries for the textile industry.
CEMATEX launched a new award initiative for the 17th edition of the show. The ITMA Sustainable Innovation Award 2015 honors "outstanding industry members and students for their contributions to the sustainable development of the global textile and garment industry," according to CEMATEX. The Industry Excellence Award will be presented to a textile and/or apparel manufacturer who has leveraged technology to manufacture in a sustainable manner. The Research and Innovation Excellence Award, which is open to current post-graduate part- or full-time students attending an ITMA 2015 Research & Innovation organization, will be presented to two winners — one in the Masters category, and one in the Doctorate category.
Finalists, chosen from the entries submitted by ITMA 2015 exhibitors, will be announced August 3. Winners will receive their awards at an awards ceremony and gala dinner November 12.
Conferences, Education
Outside of a packed exhibit show floor, visitors to ITMA 2015 have the opportunity to participate in a variety of educational and networking events. Associated and collocated events include the World Textile Summit 2015, Textile Colourant and Chemical Leaders Forum, Nonwovens Forum at ITMA, Speakers Platform at Research & Innovation Pavilion, and the Digital Textile Conference. See TW's September/October 2015 issue for more information about these events.
Visitor Incentive
Organizers are offering an early bird registration discount. All visitors who register before October 15 may purchase a one-day pass for 40 euros and an eight-day pass for 80 euros. "We would like to encourage our visitors to plan their trip early and purchase their ITMA 2015 badge online now to avoid long queues at the registration areas," said Ng. "The early bird rates are up to 50-percent lower than the onsite rates."
The show is open to visitors November 12-18 from 10 a.m. until 7 p.m. each day. On November 19, the show opens at 10 a.m. and closes at 4 p.m.
About Milan
Located in the northwestern section of the Po Valley, Milan is the second-largest city in Italy with a population of approximately 1.3 million. The city is the main financial, industrial and commercial center of Italy, housing the Borsa Italiana — Italy's main stock exchange — and the headquarters of major banks and corporations.
The city has a long history as a fashion, clothing and textile producer and is widely recognized as one of the world's fashion capitals, making it the perfect backdrop for a textile machinery trade show.
Famous must-see sights while in Milan include the Duomo di Milano, La Scala, and Leonardo da Vinci's The Last Supper mural.
The Duomo di Milano,— or Milan Cathedral — took nearly six centuries to build. It is the largest church in Italy and the fifth largest in the world. The Duomo is dedicated to St. Mary of the Nativity and acts as the seat of the Archbishop of Milan.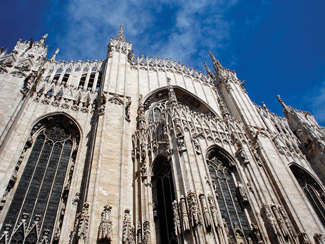 Duomo di Milano, Italy's largest church.
Teatro alla Scala, or La Scala as it's more commonly known, is an opera house opened in 1778. Throughout its history, many great operatic artists and singers have appeared at the venue, which is still considered one of the leading opera and ballet theatres in the world. The La Scala Theatre Chorus, La Scala Theatre Ballet and La Scala Theatre Orchestra are all housed at the opera house.
For ITMA visitors interested in a little shopping during their time in Milan, the Galleria Vittorio Emanuele II is a can't miss stop. This four-story double arcade connecting the Duomo and La Scala, is one of the world's oldest shopping malls built between 1865 and 1877. Today, the arcade features a variety of luxury retailers, restaurants, cafés and bars.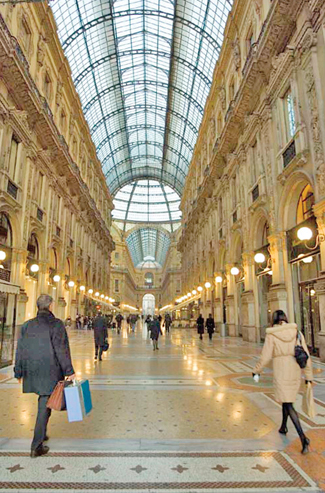 Vittorio Emanuele II shopping arcade
The Last Supper, da Vinci's late 15th century mural, can be found in the refectory of the Convent of Santa Maria delle Grazie in Milan. The painting has seen better days after enduring repeated damage, years of neglect and various restoration attempts over time, but it is still a very popular tourist attraction.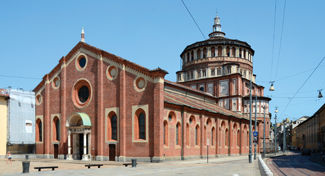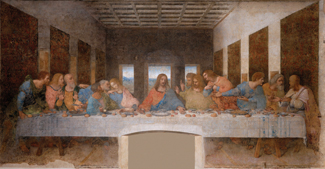 Top: Santa Maria delle Grazie church (photograph courtesy of Marcin Bialek), which houses The Last Supper by Leonardo da Vinci (bottom)
Traveling around Milan is easy thanks to the city's extensive transportation system comprising an underground metro, trams, buses, link lines and taxis. The underground lines offer cheap and quick movement around the city, and bus routes follow the four metro lines M1, M2, M3, M4 as well as the most popular routes between the city center and outskirts. Bus service also runs all night on Friday and Saturday nights.

---
For more information about ITMA 2015, visit itma2015.com. Textile World will continue its pre-show coverage in the September/October 2015 issue complete with an A-Z exhibitor list and show floor plan.
---
July/August 2015