The Clover, S.C.-based Synthetic Yarn and Fiber Association (SYFA) hosted its spring conference at the Sheraton Airport Hotel, Charlotte, April 16 and 17, 2015. The twice-yearly educational and networking event provides a platform for members of the man-made fiber industry to gather and interact.
There were many companies that supported the event. Premiere Fibers Inc. was a gold sponsor. Nan Ya Plastics Corp. America and Pulcra Chemicals were silver sponsors. Bronze sponsors included DAK Americas LLC and PolySpinTex Inc. The following companies were patron-level sponsors: American Fiber Manufacturers Association; Clariant Corp.; Glen Raven Inc.; Goulston Technologies Inc.; Industrial Fabrics Association International; Milliken and Company; National Council of Textile Organizations; O'Mara Inc.; PA Group USA; Techtextil North America; Textile World; Unifi Manufacturing Inc.; and William Barnet & Son LLC.
In addition to engaging presentations from 10 speakers, the association also elected new board members at the spring meeting.
Michael Becker, Michael S. Becker Inc., stepped down after serving his two-year term as president and was succeeded by Roger Crossfield, CTW, also elected to serve a two-year term. Machell Apple, Victor Group, will serve as vice president; and Alasdair Carmichael, PCI Fibres (Americas), will serve as secretary treasurer during the 2015-2017 period.
SYFA directors for 2015-16 are as follows: Jim Netzel, DAK Americas; Chris Schultz, Na Ya Plastics Corp. America; Hardy Sullivan, Crypton Fabrics; Eric Joo, Fanatics; Meredith Boyd, Unifi Manufacturing; Kim Hall, Pharr Yarns High Performance business; and Dan Sistrunk, Milliken & Company.
Save the date for the fall conference to be held October 29-30 at the same venue.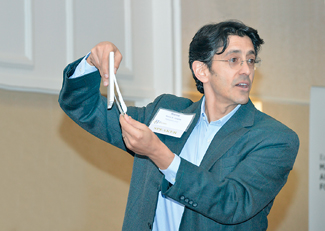 Rana K. Gupta, CEO, Felsuma LLC, was the keynote speaker on the first day of the conference. Felsuma is working to commercialize Geckskin™, a new super-adhesive engineered by researchers at the University of Massachusetts Amherst that is based on the mechanics of gecko feet.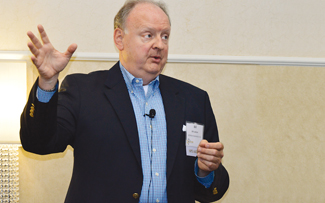 William T. Lockhart, senior vice president, SoftWear Automation Inc., gave a presentation titled, "Robotic Innovations in Sewn Products." Through industry collaboration and a series of significant grants, SoftWear Automation is making great strides towards commercializing robotic technology that can reliably and accurately cut and sew garments.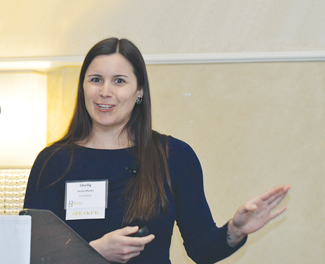 Shelly Martin, LCACP, sustainability analyst and training manager, EarthShift, shared information on a life cycle assessment performed on the Denali jacket manufactured by The North Face.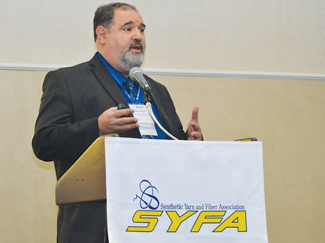 Darren Mond, senior research associate, Goulston Technologies Inc., spoke about gas-to-liquid oils for fiber manufacturing.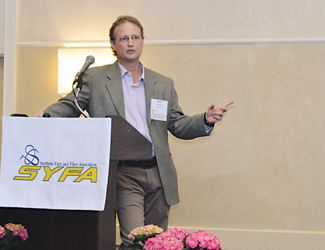 GreenBlue sustainable materials program director James Ewell's presentation was entitled, "Material IQ — Optimizing Design Through Transparency."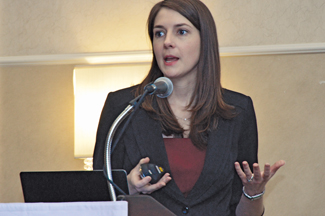 Sarah Watt House, vice president and economist, Wells Fargo Securities LLC, provided the keynote presentation on day two of the conference.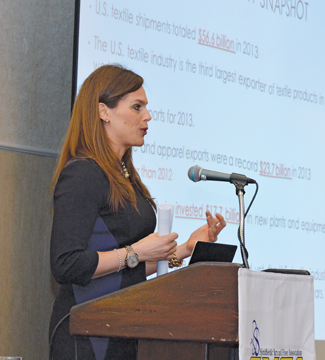 Sarah Faye Pierce, senior vice president, National Council of Textile Organizations, provided conference attendees with the latest information on the Trans-Pacific Partnership and Transatlantic Trade and Investment Partnership.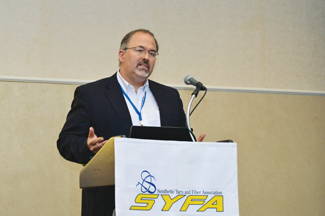 Robert Green, Ingeo fibers & nonwovens global business director, NatureWorks LLC, gave a presentation entitled, "Ingeo Innovations — Driving Performance in Fibers and Nonwovens."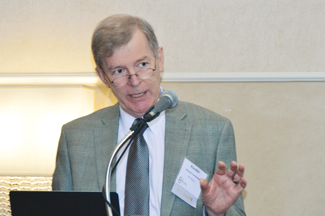 Alasdair Carmichael gave a presentation on economic and consumption data as it relates to man-made fibers.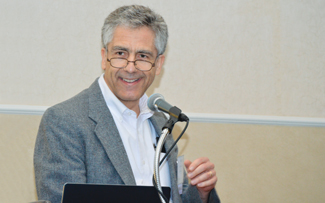 Kevin Nelson, founder and chief scientific officer, TissueGen Inc., closed out the conference with his presentation on fiber use in medical textiles.
May/June 2015