The Clover, S.C.-based Synthetic Yarn and Fiber Association (SYFA) presented its "Increasing Opportunities … What's New In Textiles" fall conference at the Sheraton Airport Hotel, Charlotte, October 2 and 3.
Members from across the vibrant man-made fiber community and beyond gathered to hear presentations on a variety of topics from manufacturing to retailing to textile trade issues.
Conference sponsors included Premiere Fibers Inc., Pulcra Chemicals, DAK Americas, Nan Ya Plastics Corp., America; Oerlikon Barmag; and PolySpinTex Inc. Patrons of the event included the American Fiber Manufacturers Association, Clariant Corp., ExpoProducción Mexico LLC, Goulston Technologies Inc., Industrial Fabrics Association International; Industrial Plating Co., Milliken & Company, O'Mara Inc., Stein Fibers Ltd., Techtextil North America, Textile World and Unifi Manufacturing Inc.
Mark your calendars now for SYFA's Spring conference, which will be held at the same venue April 16-17, 2015.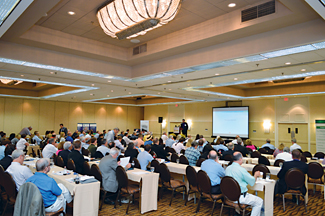 At the recent SYFA Fall conference, members of the man-made fiber industry united for two days of presentations.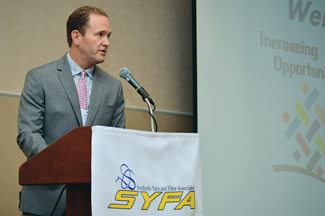 SYFA President Mike Becker, Michael S. Becker Inc., welcomed guests to the event.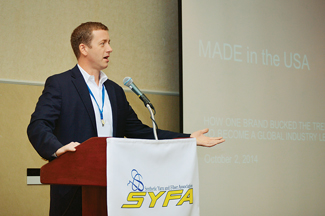 The Keynote Presentation on the first day of the conference was provided by Matt LeBretton, vice president of Public Affairs, New Balance Athletic Shoes Inc. LeBretton's presentation was titled, "Made in the USA: One Athletic Footwear Manufacturer's Commitment To Producing American-Made Shoes"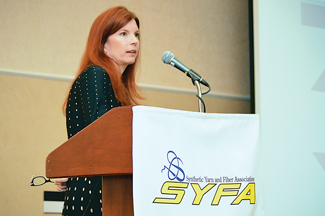 Debbie Fortnum, senior vice president of supply chain, Belk Inc., gave a speech about Belk's Omnichannel Initiative.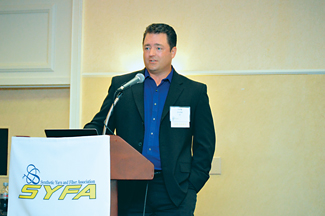 Jerry Hall, senior technical manager, 3M Corp., talked about innovations at 3M and the company's product development process.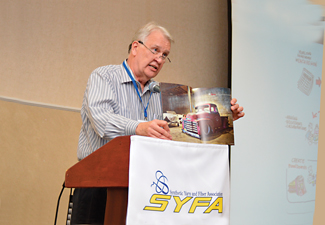 Len Kulka, director, Creative Development Colorworks, Clariant Masterbatches, talked about the creative process in his "Color Forward Interiors 2015, Forecasting Trends and Colors for Fibers & Textiles" presentation.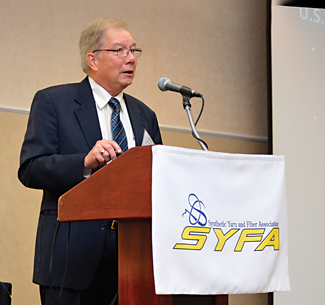 Steven M. Warner, publisher, BeaverLake6 Report and TW contributing editor, presented a North American perspective on technical textiles.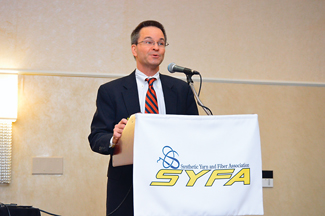 Dr. Robert C. Fry Jr., senior economist, DuPont, was the keynote speaker on day two of the conference.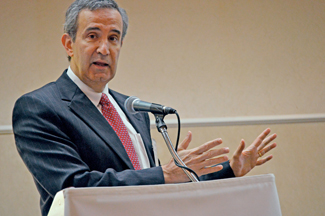 Well-known industry figure National Council of Textile Organizations President Augustine Tantillo gave attendees an update on the TransPacific Partnership and Transatlantic Trade and Investment Partnership negotiations.

BB Engineering GmbH's head of sales and customer service, and executive vice president, Dr. Wolfgang Ernst, gave a presentation titled, "Fibers From Recycled PET — Potentials, Markets And Technologies."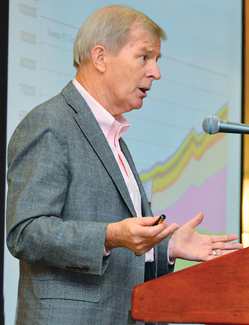 Alasdair Carmichael, president, PCI Fibres (Americas), presented a fibers review including raw materials and recycling topics.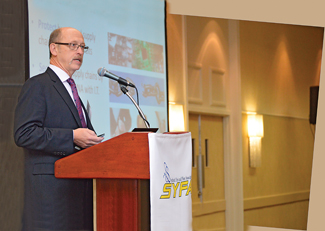 Dr. James A. Hayward gave an interesting presentation on "DNA Solutions For Authenticity and Traceability." Hayward is chairman, president and CEO of Applied DNA Sciences.
November/December 2014