The Association of the Nonwoven Fabrics Industry (INDA), Cary, N.C., will assemble the nonwovens
and engineered fabrics industry in Miami Beach, Fla., in late April for IDEA13, the International
Engineered Fabrics Conference & Expo. The 2013 edition of the triennial event will be held
Monday through Thursday, April 22-25, at the Miami Beach Convention Center, which has hosted the
last four IDEA events.
As of Textile World's press time, the exposition floor was 98-percent filled, and was
expected to sell out for the first time. INDA reports a record 450-plus companies — 188 of which
will be first-time exhibitors — from 26 countries will be exhibiting their products and services to
approximately 6,000 attendees from more than 70 countries.
"IDEA 2013 is proving to be an event not to be missed," said INDA President Dave Rousse. "We
have a record-breaking number of exhibitors from up and down the entire nonwoven value chain and
every market segment. We welcome key executives from all over the world to join us this April and
see the latest in innovations and technologies that IDEA exhibitors have to offer."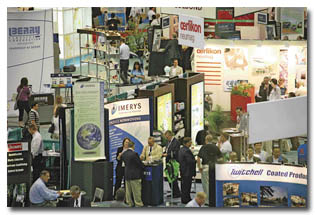 IDEA10 saw 379 exhibiting companies and approximately 5,500 attendees.
IDEA10 attracted 379 exhibiting companies from 22 countries and approximately 5,500
attendees. According to INDA, half of the exhibitors at that show and more than one-third of
attendees came from outside the United States.
At the expo, attendees will be able to see everything from raw materials to finished
products, and observe manufacturing processes in operation. Targeted sectors include
automotive/transportation, construction, consumer products, filtration, geotextiles, home and
office furnishings, healthcare, hygiene, medical, personal care, protective apparel, technical
textiles and wipes, among others.
The expo will begin with a welcome reception Monday evening, April 22, at the Nikki Beach
Club in Miami. The reception will be sponsored by Eastman Chemical Co., Kingsport, Tenn. Other
sponsors include Texel Inc., Quebec; Stein Fibers Ltd., Albany, N.Y.; and Xerium Technologies Inc.,
Raleigh, N.C.

Conference Program


INDA has organized the IDEA13 conference with a focus on select nonwovens industries by
region. Seven speakers with industry expertise will present statistics, trends and forecasts for
the industries in China, India, the Asia Pacific, North America, Europe and South America.
Speakers on Tuesday include Ian Butler, a principal with Apex, N.C.-based International
Nonwovens Consultant, who will discuss the industry in China; Kays Chinai, a principal partner with
Elkton, Md.-based Chapas, Chinai & Associates, who will discuss nonwovens in India; and Ian
Bell, a tissue and hygiene research manager at London-based Euromonitor International, Ltd., who
will discuss Asia Pacific. On Wednesday, former INDA President Rory Holmes will discuss the North
American industry. On Thursday, Bell will speak again, about the industry in Europe; and Rick
Jezzi, a principal with Bala Cynwyd, Pa.-based A.D. Jezzi & Associates LLC, will discuss the
South American industry.

Achievement Awards


The IDEA13 Achievement Awards will recognize product and technical developments within the
global nonwovens and engineered fabrics industry that have been introduced since IDEA10. The awards
will be presented in five categories: Short-Life Converted Product; Long-Life Converted Product;
Equipment; Raw Materials; and Roll Goods. A total of 15 products have been nominated as finalists.

Registration


There are a variety of registration options for IDEA13 attendees, including registration for
the full conference and expo; expo only; a daily conference/expo pass; and a daily expo pass. A
separate fee is required to attend the IDEA13 reception. Early-bird discounts are offered through
March 31.
"The IDEA exhibition for us is one of the most important on our events calendar," said
Massimo Michelini, director, sales and marketing, Italy-based A. Celli Nonwovens S.p.A. "It has
never failed to provide an excellent opportunity to meet and network with our customers, friends
and industry professionals from all over the world at a super venue."
---
For more information about IDEA13, visit idea2013.com.


---


March/April 2013