Techtextil North America 2013 — the tenth edition of the North American trade show for the
technical textiles and nonwovens industries, and its third West Coast edition — will take place
Tuesday, March 19, through Thursday, March 21, at the Hilton Anaheim in Anaheim, Calif. This is the
first time the show will be held in California, as its previous two West Coast editions were held
in Las Vegas. Show organizer Messe Frankfurt North America, Atlanta, expects the relocation to
Anaheim — a city that is served by four major domestic and international airports and counts
approximately 20 million people living within a 90-mile radius — will enhance both accessibility as
well as the show's audience size.
Techtextil North America 2012, which incorporated ATME-I® and colocated with
Texprocess Americas in Atlanta, had 314 companies from 22 countries exhibiting their products and
services to 6,800 visitors, and featured country pavilions from Belgium, Canada, China, Germany,
Italy and Portugal. More than 100 exhibitors are expected to show their products and services to
more than 1,500 attendees at the 2013 show, which will feature a German pavilion with 15
participating companies.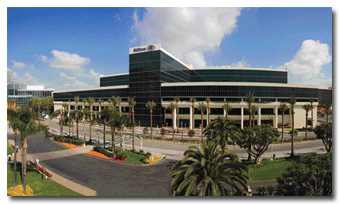 "We are pleased to announce the first German pavilion at Techtextil North America at the
West Coast," said Michael Jaenecke, brand director, Technical Textiles/Techtextil, Messe Frankfurt
Exhibition GmbH, Frankfurt. "Many people consider Germany as one — perhaps even the — leading
country in technical textiles. The 15 companies represent the wide range of textile technology,
yarns, and textile materials as well as the German technical textile association. So, a visit to
Techtextil North America in Anaheim could be the basis for new and prospering business leads."
Techtextil North America is touted as the only trade show in the Americas that covers the
full vertical spectrum of the technical textiles/nonwovens sector, including research and
development, raw materials, production processes, conversion, further treatment and recycling.
This year, the show's industry partners include Sewn Products Equipment & Suppliers of
the Americas, Raleigh, N.C.; the Synthetic Yarn and Fiber Association, Clover, S.C.; North Carolina
State University's The Nonwovens Institute, Raleigh; the Textile Technology Center at Gaston
College, Belmont, N.C.; and various textile-related publications, including

Textile World
,

Textile World Asia
and

Textiles Panamericanos
.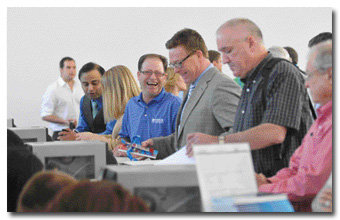 Organization


To aid attendees in finding providers of the products, services and technologies relevant to
their needs and interests, Techtextil North America exhibitors will be classified according to 12
application areas:
Agrotech — including agriculture and forestry, horticulture and landscape gardening, animal
husbandry, fences and more;
Buildtech — including membranes; lightweight and solid construction; engineering and industrial
building; temporary construction; interior construction; earth, water and traffic route
construction; agricultural construction; and more;
Clothtech — including specialized high-tech materials for apparel, footwear, bags and
more;
Geotech — including underground, civil engineering, earth and road construction, dam
engineering, dump construction, ground isolation, drainage systems, erosion control and
containment, and more;
Hometech — including specialized high-tech materials for furniture, upholstery and interior
furnishings, rugs, floor coverings, and more;
Indutech — including filtration, cleaning, mechanical engineering, chemical industry,
electrical industry, seals, sound absorption products and more;
Medtech — including hygiene, medicine, rescue organization equipment and more;
Mobiltech — including automotive, ship building, aircraft, aerospace, rail vehicles, motorcycle
and bicycle construction, and more;
Oekotech — including environmental protection, recycling and waste disposal applications, and
more;
Packtech — including packaging, protective cover systems, sacks, big bags, storage systems and
more;
Protech — including personal and object protection, and more; and
Sporttech — including sports, leisure, activewear, outdoor, equipment and outfits, sports shoe
applications, and more.
Product groups and services offered include: research, development, planning and
consultation; technology, machinery and accessories; fibers and yarns; woven fabrics, laid webs,
braiding and knitted fabrics; nonwovens; coated textiles and canvas products; composites;
adhesives/bonding; and publications and associations.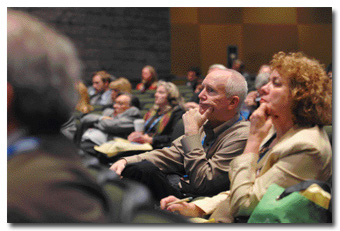 Symposium


The Techtextil North America 2013 Symposium — a three-day educational forum held
concurrently with the exhibition — will present recent developments in the technical
textiles/nonwovens sector. The symposium lineup includes five sessions on the subjects of new fiber
technologies, protective textiles, high-performance composites, medical textiles, and
nonwovens/filtration; and 25 presentations by leading industry experts covering market
developments, technological information, new technical processes and products and international
industry trends.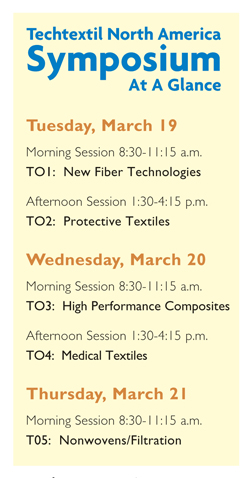 For 2013, Techtextil North America has shifted from having a keynote speaker instead to
featuring key presenters who will open each of the symposium sessions. The symposium also will
feature a structured program to allow attendees adequate question-and-answer time with presenters
during and after each session.
Visitors wishing to attend the symposium may purchase either a one-day symposium pass or a
three-day symposium pass, both of which include an expo hall pass. The show floor will be open from
10:00 a.m. to 5:00 p.m. on March 19 and 20, and from 10:00 a.m. to 3:00 p.m. on March 21.
"We are looking forward to our first Techtextil North America show in Anaheim, California,"
said John Gallagher, president and CEO, Messe Frankfurt North America. "On the show floor,
attendees can expect to do business with top exhibitors from North America, Asia, and Europe. This
year's symposium — running concurrently with the exhibition — will once again present high-quality
educational sessions with topics covering important sectors of the industry."
---
For more information about Techtextil North America, contact Claudia Maurer +770-984-8016 Ext.
433; claudia.maurer@usa.messefrankfurt.com. A detailed symposium schedule may be found at
techtextilna.com.
---
January/February 2013