The most recent edition of the Roseville, Minn.-based Industrial Fabrics Association
International's (IFAI's) annual exposition was held at the Baltimore Convention Center from October
25 to 27. IFAI Expo Americas 2011 — said to be the largest specialty fabrics trade show in the
Americas — saw 340 companies from 18 countries exhibiting their products and services to 5,066
registered participants from 43 countries. According to the organization, expo exhibitors reported
high-quality attendees and new connections made with both vendors and customers.
"IFAI Expo Americas 2011 was a great show for us," said Dale Spuzzillo, national sales
manager and north central sales manager, Nice USA Inc., a San Antonio-based awning manufacturer.
"We had very heavy traffic in our booth the full three days of the show. Not only did we see many
new customers, but we also had excellent meetings with many major manufacturers at this show."
IFAI reports educational programs presented at the Advanced Textiles Americas conference as
well as continuing education offerings attracted large audiences. Among the most popular were a
technical session covering sustainability in textiles, a fabric structures symposium on Leadership
in Energy and Environmental Design (LEED®) and Construction Specifications Institute fabric
structure certification, and bonus sessions on specialty fabrics in the global marketplace and
exporting for profit. More than 100 participants attended a special program to see demonstrations
on the show floor before it opened on the last day of the expo.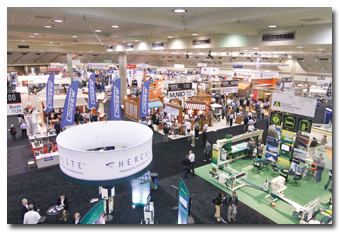 IFAI Expo Americas 2011 hosted 340 exhibitors from 18 countries and 5,066 attendees from 43
countries.
IFAI's 2011 International Achievement Awards (IAA), which recognize design excellence in
specialty fabrics' applications, were presented during the Chairman's Gala following the expo's
welcome reception. This year, there were 83 awards — including 33 Awards of Excellence — given to
27 companies in 33 categories. Click
here
to view the complete list of IAA winners.
IFAI is gearing up for its 100th anniversary next year. IFAI Expo Americas 2012 will
colocate at the Boston Convention Center November 7-9, with the JEC Americas Composites Show and
Conferences, organized by France-based composites industry association JEC Group. More than 600
exhibitors already have signed up for the combined shows.
"The big news from our show in Baltimore was the incredible enthusiasm for IFAI Expo
Americas 2012, taking place in Boston," said Mary Hennessy, executive vice president, IFAI. "We
completely sold out the show floor in our sales office and had to expand the floor space to
accommodate latecomers to the sales office."
November/December 2011