INDEX 11 took place April 12-15 in Geneva at the Geneva Palexpo Exhibition & Congress Centre
under the theme "Innovation and Sustainability." INDEX organizer, Palexpo S.A., and sponsor, EDANA,
the Brussels-based International Association Serving the Nonwovens and Related Industries, reported
record-breaking participation, with more than 12,600 visitors coming to Geneva to visit some 530
exhibitors from 43 countries.
Many frequent INDEX visitors said that hardly ever before has an INDEX had so many different
kinds of exhibitors, covering the whole range from fiber producers, machinery manufacturers and
converters up to end-product suppliers.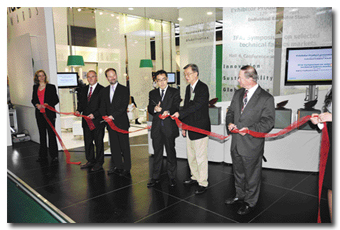 Left to right: EDANA officials Shelley Bonner, Chairman Jean-Marie Becker and General
Manager Pierre Wiertz; Asia Nonwoven Fabrics Association (ANFA) Chairman Hiroaki Kanai; China
Nonwovens Technical Association (CNTA) Chairman Wang Yanxi; and Association of the Nonwoven Fabrics
Industry (INDA) President Rory Holmes line up to cut the ribbon to open INDEX 11.

Success Stories


For this review, all interviewed exhibitors — most of whom are machinery manufacturers —
confirmed good results, and some reported having between 100 and 140 visits a day. Many exhibitors
reported considerable sales success. And not only exhibitors, but also visitors were impressed with
the broad spectrum of technology and products on view at INDEX 11.
Pierre Wiertz, general manager of EDANA, said he was very pleased with the outcome of the
show, confirming the growing importance of the nonwovens industry. "For an industry which has just
started to show signs of recovery — now finally rising to levels above those recorded before the
global financial crisis — we can be incredibly proud," he said. "Companies are investing in
sustainable activities, which not only bring a positive effect to the world we live in, but also
secure the industry for the future."
All interviewed exhibitors confirmed that their expectations were entirely fulfilled;
including the expectation of high-level visitors with ideas and visions for future nonwovens
products. Some even mentioned the word "phenomenal." Jean-Philippe Dumon, sales and marketing
director of France-based NSC nonwoven, said he has never attended an exhibition that has exuded
such a good spirit. Christina Mallin, a marketing representative from Germany-based Oerlikon
Neumag, said INDEX is the most important event for the nonwovens industry.
Often, business people will say they know all their customers and don't need any marketing
assistance, including from the trade press. However, Andreas Berthel, managing director of the
Saxon Textile Research Institute (STFI), Germany, said STFI made more than 100 new contacts at
INDEX.

Awards


A special INDEX 11 Awards ceremony was a highlight of the show. The awards were presented to
winning companies in recognition of their innovative achievements in seven categories throughout
the nonwovens supply chain, from product and process innovation to marketing originality and
sustainability. A list of award winners can be found
here.

Asia Is Coming


The most active nonwovens markets currently are China, the United States and Europe.
However, the whole world, including Brazil and India, is showing promising trends toward better
times. Not only did more visitors come from Asia, and from China in particular, compared to INDEX
08, but also many more Chinese companies exhibited at this year's show.
On all days, most of the booths were packed with visitors from around the world. But besides
the show as such, there were special events and presentations focused on innovation, nonwovens in
packaging and product presentations, as well as lunchtime introductory tutorials.

Markets


INDEX was a very good show, everybody said. Of course, visits alone are not yet business;
but there is a great deal of optimism among the machinery manufacturers. The markets will further
grow, said Andreas Lukas, vice president, Nonwoven, for France-based Andritz Perfojet. His company
even reported signed and financed contracts.
The markets are improving every month. And it seems the nonwoven markets are in transition.
For years, everybody in the sector tried to produce and sell hygiene products — and wipes, wipes
and more wipes — which resulted in extremely competitive markets around the world. Today, not only
are the traditional textile producers searching for niche markets and new products, but also the
disposables producers are looking to diversify their product portfolios. And the time seems to be
right.

The Winds Of Change


For technology, or products, the winds seem to have changed in favor of specifically
nondisposable products. Staple-fiber products such as carded, airlaid and, consequently,
needlepunched or spunlaced goods are coming to the forefront. Johann Philipp Dilo, owner and
chairman of Germany-based DiloGroup, said web forming with cards is enjoying a kind of renaissance
owing to the increased feeding speed and evenness of the card. Isotropy — the perfect 1:1 machine
direction:cross direction (MD:CD) ratio — is still the target. And some machinery suppliers are
getting quite close to this goal.
Another trend is the move toward turnkey production lines. More and more companies are
acquiring other producers or looking for strategic alliances so they can offer a large portfolio of
machinery to fulfill the market's needs. Robert Laroche, co-owner and president, Laroche S.A.,
France, mentioned that his company, which mainly produces recycling machinery, recently acted for
the first time as a kind of general contractor. "The customers know exactly what they want and what
kind of product they want to produce," Laroche said. "Based on their requirements, we can design
and plan the whole production line exactly to meet their needs."

Outlook


Even if the disposable nonwovens sector is a different world from that of conventional
textiles, it provides another indication that the entire industry is regaining ground, especially
textiles for industrial applications. To summarize the overall feedback at INDEX, the markets have
been recovering since the beginning of last year. Some exhibitors said they've already reattained
levels reached in 2008 before the financial crisis started.
July/August 2011