Savio Macchine Tessili S.p.A., manufacturer of winders, twisters and rotor-spinning frames, is
marking its centennial this year. The company traces its roots to 1911 in Pordenone, in the
Friuli-Venezia Giulia region in northeastern Italy, where Marcello Savio established a small
machine shop to serve the local textile industry, primarily by repairing looms. That small business
has evolved into a modern-day global enterprise with a turnover of 258 million euros, producing
state-of-the-art machinery for textile manufacturers worldwide, and today has a workforce of more
than 800 in Italy, India and China, and sales representatives in 60 countries.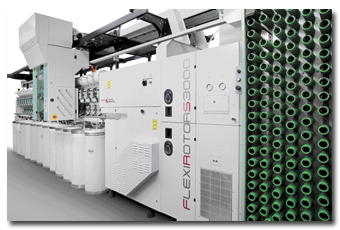 Savio's FlexiRotorS 3000 automatic rotor-spinning frame, featuring a Suessen spinning unit
that has two independently controlled sides, builds packages up to 12 pounds in weight that can be
fed directly to weaving machines.
In the post-World War II period, Marcello's son Luciano took over the business and
began to design and manufacture textile machinery, first for the local market and eventually for
export to other markets. By 1970, the company, with its 45 employees, had outgrown its location and
moved to its present facility, which now comprises 171,000 square meters (m2) including 69,000 m2
of covered area.
In the 1970s, the company was taken over by EGAM, a state-owned holding company, and then by
state-owned ENI Group, which invested in expanding and modernizing Savio's production lines as well
as in R&D activities. That support enabled Savio to develop new machinery lines and expand its
market internationally, and primed it for acquisition by a group of private investors and company
managers in the 1990s. In its new life as a well-financed, well-managed private company, Savio
strengthened its market position overall and initiated joint ventures in China and India to help
give it an advantage in Asian markets.
In 1998, Italy-based RadiciGroup acquired Savio and added the company to its portfolio of
textile industry suppliers. As part of RadiciGroup — and, subsequently, Itema Group, a holding
company established in 2001 by RadiciGroup Owner Miro Radici — Savio has received considerable
support for further research and development of innovative machinery. As part of Itema Group, it
also has established wholly owned manufacturing operations in China and India — Savio (Shandong)
Textile Machinery Co. Ltd. and Savio India Ltd. — to serve those domestic markets.
Savio's current range of machinery includes, among others, the Polar E automatic winder with
automatic bobbin feeding and package doffing; Polar I DLS automatic winder offering direct linkage
to the spinning frame so that bobbins are transferred without interruption from the ring frame to
the winder; the Sirius two-for-one twister, available as a standard mechanical model and as a
computer-driven ElectronicDriveSystem (EDS) model; and the FlexiRotorS 3000 automatic
rotor-spinning frame, designed to meet flexibility demands in open-end spinning and featuring a
Suessen spinning unit that has two separate, independently controlled sides. The company will be
displaying these machines this September at ITMA 2011 in Barcelona, Spain, where it will share its
centennial celebration with all ITMA participants.
July/August 2011