T

he IDEA10 International Engineered Fabrics Conference & Expo, held April 27-29 at the
Miami Beach Convention Center in Miami Beach, Fla., attracted 379 exhibiting companies from 22
countries and approximately 5,500 attendees. Half of the exhibitors and more than one-third of the
attendees came from outside the United States, according to the Association of the Nonwoven Fabrics
Industry (INDA), Cary, N.C., the show's organizer.
"IDEA10 was one of the most successful IDEA shows ever and the continued strong
participation of foreign exhibitors and attendees is proof of the show's importance within the
international engineered fabrics community," said Rory Holmes, president, INDA. "IDEA10 was truly a
global event."
INDA also reports there were 143 first-time exhibitors at the triennial event. "These new
exhibitors, combined with the continued growth of international participation, speak well of the
continuing vibrancy of the engineered fabrics industry here and abroad," Holmes said.
Overall, exhibitor feedback was positive with regard to participation at IDEA10. "The
traffic was strong all three days, and we were pleased by the high quality of contacts that we made
at the show," said Todd Bassett, managing director of Richmond, Va.-based textile equipment and
components distributor Fi-Tech Inc. "We also saw better representation from the key nonwovens
end-users than at IDEA07."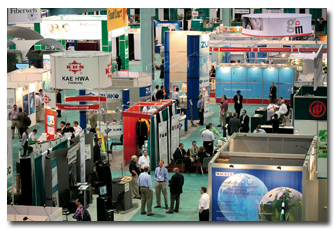 The IDEA10 exhibition floor at the Miami Beach Convention Center presented 379 exhibiting
companies, including 143 first-time exhibitors.
"The quality of people and the number of decision-makers were remarkably high, and serious
discussion for new investment projects took place during the show at our booth," said Roland
Zimmer, president, Zimmer America Corp., Spartanburg.
Wayne Proctor, senior sales manager, fibers, DAK Americas LLC, Charlotte, reported that
outside of general interest in its product offerings, and in particular its performance fibers,
there was significant interest in DAK's Sustainability Program initiatives introduced at the show.
It was evident that the global engineered fabrics industry and the U.S. economy are
rebounding from the recent economic downturn. "Overall, I thought the show was very upbeat despite
the economic turmoil of the past two years," Bassett said. "It appears that companies are beginning
to plan for growth, as many visitors had definite projects to discuss. In non-durable applications,
the hygiene industry is actually quite strong right now with several new projects underway or in
discussion. We expect strong demand in the next few years for nonwovens supporting the hygiene and
medical markets. With the Gulf oil spill, we should see high activity for meltblown applications."
"The U.S. nonwovens market is exploding due to greater household usage, an increase in
product offerings and availability of cost-effective recycled fibers that can be used as raw
material," said George Martin, executive vice president, sales and marketing, Leigh Fibers Inc.,
Wellford, S.C.
Show highlights included INDA's presentation of the Entrepreneurial Achievement Award to
Fi-Tech; and the IDEA10 Achievement Awards, recognizing innovation in nonwovens and engineered
fabrics
(See
"Fi-Tech
Receives INDA's Entrepreneurial Award, IDEA10 Achievement Awards Presented," May 4, 2010)
. INDA also debuted two media formats: the IDEA10 crowdvine social networking site; and IDEA TV,
which was broadcast over the Internet from the show floor.
July/August 2010