T

he second edition of the biennial exhibition ITMA Asia + CITME will open its doors to the
global textile industry June 22-26, at the Shanghai New International Expo Centre (SNIEC) in
Shanghai's Pudong district. The show brings together two previously independently produced events –
the International Textile Machinery Exhibition (ITMA) Asia and the China International Textile
Machinery Exhibition (CITME).
The event's owners – the European Committee of Textile Machinery Manufacturers (CEMATEX); the
Sub Council of Textile Industry, China Council for the Promotion of International Trade
(CCPIT-TEX); China Textile Machinery Association (CTMA); and China International Exhibition Center
Group Corp. (CIEC) – again selected the Beijing Textile Machinery International Exhibition Co. Ltd.
(BJITME) along with co-organizer MP International Pte. Ltd. to organize the event. The Japan
Textile Machinery Association (JTMA) also is a partner organization involved in the event.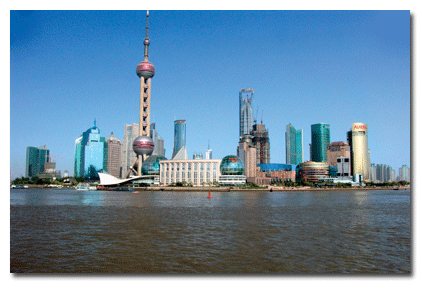 The Pudong skyline, viewed from the Bund side of the Huangpu River, is punctuated by many
modern and futuristic buildings.

"ITMA Asia + CITME is a milestone event for the global textile industry," said Gao Yong,
president, CTMA. "It epitomizes the spirit of cooperation among major textile machinery
manufacturers."
"From the outset, the vision of combining two established shows into a leading-edge platform
was to offer textile machinery manufacturers a cost-effective exhibition of the highest quality in
Asia," said Edward Roberts, president, CEMATEX. "We are delighted that the strong debut of the
combined show [in 2008] has clearly validated our decision."

Show Exhibition Space Sold Out,

Wait List Filling Up


Show organizers are pleased to report that more than 1,100 companies will exhibit at the
show, filling 100,000 square meters of floor space in nine halls at SNIEC. As of press time, more
than 50 prospective exhibitors are on a wait list.
"Global economic recovery is underway and growth is expected to return to positive territory
in 2010," said Maria Avery, secretary-general, CEMATEX. "Generally, businesses are more upbeat in
their outlook, hence there is strong demand for the show. As the show date approaches, we are now
actively promoting the exhibition in China and the rest of Asia."
Chinese companies have reserved nearly 50 percent of the available exhibit space.
Manufacturers from Europe and Japan form the next- largest exhibitor group, taking up some 35
percent of the floor space. Spinning will be the most strongly represented sector at the show,
occupying approximately 30 percent of hall space at SNIEC. Companies from the finishing sector will
take up 25 percent of the exhibit space, followed by knitting, garment-making and
textile-processing technologies with 20 percent; and weaving with 15 percent.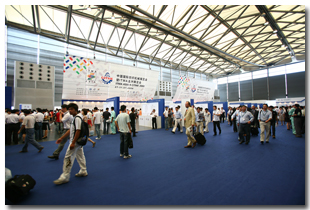 The opening hall at the Shanghai New International Expo Centre



Visitor Predictions, Promotions


ITMA Asia + CITME organizers currently are executing a promotional campaign to increase
visitor numbers at the show. In 2008, more than 90,000 visitors attended the event, traveling from
96 countries and regions. Approximately 70 percent of the visitors were from China and 20 percent
from Europe, the Middle East and other parts of Asia. Organizers predict a 10-percent increase in
visitor numbers, for a total of approximately 100,000 guests at the 2010 edition.
The visitor promotion campaign will target domestic visitors from China as well as textile
associations in India, Pakistan, Bangladesh, Vietnam, Indonesia and Turkey. In addition, an ITMA
Asia + CITME roadshow traveled to 11 cities in India in early 2010 to promote the show to Indian
textile trade visitors.
To ensure high-quality visitors at ITMA Asia + CITME 2010, guests will be required to pay a
small fee for an entry badge. Visitors may select a five-day pass for 100 renminbi or a single-day
pass for 50 renminbi – both available at a 40-percent discount if guests register online prior to
June 10. Visitors registering online also will be able to print a badge prior to the show to avoid
waiting in lines onsite to receive a badge.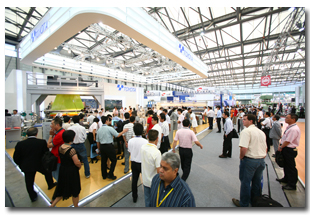 Toyota Industries Corp.'s booth in the exhibit hall



Product Categories


CEMATEX announced recently that ITMA 2011 – to be held in Barcelona, Spain, Sept. 22-29, 2011
– will incorporate garment-making technologies and machinery, braiding technologies, and embroidery
technologies in its list of product categories. ITMA Asia + CITME 2010 will organize its exhibition
area in the same fashion.
"The ITMA brand was established in 1951, and is very well known and respected in the
classical textile machinery sector," Avery said. "Although we have always showcased garment-making
machinery, we have greatly enhanced its profile for the 2011 show, adding many new categories to
our Index of Products and featuring the sector in our forum which will take place during the show."
Products will be arranged in 17 different chapters as follows:

Chapter 1 – Spinning preparation, man-made fiber production, spinning and auxiliary machinery
and accessories;
Chapter 2 – Winding, texturing, twisting and auxiliary machinery and accessories;
Chapter 3 – Machinery for web formation, bonding and finishing of nonwovens and felting, and
auxiliary machinery and accessories;
Chapter 4 – Weaving preparatory, weaving, tufting and auxiliary machinery and accessories;
Chapter 5 – Knitting and hosiery machinery, and auxiliary machinery and accessories;
Chapter 6 – Embroidery machinery, and auxiliary machinery and accessories;
Chapter 7 – Braiding machinery and accessories;
Chapter 8 – Washing, bleaching, dyeing, printing, dyeing, finishing, cutting, rolling and
folding, and auxiliary machinery and accessories;
Chapter 9 – Garment-making and other textile processing machinery, and auxiliary machinery and
accessories;
Chapter 10 – Laboratory testing and measuring equipment and accessories;
Chapter 11 – Transport, handling, logistics, storing and packing equipment and
accessories;
Chapter 12 – Equipment for recycling, waste reduction and pollution prevention and
accessories;
Chapter 13 – Software for design, data monitoring, processing and integrated production;
Chapter 14 – Dyestuffs and chemical products for the textile industry;
Chapter 15 – Equipment and products to ensure machinery and plant operations;
Chapter 16 – Services for the textile industry; and
Chapter 17 – Research and educational institutions.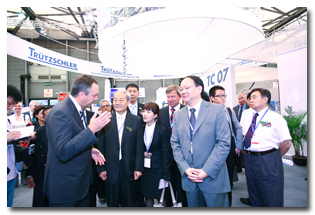 VDMA Textile Machinery Association Vice Chairman and Trützschler Group Managing Partner
Heinrich Trützschler (left) speaking with an entourage of Chinese officials.

IPR Infringements Not To Be Tolerated


In 2008, ITMA Asia + CITME organizers announced that intellectual property (IPR)
infringements would not be tolerated. Some 26 IPR complaints were received during the show, and
after investigation, organizers reported any products found to be in violation of patents were
removed from the exhibition floor. In 2010, an active IPR office again will be available to assist
exhibitors who have suspected patent issues.

Improving Business Climate


This year's show is taking place at a time when many are cautiously predicting an improving
economic business climate worldwide.
According to exhibition organizers, the United Nations (UN) predicts the world economy will
bounce back in 2010 with a growth rate of 2.4 percent globally. The UN also predicts strong growth
in developing countries such as China, which is expected to experience 8.8-percent growth; and
India, 6.5-percent growth.
"Both China and India are major textile manufacturing centers, and their positive economic
growth is extremely good news for the industry," Roberts said.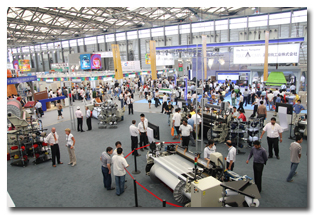 A view of the weaving section at ITMA Asia + CITME 2008

"Clearly, we see warmer prospects since the end of 2009," said
Bruno Ameline, president of the French Association of Textile Machinery Manufacturers, a CEMATEX
member organization. "Spare parts business is getting back to usual levels, which means the
utilization of the existing production facilities has improved, orders for new machines also and
many new projects are under discussion. I expect a robust rebound end of 2010 and in 2011."
"The high number of Italian exhibitors, in spite of the economic downturn, bears witness to
the fact that businesses have a positive outlook on the future," said Sandro Salmoiraghi, president
of CEMATEX member organization the Association of Italian Textile Machinery Manufacturers. "The
Chinese market, for its part, represents the primary destination for Italian exports – over the
first 11 months of 2009, the value of Italian machinery exported to China totaled 215 million
euros. Asia on the whole is a constant benchmark for our manufacturers, absorbing 49 percent of
their sales abroad."
The Association of German Textile Machinery Manufacturers reports 100 Germany-based companies
and their subsidiaries in China will participate in the show, illustrating confidence in increased
orders from important textile markets such as China.
Show owners and organizers report they are confident that experience gathered in 2008 will
ensure ITMA Asia + CITME 2010 will be a success for exhibitors and visitors alike in spite of the
challenges presented by today's difficult economic climate.
"We are delighted with the response to our exhibition," Roberts said. "It proves that there
is great need for an industry-leading platform in Asia where established textile machinery
manufacturers can promote their products and services and network with their customers."
For more information about ITMA Asia + CITME 2010, visit
www.itmaasia.com.
May/June 2010