T

he Association of the Nonwoven Fabrics Industry (INDA), Cary, N.C., will bring together
the nonwovens and engineered fabrics industry in Miami Beach, Fla., in late April for IDEA10, the
International Engineered Fabrics Conference & Expo. The triennial event will be held Tuesday
through Thursday, April 27-29, at the Miami Beach Convention Center, which has hosted the last
three IDEA events.
Scenes From IDEA07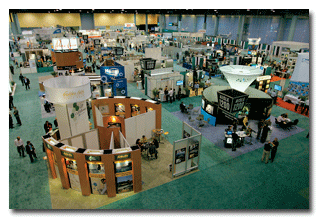 The exhibition floor is seen from above

Visitors and exhibitors engage in a lively disccussion in one of the IDEA07
booths.

As of

Textile World
's press time, the exposition floor already was almost 90-percent filled. INDA reports more
than 375 companies will be exhibiting — more than 80 of which will be first-time exhibitors —
from around the world. At IDEA07, 44 percent of exhibitors and 40 percent of attendees came from
outside the United States, making it the most international IDEA show in history.
INDA President Rory Holmes expects nearly half of this year's exhibitors to be foreign-based.
"The international acceptance of IDEA10 reaffirms the event's role as a truly global event and
points to the global strength of the nonwovens industry as a whole," he said.
Organizers are expecting approximately 6,000 visitors from more than 70 countries to convene
at IDEA10. At the expo, attendees will be able to see everything from raw materials to
finished products, and observe manufacturing processes in operation.
Targeted sectors include automotives, composites, consumer products, filtration, geotextiles,
home furnishings, hygiene, medical, nanotechnology, personal care, protective apparel, technical
textiles and wipes, among others.
The expo will begin with a welcome reception Monday evening, April 26, at the convention
center's glass-walled Skywalk, which overlooks the convention floor.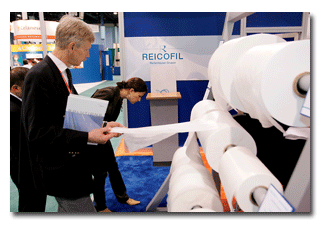 Reifenhäuser GmbH & Co. KG shows spunbond fabrics produced using its Reicofil
technology.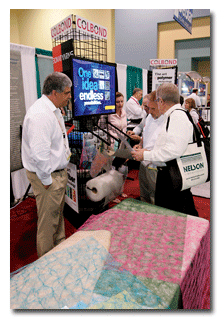 Visitors examine materials manufactured by Colbond B.V.


Conference Program

Holmes noted that the nonwovens industry and the U.S. economy are rebounding from the recent
economic downturn. "With a global economy showing signs of recovery, bringing with it a renewed
need for the products made by the nonwovens industry … the timing is perfect for IDEA10," he
said.
According to INDA, organizations looking ahead for opportunities that will emerge in a
post-recession economy will have a competitive advantage over those that are focused on short-term
operations. With this in mind, INDA has organized the IDEA10 conference with a focus on market
forecasts and trends of the engineered fabrics industry by region. Six speakers with industry
expertise will discuss the current state of the industry and where it is headed, as well as how the
global recession has impacted the hygiene, wipes, construction, filtration and medical markets.
Tuesday's discussions will cover Market Trends & Data: Europe & Asia. Fiber and
textile economist Jacques Prigneaux, who directs the business information services of
Brussels-based EDANA, the International Association Serving the Nonwovens and Related Industries,
and supplies industry analyses to the European nonwovens community, will speak about Europe. Peter
Bohlander, who has worked with Asia-based nonwovens firms for 25 years, will present market
information and address engineered fabric industry issues specific to Asia.
Wednesday's sessions will cover Market Trends & Data: North & South America. Rory
Holmes will share insights from his 40 years of industry experience. INDA Director of Market
Research and Statistics Ian Butler, who has written more than 100 statistical reports covering
every region of the world, will present data on South America.
Thursday's seminars will cover Market Trends & Data: Emerging Markets & Technologies.
Samir Gupta, managing director of Business Co-ordination House – an India-based technical textiles
and nonwovens consulting firm — will discuss emerging markets in India. Keith Osteen, a principal
with Smith, Johnson & Associates, who has 31 years of engineering and research expertise in
production and technology development, will shed light on the complexities of research and
development in emerging technologies.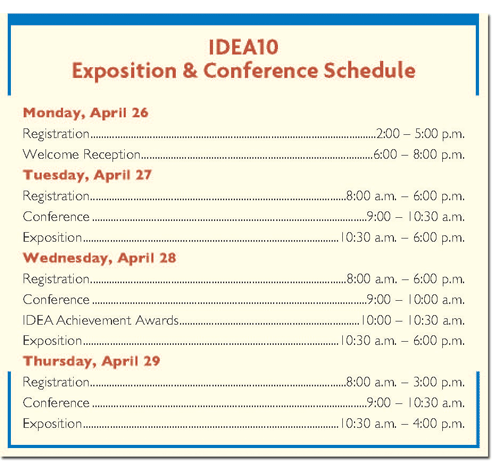 Achievement Awards

The IDEA10 Achievement Awards, sponsored by INDA and Nonwovens Industry magazine, will
recognize new product and technical developments within the global engineered fabrics industry that
have been introduced since IDEA07. The awards will be presented to innovations in five categories:
Equipment Achievement, Roll Goods Achievement, Raw Material Achievement, Short-Life Product
Achievement and Long-Life Product Achievement.
IDEA TV, a new offering this year, will feature live interviews, developing news and
features; and will be broadcast over the Internet from the show floor. The broadcast will be
available to IDEA attendees for viewing via email and Internet connection.

Registration

There are a variety of registration options for IDEA10 attendees, ranging from full
expo/conference registration to partial participation. Early-bird discounts are offered through
April 9. "IDEA10 is about the potential of the business of nonwovens," Holmes said. "It will offer
attendees and exhibitors a look at the next generation of products for the nonwovens and engineered
fabrics industry — the products and processes that will drive this industry and its companies into
the future."
For more information about IDEA10, contact INDA +919-233-1210; fax +866-851-5761;
www.idea10.org.
March/April 2010