T

urkey is seeing increased technical textiles and nonwovens demand, reports the Export
Promotion Center of Turkey. The country is gearing up to host Hightex 2010, the 3rd Istanbul
Technical Textiles & Nonwoven and Weaving Technologies Trade Fair, May 15-18, at the Tüyap
Fair, Convention and Congress Center in Istanbul. The show again will present a wide range of
technical textile and nonwovens technologies, raw materials and intermediate products. In a change
from previous editions, this year's event also will exhibit weaving technology. Show organizer
Teknik Fuarcilik Ltd., Istanbul, feels the weaving industry's ability to persevere and continue
developing new technologies has made it an important category to integrate into Hightex's
comprehensive offerings.
Exhibits will be indexed in five groups:

technology, such as airlaid, crosslapping, meltblown, spunbond and wetlaid;
machinery and accessories including waste-handling, printing, dyeing, embossing, laboratory and
tufting;
raw materials including polymer chips, fiber, yarns, adhesives and chemicals;
finished materials, organized into agricultural, apparel, industrial, transport, protection,
sports, building, food, home furniture, cosmetics, ecological, geo, medical and packaging textiles
application categories; and
smart textiles.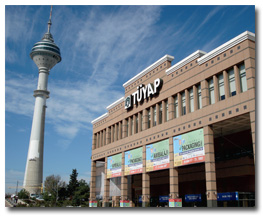 Hightex 2010 will fill Halls 7, 8 and 9 at the Tüyap Fair, Convention and Congress Center
in Istanbul, Turkey.

Size And Scope

As of

Textile World
's press time, projected Hightex 2010 visitor and exhibitor numbers were not available. The
show's first edition in 2005 recorded 318 exhibitors, including 162 from abroad; and 10,000
visitors, including 1,500 from abroad. In 2007, there were 320 exhibitors, including 170
international companies, from Turkey and 20 other countries; and 10,000 visitors, including 3,200
from outside Turkey.
Visitors to each show came from Turkey and some 35 other countries including Iran, Syria,
India, Pakistan, China, Korea, Taiwan, Uzbekistan, Ukraine, the Netherlands, France, Belgium,
Germany and Greece, among other countries.

Technical Textiles Congress

The 4th International Technical Textiles Congress will be held at the Tüyap Fair concurrently
with Hightex 2010. Hosted by Dokuz Eylül University's Department of Textile Engineering, Istanbul,
the congress will give researchers and industry professionals the opportunity to network, discuss
opportunities and exchange ideas. Papers will be presented on a variety of topics including:
functional fibers; nano technical textiles; medical textiles; protective clothing; military
textiles; filtration textiles; composite materials; smart and interactive textiles; packaging
textiles; automotive textiles; sporting textiles; agricultural textiles; and geotextiles, civil
engineering and construction textiles.
To learn more about the congress or to register for the event, visit
http://web.deu.edu.tr/ttk.