T

he first edition of ITMA Asia + CITME, combining two previously independently produced
Asian textile machinery exhibitions, will open its doors to the global textile industry July 27-31
at the Shanghai New International Expo Centre (SNIEC), in Shanghai's Pudong district.
ITMA Asia + CITME 2008 brings together the Asia International Textile Machinery Exhibition
(ITMA Asia) — a Singapore-based quadrennial show inaugurated in 2001 by the European Committee of
Textile Machinery Manufacturers (CEMATEX) as an Asian counterpart to the original Europe-based ITMA
— and the China International Textile Machinery Exhibition (CITME) — a biennial event focused
largely on the Chinese market, held in Beijing since 1988 and owned and organized by the China
Textile Machinery Association (CTMA); Sub Council of Textile Industry, China Council for the
Promotion of International Trade (CCPIT-TEX); and China International Exhibition Center Group Corp.
(CIEC). The combined show — organized by Beijing Textile Machinery International Exhibition Co.
Ltd. (BJITME) and co-organized by Singapore-based MP International Pte. Ltd., with backing from
CEMATEX and CTMA in partnership with the Japan Textile Machinery Association (JTMA) — will be held
biennially in China in even-numbered years.
According to BJITME, ITMA Asia + CITME 2008 will be the largest textile machinery show ever
produced in China. Originally planned to fill nine halls encompassing 100,000 square meters (m2) of
exhibit space at SNIEC, the event quickly sold out its available exhibition space, and now — with
an additional two halls being completed to provide more than 26,500 additional m2 of space — space
is again sold out, show organizers report. More than 1,200 exhibitors from 27 countries and regions
will present their products and services to a projected 100,000 trade visitors from around the
world at ITMA Asia + CITME 2008. The projected visitor count exceeds the combined total for ITMA
Asia 2005 and CITME 2006 by more than 30,000 people — suggesting that this combined show will
provide the exhibitors with optimal exposure to their target markets, not only in China, but also
in the broader Asian and even global marketplace.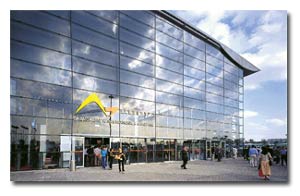 The Shanghai New International Expo Centre will host the first ITMA Asia + CITME.

Why Shanghai?

Although ITMA Asia + CITME 2008 is targeting the entire Asian marketplace, the Chinese
textile industry, with its rapid growth and one-third share of global textile production capacity,
is one of the largest consumers of textile machinery, especially European textile machinery.
According to CTMA, in 2006, China imported textile machinery valued at more than $4 billion — 19
percent greater than such imports in 2005. First-half 2007 imports totaled $3.1 billion, nearly 33
percent greater than the comparable period in 2006. Shanghai sits at the hub of the country's
textile industry, with more than half of its textile mills and more than 60 percent of its textile
machinery manufacturers located near the city and its neighboring provinces.
China's prominence as a major market for textile machinery is a key factor in the decision
by CEMATEX to move its exhibition from Singapore to China, according to Edward Roberts, president,
CEMATEX. "The date in 2008 has been chosen in order to enable us to react as quickly as possible to
the changing requirements of the Asian market," Roberts said. "We have decided to work on this
event with CTMA … because they share our own objective of offering our exhibitors and their
customers high-quality cost-effective exhibitions, and we are delighted that they will be our
partner in these combined ITMA Asia + CITME shows."
Gao Yong, president, CTMA, notes that because ITMA Asia and CITME are owned by textile
machinery associations, they are more effective venues than other textile machinery shows that have
been launched in the region in terms of addressing the long-term development of the Asian textile
industry.
"ITMA Asia and CITME … are organized by the textile industry for the textile industry," Gao
said. "We understand the needs of the industry, and the principal aim therefore is to offer a
high-quality and relevant show for exhibitors and customers alike, and finally to strive towards
the upgrade of the whole industry's science and technology level."
As the largest contingent of any single country, Chinese exhibitors have reserved more than
33,000 m2 of net space; but exhibitors from CEMATEX countries Belgium, France, Germany, Italy, the
Netherlands, Spain, Sweden, Switzerland and the United Kingdom will also have a large presence at
the show.
"European machinery manufacturers are acknowledged as the major players in driving technical
innovation in textile production methods," said Maria Avery, secretary general, CEMATEX. "Their
depth of know-how, commitment to R&D and attention to quality in both equipment and end-product
are well-deserved, and these characteristics make their exhibits the star attractions at any major
show."
CEMATEX trade association members and exhibitors are enthusiastic about participating in the
new combined show.
"ITMA is the world's largest textile machinery show and a truly unique opportunity for
visitors to examine and compare equipment from all their potential suppliers," said Johann Philipp
Dilo, chairman, German Engineering Federation (VDMA) Textile Machinery Association and CEO, Dilo
Group. "This is very rare in the world of exhibitions. So we welcome the news of ITMA Asia's
combined show with CITME, and also the frequency of every two years in China — this gives us a show
which serves all our needs in this important market — and with the right timing."
"The last ITMA Asia held in Singapore in 2005 was a big success for us, and the business
generated was very encouraging," said Jan Laga, vice president of Belgium-based Picanol. "… China
is one of our key markets and … the show will be held in the city of Shanghai, close to many of the
textile regions," he added, noting the schedule allows the company to concentrate on one biennial
show in China that does not fall in the same year as the quadrennial ITMA in Europe.
Among CEMATEX countries, Germany — which in 2007 shipped more than half of its textile
machinery exports to Asia, with China receiving more than half of that share — leads the pack, with
more than 9,100 m2 of net space reserved. Germany is followed by Italy, with more than 7,200 m2;
and Switzerland, with 5,100 m2 of space.
Japanese exhibitors, members of JTMA, have reserved 3,000 m2 of net space in the exhibit
halls.
"We can easily imagine that the most well-known textile machinery show in China (CITME)
operated by the ITMA standard quality will be a great success in 2008," said Tetsuro Toyota,
chairman, JTMA. "We expect to see such synergy with our own eyes, and we trust that this
integration shall be beneficial for both customers and textile machine manufacturers. We look
forward to exhibiting in 2008."
Other countries and regions represented among the show's exhibitors include Australia,
Austria, Canada, Denmark, Egypt, Hong Kong, India, Israel, Korea, Liechtenstein, Luxembourg,
Malaysia, Singapore, Slovakia, Taiwan, Thailand, Turkey and the United States.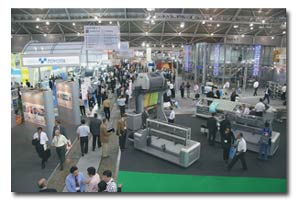 More than 1,200 exhibitors organized in 14 categories will show their products and services
to 100,000 visitors at ITMA Asia + CITME.

Product Categories

Follow ITMA, ITMA Asia Custom

The exhibition area will be organized into 14 product categories according to ITMA and ITMA
Asia custom:

• spinning preparation, man-made fiber production, spinning and auxiliary
machinery, and accessories;

• winding, texturing, twisting and auxiliary machinery, and accessories;

• nonwovens and felting web-formation, bonding, finishing and auxiliary
machinery, and accessories;

• weaving preparatory, weaving, tufting and auxiliary machinery, and
accessories;

• knitting, hosiery and auxiliary machinery, and accessories;

• braiding and embroidery machinery, and accessories;

• washing, bleaching, dyeing, printing, drying, finishing, cutting,
rolling, folding and auxiliary machinery, and accessories;

• making-up machinery and accessories;

• laboratory testing and measuring equipment, and accessories;

• transport, handling, storing and packing equipment, and accessories;

• recycling, waste-reduction and pollution-prevention equipment, and
accessories;

• design, data-monitoring, processing and integrated-production software;

• associated equipment and products for the textile and making-up
industries; and

• services for the textile and making-up industries.
Yarn production and processing exhibitors will comprise the largest contingent by product
category, taking up most of five halls and approximately 30,000 m2 of net space, with nonwovens
exhibitors filling the balance of one hall. Dyeing, printing and finishing machinery will occupy
more than 18,000 m2 in two halls and part of a third; with making-up, dyestuffs and chemicals,
testing, and software filling the remaining space in the third hall. Knitting and hosiery machinery
and weaving machinery each will fill one hall and share a third, with each category covering
approximately 11,000 m2.

IPR Protection

The security of intellectual property is an issue that has received much attention as the
Chinese textile industry has become more and more dominant in the global picture. ITMA Asia + CITME
organizers are assuring exhibitors that "stringent controls" will be implemented to protect
intellectual property rights (IPR) at the show. An onsite IPR Protection Office, set up in
collaboration with the local government, will work with both exhibitors and visitors to prevent IPR
violations, and will be prepared to take emergency measures, for example, closing an offending
exhibitor's booth, if IPR infringements are proved.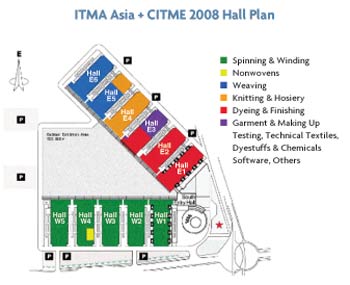 Promotional Efforts

Industry professionals interested in attending ITMA Asia + CITME 2008 may pre-register
online by following the Visitors link to online registration at www.itmaasia.com for a 40-percent
savings compared with the cost of registering onsite.
Based on online registrations and group registrations from international textile
organizations to date, BJITME expects strong attendance by textile professionals throughout Asia,
with a very large number of visitors from the host country. Promotional activities in the form of
road shows are also underway to draw more visitors from key countries. At least 15 state and local
textile associations from India will send delegations to the show; and other delegations will come
from Bangladesh, Indonesia, Pakistan, Vietnam, Turkmenistan and Egypt. BJITME also plans to send
road shows to key Chinese textile manufacturing centers.
"We are confident that we will see a very significant level of visitors from all the major
Asian countries, and we are keen to develop this aspect of the exhibition to maximize the benefits
of the new combined-show concept for both exhibitors and visitors," Avery said.
---
For more information about ITMA Asia + CITME 2008, contact Maria Avery
info@cematex.com; Zhao Xiaogang
zhaoxg@ctma.net;
www.itmaasia.com;
www.citme.com.cn.



May/June 2008