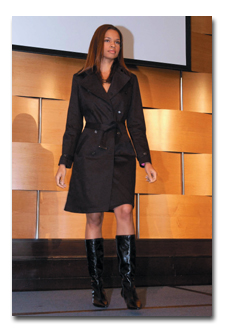 Dow Fiber Solutions is focusing on new growth markets such as wool, knits and no-wrinkle
cotton for its DOW XLA elastic fiber.


A
ttendees at Expofil and Indigo, which recently took place in Paris, saw increased
interaction among exhibitors of yarn, surface design and fabric. Both shows attracted large crowds
from the textile, apparel and retail trades.
Among the 150 exhibitors at Expofil were fiber companies and spinners of yarns for flat-bed
knitting, weaving and circular knitting. They showed yarns for Fall/Winter 2005-06 and
Spring/Summer 2006. The more than 14,000 visitors to this show found yarns for apparel, the home
and high-tech performance.
Indigo, now in its thirtieth year, attracted 175 exhibitors, close to 40 percent of which
were from the United Kingdom. The show presented designs for printed fabrics, embroideries,
appliqués; knitwear and woven patterns. Most exhibitors showed surface designs for Fall/Winter
2005-06.

Color Trends At Expofil

For Fall/Winter 2005-06, Sylvie Tastemain, fashion director, Expofil, showed yarns and
fabrics for flat-bed knitting. Tweeds turned up again. They may be rustic and sophisticated, woven
or knitted with slubbed, nubbed or looped yarns. Tastemain stressed color – some tweeds have
brightly colored nubs; others are blurred or tonal. She also stressed fine and ultra-fine yarns in
wool, cashmere and kid mohair. She mentioned round yarns spun from blends of natural and man-made
fibers to give fabrics fluidity and a smooth, slippery touch. She also mentioned elastic yarns for
a more compact look, contrasts of matte with shiny or frosted yarns, oxidized metal, copper and
stainless steel yarns. The focus of Tastemain's Spring/ Summer 2006 forecast is weaving and
circular knitting.
At Expofil, she showed four ranges. Garden of Delight colors are sunny, bright shades of
saffron yellow, apple green and rose pink. Yarns and fabrics in this group are supple and sheer.
Colors in a range called Botanical Garden are greens that include yellow-cast chrysanthemum and
eucalyptus, or blue-cast agave. Yarns are dry and crunchy, uneven or glossy. Neutrals in the
Timeless City group are sophisticated shades of whitewash, stone, beige and steel. Black and white
also are included. Sandy or grained surfaces, translucent effects, crepes, silk bourettes, piquand
aged looks are of note. Canvas, linens, drills and twills are some of the fabrics that turn up in
Ephemeral City. Denim is dyed black or brown. Indigo, peat and a tinted white shade called Sky Blue
are found in this group.

Promoting Fibers

Companies use Expofil as a platform to launch new fiber variants, new alliances and new
marketing strategies. Black Lycra®, the newest addition to Wilmington, Del.-based INVISTA Inc.'s
portfolio of elastane fibers, was introduced at the most recent show. A major benefit of this fiber
is reduced grin-through in dark fabrics. It is compatible with nylon and polyester, and the black
retains its color through multiple washings.
At Lenzing AG, Austria, the news was the acquisition of Tencel Ltd., England. "This
economically sensible and far-reaching decision will accelerate the expansion course that Lenzing
has embarked upon the textile chain as a whole will benefit," said Friedrich Weninger, general
manager, textile fibers business unit. "For our customers, the merger translates first and foremost
into more service and more fiber know-how, as well as a more extensive range of fibers."
Lenzing now owns and operates production sites in the United States, the United Kingdom,
Austria and Indonesia. Lyocell production has tripled. The fiber range comprises an assortment of
lyocell, Modal® and flame-retardant fibers, among others. A new visual design and branding strategy
will be presented this spring.
Unifi Inc., Greensboro, N.C., focused on performance with a natural touch. For activewear,
fabrics containing Sorbtek® absorb and evaporate moisture rapidly. A.M.Y.® yarns have antimicrobial
and odor-control properties. Unifi displayed novelty piece-dyed fabrics by Montreal-based knitter
Tricots Liesse (1983) Inc. that have the look of yarn dyes.
The Italy-based RadiciFiber companies stressed quality and fashion. Hosiery, circular and
warp knitting, seamless, swimwear, sportswear and lingerie are major market areas for its nylon,
polyester and spandex yarns. S-45 is one of Radici's most sought-after spandex yarns. It is
heat-resistant and compatible with polyester for high-temperature dyeing. Dow Fiber Solutions,
Midland, Mich., continues to focus on new growth markets with its DOW XLA elastic fiber. "Right
now, we are focused on wool, knits and no-wrinkle cotton because those are emerging areas for
stretch innovation," said Juan-Carlos Cuadrado, global business director.
Extra-fine merino wool/XLA has been introduced by Italy-based Lanificio Luigi Botto S.p.A.
Fabrics are woven of four-ply yarns and have 2- to 8-percent stretch.
"Leaders in the wool industry appreciate the way Dow XLA virtually disappears into wool
fabrics, allowing the natural drape and hand of the wool to remain unchanged," said Brad Miller,
commercial director.
Cotton/XLA blends were first introduced to the men's dress shirt market three years ago by
leading retailers such as Marks and Spencer. Along with comfort stretch, no-iron finishes are
another advantage. At the next Expofil, Dow will announce a major program with a leading US shirt
manufacturer. New areas for Dow are swimwear, intimate apparel, seamless and denim. Because XLA is
resistant to heat and chemicals, it can withstand severe dyeing, bleaching, mercerizing and
garment-wash conditions. In processing, it behaves like a rigid fiber. Fabrics can be molded and
still retain their stretch properties, and they can be heat-set at low temperatures.

Yarns Make An Impact

Spinners emphasized quality and performance as important selling tools, along with look and
touch. With new fibers and technologies, specialty yarns for specific end-uses are turning up with
greater frequency. They offer greater moisture transport, absorbency, abrasion resistance and
temperature control, and less pilling. They are antibacterial, antimicrobial, antistatic and
stain-resistant. Fancy yarns and special-effect yarns are going into hosiery, apparel and products
for the home.
Miroglio S.p.A., Italy, showed a new generation of yarns. Most of the line is going into
woven fabrics and circular knits. The Mirhon product range includes polyester filament yarns in
bright, super-bright, semi-dull and extra-dull luster. Some Mirhon products impart a silk look and
touch, others are cotton-like, and many have stretch. There are hollow-core yarns, flame-retardant
yarns and filament yarns with elastic properties that are dyeable using cationic dyestuffs.
Miroglio's Soft Easy-Care New Stretch (S.E.N.S.) is based on a new Corterra polytrimethylene
terephthalate polymer from Houston-based Shell Chemical LP. Fabrics made with this fiber are soft;
and have excellent drape, color intensity, stretch and recovery. Emile Tardy, France, exhibited a
line of classic and novelty yarns for fine-gauge jersey, silk weaving and upholstery. There are
twisted yarns of polyester/viscose, dyed yarns and printed yarns. Slubbed yarns are going into
shantung for both apparel and home furnishings fabrics. There are multicolored twisted yarns,
bouclé yarns and chines.
Marioboselli Jersey S.p.A., Italy, is spinning luxury yarns in novelty blends. At the show,
there was a good response to linen/Lycra blends in fine counts. The yarn is sampling to the weaving
and circular knitting trades. Silk in blends with cashmere, wool or linen is available in all
standard counts; and fancy yarns are available in a polyester/viscose blend.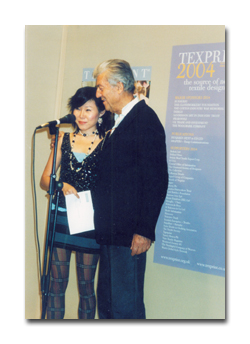 At Indigo, Nino Cerruti presented the Texprint Award for print design to Yujin
Jung.

Bamboo is turning up with increased frequency. At A-Dress, France, it is blended with
cashmere or silk, or spun alone. According to the company, customers ask for bamboo because of its
antibacterial, high-absorbency properties; and because it is a natural fiber.
Nef + Co., the marketing arm of Spoerry and Co. AG, Switzerland, introduced new products for
hosiery, fine wovens and lingerie. It is the only producer of Giza 45 – the longest-staple Egyptian
cotton and Sea Island cotton yarn.
Switzerland-based Hermann Buhler AG – parent company of Jefferson, Ga.-based Buhler Quality
Yarns Corp. – is spinning extra-long-staple Supima® cotton in counts of Nm 50 to 170, organically
grown extra-long-staple cotton and MicroModal®. Specialties are high-twist and crepe yarns. Its
SwissCotton Silver® containing X-Static silver-coated fiber is having success in the apparel,
hosiery, home furnishings and healthcare industries.
Fanon, the newest yarn at Kurabo Industries Ltd., Japan, is spun of combed cotton covered
with 60/1 to 80/1 cotton to give bulk and a cashmere touch. Extra-long-staple Supima cotton from
the United States is spun alone and in blends. Lunafa, a wool-core yarn covered with cotton, has
heat-retention properties, absorbs moisture and is easy to care for. Kurabo reports it is selling
well for socks and underwear.
Schoeller GmbH and Co. KG, Austria, uses nanotechnology to give yarns a new structure. There
are waterproof yarns of 70-percent merino wool and 30-percent acrylic that have a soft touch, and
are stain-resistant and machine-washable. They are found in a variety of end-uses, from sweaters to
automotive interiors. Another Schoeller development is Climawool, a moisture-transport fiber that
is a blend of 60-percent merino wool and 40-percent polycolon.

Surface Designs

At Indigo, many studios reported color, glitter and folklore were selling. Tom Cody of Tom
Cody Design Inc., New York City, said business was very good. Brighter colors, embroideries, beads
and sequins are some of the highlights of his collections.
At Amanda Kelly, England, emerald and yellow greens were cited as popular colors. Florals and
paisleys that look like watercolor paintings, ethnic geometrics and large-scale linear embroideries
are popular. Shades of teal, raspberry, chocolate brown and olive were popular at the New York
City-based Colorfield Design Studio. Loose paisley designs, Bloomsbury Bohemians, foulard patterns
and small-scale geometrics are among its best sellers. Glitter, prints combined with embroideries,
mixed-culture ethnics and texture were noted at Brewster Ltd., England. Karen Moller, based in
Paris, said skin prints are still popular. She also showed 1930s-styled florals and 1920s-styled
tropicals, and folkloric paisleys coordinated with stripes that had a Middle Eastern feeling.
Zinc Design Ltd., England, specializes in knits. Beaded and sequined jacquards, open lacy
patterns, pin tucks and updated argyles were among the popular designs shown. Frank Rejto, Faro
Disegni, Italy, was selling updated classics and tie-dyes to the home furnishings trade. Texture
with lace was another strong seller. He mentioned sparkle is going into the home, and that some of
his customers are buying Swarovski crystal-embellished designs.

Texprint 2004

The Texprint Award ceremony, which takes place annually at Indigo, was sponsored and
supported by major fashion and textile organizations including Burberry, Swarovski, the Swiss
Textile and Clothing Association, The Woolmark Co., Miroglio, and Weisbrod-Zuerrer AG. Recipients
are recent graduates of textile colleges in the United Kingdom. Judging categories are knit, color,
weave, print and breaking new ground. Top winners in each category receive cash prizes and the
opportunity to exhibit designs at Indigo and at Interstoff Asia, a twice-yearly show held in Hong
Kong for apparel fabrics and textile trends.
Along with the top five winners, 19 additional designers are given exhibition space at
Indigo. Nino Cerruti, president, Lanificio Flli. Cerruti S.p.A., Italy, presented the awards.
Cerruti said in giving the awards, "There is so much incredible innovation the young bring us."
Yujin Jung, winner of the print design prize, said that by showing at Indigo, she is able to expose
her work to a lot of people in the industry that she wouldn't otherwise be able to meet. She said a
designer from Los Angeles bought some of her novelty designs, embroideries and appliqués.
February 2005