T

he seamless integration of three events – Material World, SPESA Expo 2004 and Technology
Solutions – was a hit recently in Miami Beach, Fla., as the Arlington, Va.-based American Apparel
& Footwear Association (AAFA) and the Sewn Products Equipment and Suppliers of the Americas
(SPESA™), Raleigh, N.C., co-hosted the first edition of the co-located triennial event. According
to the organizers, the event attracted more than 10,600 members of the apparel industry, ranging
from mills and contractors to designers, branded apparel companies, private-label retailers and
others. More than 600 companies exhibited.
Material World, an annual and official event of AAFA, is owned and managed by Atlanta-based
Urban Expositions. SPESA Expo, owned and produced by SPESA, is a triennial event focused on sewn
products technology. Technology Solutions, jointly produced by SPESA, AAFA and Urban Expositions,
focuses on information technology as it relates to the sewn products industry.
"SPESA and Urban Expositions decided to co-locate for 2004 in direct response to the
dramatic changes the sewn products industry has experienced over the past few years, as well as to
additional challenges anticipated for 2005 and beyond," said Tim von Gal, executive vice president,
Urban Expositions.
"We received tremendous feedback from exhibitors and attendees – many pointing out that this
event had the same feel and energy of shows from the early '90s," said Benton Gardner, executive
vice president, SPESA.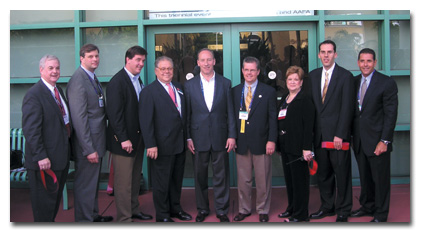 Executives gathered at the ribbon-cutting ceremony for Material World, SPESA Expo and
Technology Solutions, co-located at the Miami Beach Convention Center.

Broad Range Of Exhibitors


With a full range of exhibitors present, the event represented both the complexity and
integration of the supply chain. Cotton Incorporated, Cary, N.C., participated in several areas,
most notably with traditional textile manufacturers in the Cotton Pavilion, which featured US mills
partnering with Cotton Incorporated to display their products.
SPESA Expo featured notable exhibitors such as Gerber Technology, Lectra, Juki Union Special
and Pegasus Corp. of America. Melvyn Blore, vice president, sales, Pegasus, said: "The general
impression that we picked up on was that apparel manufacturers, especially in Central America, have
realized there are several factors – close proximity to the US market, quick response with 45-day
lead times, and the ability to take on short production runs – that will keep them competitive with
Asian counterparts after quotas are lifted in 2005. From the number and type of inquiries received
during the show, it's clear customers have the confidence to invest in new plants and equipment."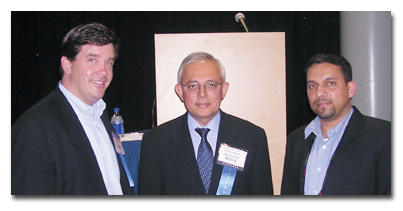 Left to right: Marshall Gordon, industry executive, Retail, Apparel & Footwear, SAP
America; Mahesh D. Amalean, chairman, MAS Holdings (Pvt.) Ltd.; and Vajira De Silva, CEO, Rapier
Consulting (Pvt.) Ltd. at a Technology Solutions presentation

Technology Solutions


The Technology Solutions section of the show floor included such firms as Jomar Softcorp
International, Sunrise Technologies, Porini, New Generation Computing, eWarna and SAP America.
Marshall Gordon, industry executive, Retail, Apparel & Footwear, SAP America, said: "Our
industry has always agreed that servicing the consumer requires a synchronized effort between
design, manufacturing, sourcing and technology. This year, we finally pulled all the vendors, and –
more importantly – the sourcing executives, alongside their CIOs, into a single venue where the
ever-increasing opportunity to leverage technology to reduce cycle times and improve margins
through responsive sourcing was a discussion that I expect will resonate into many companies when
those executives return home."
Gordon continued: "For the first time ever, we had textile firms stopping by to ask how they
might use SAP to integrate with the apparel-retail supply chains they service. Perhaps the mindset
has shifted and the make-to-order and consumer-centric model is taking hold. This signals to me
that textile vendors are realizing they are servicing a pull-based supply chain, and technology can
help them collaborate and better support their customers. I think many firms resisted this
integrated supply chain model for years. The success of the model in Asia has taught us it can be
equally successful in this hemisphere."

Looking Ahead


"It is rewarding to be aligned with an event that brings such a depth of business,
networking and educational opportunities to our industry," said Kevin M. Burke, president and CEO,
AAFA. "We look forward to continued growth and success."
The new, all-inclusive "Three Great Events," occurring every three years in the spring, will
return May 8-10, 2007. Material World and Technology Solutions will continue annually with the 2005
edition scheduled for March 16-18.
---

AAPN: Forging Links


The American Apparel Producers' Network's (AAPN's) continued presence at Material World gave
members the opportunity to meet and work the show floor with full support of the AAPN staff – Sue

C. Strickland, executive director, and Mike Todaro, managing director.
The AAPN Sourcing Executive Reception, this year in its fourth incarnation, continues to
grow in popularity as a casual networking event for AAPN members and leading sourcing executives.
The pre-Material World event, sponsored by Asheboro Elastics Corp., Lion Brothers Co. Inc., Eagle
Global Logistics, American & Efird Inc., Paxar Corp. and Seaboard Marine, attracted more than
270 guests to the Ritz Plaza reception.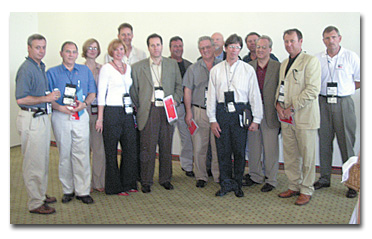 AAPN honored sourcing executives at its fourth sourcing executive reception.
Prior to the gathering, AAPN hosted a sourcing executives-only roundtable to discuss the
concerns sourcing managers face in today's marketplace. "We created this party to honor our
customers, the sourcing executives for brands, retailers and manufacturers," said Todaro, who –
along with AAPN Vice President Kim Krummel, Timberland – facilitated the meeting. "We were pleased
to be able to hear the views of nearly 50 sourcing professionals. The only complaint we received
from sourcing execs was that our roundtable should have been eight hours long instead of two. So,
in Cancun in October, we'll give them eight hours."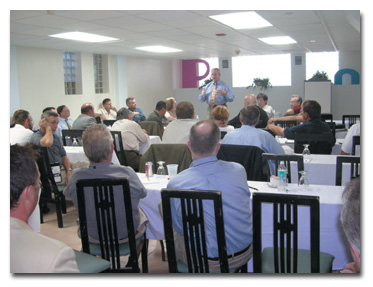 AAPN's Managing Director Mike Todaro (standing) helped facilitate the sourcing
executives-only roundtable.
AAPN, an international, non-profit association focused on networking in the textile and
apparel supply chain, has been a Material World sponsor since it was inaugurated in 2000. This
year, more than 70 of the association's 220 members participated in the show.
"This is a great environment to really support our members in making new business
relationships," Todaro said. "With our recent meetings in Guatemala, and gearing up for our meeting
in Cancun, this has been a forum to bring people together and demonstrate the power of networking
in textiles and apparel – something where [AAPN] really excels."
The AAPN 2004 Fall Meeting is scheduled for Oct. 13-15 at the Fiesta Americana Grand Coral
Beach, Cancun, Mexico. For more information, contact AAPN through its website,
www.USAWear.org.



June 2004