C

olombia-based Fabricato-Tejicondor and its subsidiaries form a group of companies
dedicated to the textile industry. The company is the result of the merger of two of the most
traditional textile firms in the country: Fabricato and Textiles El Condor (Tejicondor).
Fabricato was founded in 1920 and started its operations in Bello, Antioquia. Tejicondor was
founded in 1934 in the city of Medellin.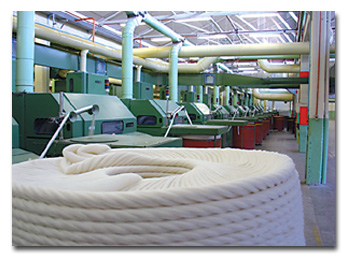 The opening and carding room in one of the Fabricato-Tejicondor Group plants is equipped
with Trützschler equipment.
Fabricato-Tejicondor's tradition, knowledge and experience in the textile business allow the
company to offer its numerous customers a vast range of textile and apparel products including
yarns, woven fabrics, knitted fabrics, nonwoven articles, interlinings and home furnishings.
The company also has a tradition of exporting its fabrics and apparel products to markets in
the United States, Europe and Latin America.
Since the merger, the company has grown and now has a total of 6,480 employees. It has
installed 171,376 ring spindles and 5,160 rotor spindles.
The volume produced each day is 285,000 linear meters of woven fabric and 48,000 meters of
knitting fabric, for a total of 333,000 linear meters.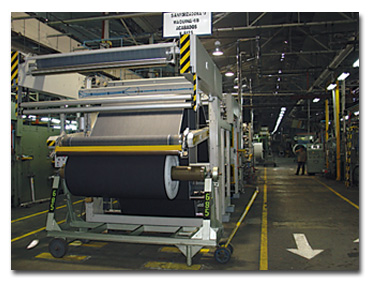 A Monforts sanforizing machine

Subsidiaries


• Fabricato is dedicated to the production of yarns and fabrics made of
100-percent cotton, as well as cotton/polyester blends.

• Pantex is dedicated to the production of fashion fabrics and linen with
pre-dyed yarns, in a wide variety of blends with natural and man-made fibers, including cotton,
linen, polyester, viscose, nylon, Modal® and Tencel®.

• Riotex produces knitted fabrics made with numerous blends of natural and
man-made fibers including cotton, polyester, viscose, nylon and Modal.

• Notejidos is dedicated to the production of nonwovens, disposable
articles, interlinings for apparel, geotextiles, and hygiene products that can be used in
applications at home and in the hospital.

• Cinsa produces apparel articles for export to the United States, Europe
and Latin America.

• Comercia is a subsidiary that specializes in financing matters.

• Fabritexca – the first foreign subsidiary – was founded in 1992 in
Caracas, Venezuela, to cover the growing market in that country.

• Fabridor opened in 1993 in Quito, Ecuador, and supplies high-quality
textile products.

• Fabrimexico opened in 1997 in Mexico City in association with Tejicondor.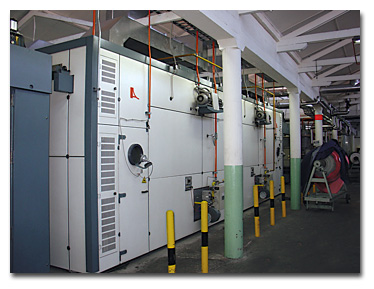 A fabric washing machine from Arioli is installed at Fabricato-Tejicondor.

Reorganization And Modernization


At the present time, the company is reorganizing and modernizing its installations to meet
the demands of the market and become more competitive.
The modernization is 95-percent complete, with investments in buildings, machinery and
equipment worth more than $30 million. This represents a great effort for the company, as the
resources for the investments must come from the sales of its products, not from foreign sources.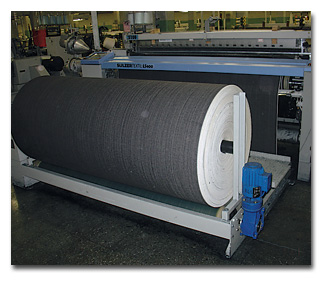 Weaving machines from Sultex are equipped with jumbo cloth-winding equipment.
Details of some of the plant reorganizations follow:

Kansas Plant has installed a new sizing machine from Sücker Müller for the
production of indigo and a new warping machine from Hacoba. This installation has increased the
production capacity of the plant to 1 million meters per month.
The plant also has acquired 44 Sulzer Textil L5400 air-jet weaving machines from Sultex Ltd.,
for a total of 143 weaving machines, which enable a production capacity of 90,000 meters per day of
denim fabric. It also has installed modern equipment from Luwa for the climatization of the plant,
as well as circular cleaners and jumbo cloth-winding equipment for the weaving machines.
Finishing Plant F1 has installed two tenter frames – one from Monforts and the
other from Krantz; a pad batch line for the dyeing of short lots; and a washing machine from
Arioli.
It also has installed a singeing machine from Pantex Plant, a new dryer from Sims, one
sanforizing machine that was transferred from the Barbosa plant, and a new sanforizing machine from
Monforts.



Rotor and Yarn Plant #3 has installed rotor machines transferred from the F1 and
Tejicondor plants, to provide a total of 5,160 rotor spindles. It also has 14,700 ring spindles for
the production of thick yarns, and it recently installed two brand-new machines from Savio.
At this plant, the old equipment for opening and carding has been completely replaced with
new Trützschler machinery, including two Blendomats with cleaning lines; 26 new high-production
cards (100 kilograms per hour capacity); and 11 new draw frames with short-term auto-leveling
system.
The Combed Yarn Plant has been modernized with the installation of 13,000 Marzoli
spindles transferred from the Venezuela plant, as well as Marzoli roving frames and draw frames
transferred from the same plant.
This spinning mill was completed with equipment for opening and carding transferred from the
Tejicondor plant, as well as with 12 new combing machines from Rieter and 10 yarn-covering machines
from Murata.
The Carded Yarn and Polyester Plant produces 15 tons of yarn each day using 15,000
spindles, 8,000 of which have been adapted for core-spun yarns for the production of stretch
fabrics. This plant has been equipped with Marzoli spinning frames and high-production cards from
the Venezuela plant; several spinning frames with PK 225 drawing systems transferred from
Tejicondor; and pickers and draw frames from Trützschler.
The Drill Fabric Plant has been equipped with 66 new double-width Sulzer Textil
P7100 weaving machines from Sultex, for a total of 110 Sulzer Textil weaving machines. This plant
is dedicated to the production of heavy drill fabrics and has a production capacity of 43,000
meters per day.
Weaving Plant #1 has 173 weaving machines from Sultex and a production capacity of
40,000 meters per day for the manufacture of drills and poplin. It also has two sizing machines and
two warping machines, as well as the latest technology in climatization and circular cleaners for
the looms to improve fabric quality.
Pantex Plant, equipped with Saurer 400 weaving machines, has been expanded to
include 35 Picanol rapier weaving machines transferred from the Tejicondor plant and 14
double-width Sultex weaving machines. The current capacity of the plant is 50,000 meters per day.
Riotex Knitting Plant is in the process of modernizing its machinery, using an
investment of $6.5 million. New equipment will include 21 circular knitting machines, five dyeing
machines, one brushing machine, one fabric opener, a drying and compacting line, equipment for the
automatization of the dyeing process, and equipment for the treatment of hot waste water used in
the process.



April 2004