A
long with the freezing temperatures, ice and snow that covered a large part of the nation
this winter, a ray of warmth emerged. In January, international forecasters, stylists, studios and
a small group of fabric companies presented trends for Spring/Summer 2001 and beyond. Their message
is optimistic. After a decade of black and grey, color returns. Fabrics will be light, fluid and
refined, woven or knitted in blends of natural and man-made fibers. Prints make a comeback.

Freedom Of Movement


Jean
Hegedus, DuPont Lycra® marketing knitwear manager, noted that sweaters are a fast-growing category
in women's apparel. Elasticized sweaters are growing more rapidly than the category as a whole.
"In December '99 we ran a sweater survey on our Lycra website. Respondents' comments fell
into three categories, softness, comfort and freedom of movement, and shape and newness retention,"
Hegedus said.
Hegedus also pointed out that Lycra low-power yarns, which were developed specifically for
knitwear applications, have less "snapback," allowing better control of garment weight and sizing.
Sheila-Mary Carruthers, global knitwear consultant for DuPont Lycra presented colors and
fabrics for Spring 2001. Developmental fabrics showed a variety of constructions, weights and
textures all knitted in yarns containing Lycra from global resources.
One group of soft sheer fabrics, knitted with Supplex®, polypropylene, acrylic, rayon or
cashmere with Lycra, had a touch of metallic glimmer. A clear, mid-level color palette was shown in
shades of cream, skin pink, clay mauve, turquoise and earth hues. Fabrics in this group were
knitted with yarns from international spinners including Unifi/L Payen & Cie., Saint Lievin and
Loro Piana.
Another group of fabrics has surface detailing and strong color contrasts. Dry-hand and rough
textured fabrics, with knops and boucles are knitted in blends of Lycra with linen or cotton. Yarn
resources include Wykes, The Lurex Co. and Rignasco.
A third range, inspired by pop art, features graphic prints, stripes and checks in bright
shades of red, pink and green with touches of neutrals, black and white. Cauilliez Freres, Luigi
Botto and Elate are some of the yarn resources.
One collection was created to demonstrate how a variety of different fabrics can all be made
using the same equipment. Extra-fine merino/Lycra from Luigi Botto in a feather weight single
jersey; a hairy, bulky fabric containing wool/mohair/Lycra yarns from Raumer; a thick crochet look
in silk/Lycra from Filiatura Botto Poala; and a tuck construction in cotton/Lycra from Cauillez
Freres were all knitted on the same Stoll machine.

The Technology Of Comfort

Presenting color trends for Solutia, consultant Phil Shroff said: "Fiber innovation continues,
with technology coming up with modifications that take care of the concerns of modern society." His
examples are "antimicrobial, antifungal and antiodor properties for underwear and socks,
antiallergens to provide freshness in home textiles, UV protection, antistatic and antimagnetic
properties, moisture absorption and moisture transport for comfort, temperature control and muscle
stimulation for performance enhancement and aromatics for relaxation."
Shroff showed six groups of colors. A range of neutral tints is sandy in feeling. There is
very little grey. Intense whitened pales and sherbet midtones are used tonally, with white as
accent. There are eight vibrant shades in the brightest range. A second group of brights is warm,
deep and spicy. Darks are "to be applied on satin finishes to look like liquid metal."
Fabrics Shroff recommends include crepes and crepons with a crisp, dry hand, silky organzas,
sensual satins and soft spongy surfaces. Tie-dyes, ikats and burn-outs are mentioned, along with
double-faced fabrics and rubber touches.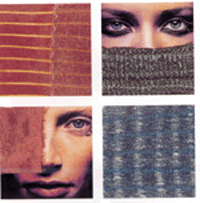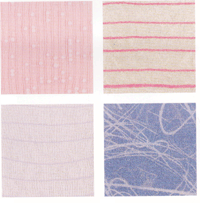 Return To Elegance

Angelo Uslenghi, who heads a committee that sets trends for the Italian textile trade show Moda
In Tessuto, held in Milan twice a year, previewed Spring/Summer 2001 to New York designers and
press.
"Sloppy is out," he said. "There will be a return to elegance and fluidity. There is a
symbiosis of nature and technology. A new generation of man-made fibers has the look of natural
fibers, and natural fibers are copying the easy-care and performance characteristics of man-made
fibers.
"New finishing treatments give fabrics a light coating. They can be lubricated, moisturized,
hydrated, lightly chintzed or slightly soaked with polyurethane. The hand is sometimes a bit soapy
or peach skin to the touch," he added.
Specific fabrics mentioned by Uslenghi include crepe, voile, fine jersey, georgette, mesh,
rip-stop, chambray, etamine, cloque, canvas, muslin, drill and denim. Fabric surfaces are often
bubbled and puckered, or they can be open with eyelet or laser cut patterns. Stretch is a
given.

IFFE Under New Management

Advanstar Communications has taken over management of IFFE (International Fashion Fabrics
Exhibition). The next IFFE, April 11-13, will have a new layout, new exhibitors and expanded
display areas.
A group of trend forecasters met in January to select color and fabric directions to be shown
at IFFE. Their conclusions confirm a return to color, ranging from soft cosmetic shades, earthy
clay and terra cotta tones, creamy and sandy neutrals, full pastels with a high-tech quality,
sunbaked darks and two ranges of bright colors.
Fabric choices include crisp sheers, open lacy looks, wrinkles, pleats, nylon rip stop, light
taffeta, shantung, linen, poplin, twills and denim.
Metallics will continue, sometimes with a matte luster. Light chintz surfaces were also
mentioned. Washed and faded surfaces and stretch are other trends to look for.
The committee noted patterns and prints are making a strong comeback. The range goes from
blurred water color florals and soft botanical prints on sheers, to Hawaiian surfer motifs, madras
plaids, tropical designs, stripes, dots and spots and summer paisleys.

Prints In The Spotlight

Spring/Summer 2001 will be a big print season," said Massimo Iacoboni, organizer of Printsource,
a show selling surface designs from more than 20 studios. "We were surprised by the turn out of
buyers, considering the weather. The January event was our best attended ever."
This sentiment was echoed by Eileen Mislove of Inprints, where 15 design studios exhibited
prints and patterns. "Business was up 10 percent."
London Portfolio, a group of eight British designers that exhibited at Inprints, noted that
for the past two years embroideries have sustained their business.
The Colorfield, another Inprints exhibitor, also reported that embroideries are beginning to
taper off, prints have returned. Small to large multi-floral designs, brightly colored tropicals,
spots and dots and stripes are among their best sellers.
At Printsource, Tom Cody, who sells his designs to international textile companies and
designers, agreed. "Embroideries are still selling, but 2001 is all about color, and that bodes
well for prints. At the moment we are selling dots, tie-dyes, tropicals, op-art and pop art. There
is a lot of interest in a refined, up-scale hippie look which is slightly reminiscent of the '60s
and '70s," he said.
The Design Library, also at Printsource, has the world's largest archives of documentary
designs, some dating back to early 1700. In addition to selling antique swatches, designs are
available on CD-ROM. There are three sections — florals, geometrics and ethnics — which include
conversational and period styles. There are 484 color images in the floral section.

Italian Collections

A contingent of Italian textile companies, selling under the banner Texitalia Club, brought a
first look at fabrics for Spring 2001 to New York. Although lines were incomplete and buyers were
filling in with orders for Fall, what did turn up gave a reality check to forecasters.
Cotton knits, cotton/nylon wovens with a crisp or soft hand, and ultra-light faux snake are
some of the new items at Nello Gori (Francesca De Vito). Technical fibers are also in this line,
including Amicor antibacterial acrylic from Acordia and DuPont's Kevlar.
Milior (Gordon Textiles) continues with technical innovation. They are showing antistatic and
antimagnetic treatments.
At Picchi there is crinkle stretch, sheer coated fabrics, printed linen and many bright
colors. Manteco Mantellassi (Andrew Koenig) has linen/viscose shantung, chambray, and bold stripes.
There is stretch, double-faced and washed linen at Linea Emme (International Textile Workshop).
Linea Tessile Italiana (Horne & Weiss) has developed linen gauze with a very soft hand.
They sell it printed with large scale boarder designs and enormous flowers. Linen denim is a fabric
they introduced a year ago. They are showing it in two weights, dyed in shades of green or brown as
well as indigo.
---

March 2000