Michael Robertson is president and CEO of the Fairfax, Va.-based Specialty Graphic Imaging
Association (SGIA), a trade association with a membership base of more than 4,000 printers and
industry suppliers located in 80 countries. Last year, the SGIA Expo drew more than 21,000
registrants, and in May, it was recognized as one of the fastest-growing shows in America by Trade
Show Executive magazine. This year, SGIA will be colocating its event with the Industrial Fabrics
Association International's IFAI Specialty Fabrics Expo 2013 in Orlando October 23-25.
Robertson has been with SGIA since the early 1980s, constantly striving to move the industry
forward. As CEO, Robertson is a proponent of investigating and supporting new technologies. The
growth of the industry, he believes, rests in its acceptance and development of new markets based
on new technologies, and he is dedicated to helping SGIA members understand and prepare for the
challenges and competition inherent with new technology. Robertson's goal for the association is to
make it the primary information resource for the industry. SGIA's mission is to provide members
with the know-how, advice and knowledge to help them succeed.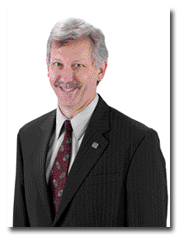 Michael Robertson, president and CEO, SGIA




Textile World: Please give us a short description of SGIA, its members and
scope.
Robertson: Specialty Graphic Imaging Association members are center stage in the
specialty imaging world. Digital printing, screen printing, embroidery, sublimation and pad
printing are their primary imaging technologies, and they use them to create products or add value
to existing products.
The SGIA community comes together once a year at the SGIA Expo. The SGIA Expo is one of the
100 largest trade shows in the U.S.

TW: The opening statement on your website says that "SGIA is the only
international association for specialty imaging." What is specialty imaging?
Robertson: Specialty imaging encompasses a wide array of products that are either
enhanced through a printing process or produced through imaging technologies. Our largest industry
segment is focused on graphic products for retail customers. SGIA members create point-of-purchase
displays, signs, banners and advertisements. They image on paper, vinyl, plastics, glass, metal
and, of course, fabrics. Other SGIA members focus on decorating apparel, producing OEM [original
equipment manufacturer] markings and manufacturing printed electronics parts. Each of these
disciplines is a specialty imaging application.

TW: How would you describe the textile industry's involvement in specialty imaging
printing? What are the types of fabrics being used?
Robertson: The SGIA community is using imaged fabric to address a number of
graphic applications today. Fabrics are popular because they are lightweight and easy to store and
ship, and they provide a different feel than rigid signage or large-format graphics. We're seeing
many new mounting systems for fabric applications, too. Added finishing capability certainly helps
grow the imaged fabric market. In fact, imaged fabric is one of the fastest-growing areas in
specialty imaging.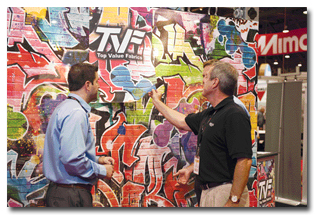 At the 2012 SGIA Expo, Top Value Fabrics displayed an example of imaged fabric, a
fast-growing area of specialty imaging.

TW: Do you see new markets for textiles in the printing industry?
Robertson: Absolutely. The ability to customize fabrics through imaging offers
opportunity in just about every market where fabric is used today. Plus, imaged fabrics have become
a major competitor in graphics markets where vinyl and rigid substrates were once the only game in
town.

TW: Are there any special issues of concern for the industry?
Robertson: SGIA dedicates a major effort to keeping members informed of
legislative issues. The equipment and consumable manufacturers are very active in developing
products and capabilities that meet the needs of the community while providing safe and sustainable
solutions.
The globalization picture has changed dramatically in the past few years. We've seen print
buyers make a strong move toward localized production. They need high-quality imaging, quick
turnaround and flexibility as their customer base shifts. With the latest imaging technologies,
SGIA members in the U.S. and Canada are very cost-competitive with global print providers and much
better at addressing the rapidly changing marketplace.

TW: This year in Orlando, the SGIA Expo will be colocating with the IFAI Specialty
Fabrics Expo. What is the synergy between your two events? How does each add value to the other's
event?
Robertson: We're very excited to have the partnership with IFAI. Fabrics are an
important media for specialty imagers. We believe the IFAI colocation will be an idea-starter for
our community as members consider new uses for imaged fabrics. Also, I expect the SGIA community to
use the colocation to find new and different finishing applications that also could lead to new
products and opportunities. For the IFAI community, I anticipate they will consider fabric imaging
possibilities on a new scale by visiting the SGIA Expo.

TW: What will be new this year at the SGIA Expo?
Robertson: You can count on many exhibitors unveiling new imaging capabilities at
the expo. You'll see new hardware, an expanded array of media and substrates, and consumables that
target specific market segments. This year, we're introducing the Digital Textile Printing Zone.
Here, participants will benefit from a wealth of information on digital textile printing including
technical and design requirements, recommended workflows, color management tips, finishing
techniques and recommended best practices for a variety of ink and fabric combinations.
One of the biggest values at the SGIA Expo is the expertise of the attendees. The expo is an
amazing learning experience.

TW: What is the future of printing on textiles?
Robertson: In a word, the future of printing on textiles is "profitable."
September/October 2013