MONCHENGLADBACH, Germany — November 23, 2015 — As of November 2015, PSP Marketing has been appointed the new sales and service partner of A. Monforts Textilmaschinen GmbH & Co. KG in the United States and Canada. The Germany-based textile finishing machine manufacturer, A. Monforts Textilmaschinen had previously been represented by AMC Corp. in Charlotte, N.C.

After almost 30 years of successful Monforts representation, the former President of AMC, Joseph A. Okey, handed over the Monforts U.S. and Canada Sales and Marketing and spare parts activities to Tony Jones, managing director, Charlotte-based PSP Marketing.

Jones and his partner Alex Franco have been active in the dyeing and finishing machine business for several years and can offer customer backup with service- and spare parts-support with experienced Monforts specialists in their team.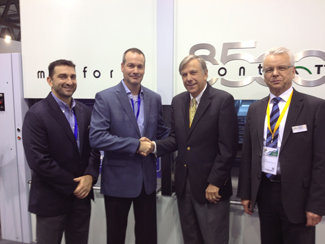 Left to right: Alex Franco, Tony Jones, Joseph A. Okey and Roland Hampel, managing director, Monforts marking the transition from AMC to PSP during ITMA 2015 in Milan.

Posted November 24, 2015

Source: A. Monforts Textilmaschinenfabrik