DReAM is a new digital textile printing machine developed by Reggiani Macchine S.p.A., Aprion
Digital Ltd. and Ciba Specialty Chemicals Inc. According to the companies, the printing machine is
the first high-speed digital textile printer – allowing 1.6-meter-wide, 600-dpi resolution prints
at speeds of up to 150 square meters per hour.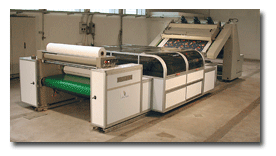 DReAM digital printer
The machine combines Italy-based Reggiani's substrate conveying system with Israel-based
Aprion's multiple array graphic ink-jet color (MAGIC) drop-on-demand piezo six-color ink-jet print
heads.
Switzerland-based Ciba Specialty Chemicals created CIBACRON® RAC reactive inks especially for
the DReAM printer. Ciba claims the inks are suitable for cellulosic fabrics, will produce bright
shades and will perform well.
Other ink types are in development, including acid inks for silk and polyamide/Lycra® blends,
disperse inks for polyester and pigmented inks for various fibers for home furnishings
end-uses.DReAM has undergone various customer trials at the Reggiani facility in Italy. The
companies expect the machine to be available later this year.
January 2003