No Shortage Of Solutions
Textile industry looks to suppliers for chemistry that simplifies processes, improves quality
and adds value. What trends do leading suppliers to the industry see on the horizon in
textile chemistry Customers are looking for better removal of waxes and oils, and to improve the
rewetting of the fabric so that wetters and other dyeing auxiliaries are kept to a minimum or
eliminated altogether, stated Scott Jacobs, marketing communications manager,Cognis Textile
Technology, The Netherlands. The trend for volatile organic compound (VOC), and HAP-free
chemistries is continuing we observe a new push for reduction of alkyl phenol ethoxylates in many
areas of the country. Best known for the manufacturing of flame-retardant (FR) chemicals for
the textile and paper industry, Apex Chemical Corp., Spartanburg, S.C., is also looking to the
future. Jeffrey Chamberlain, technical sales manager, said, Today, a large portion of our business
now rests with auxiliary type products such as ultraviolet (UV) absorbers, fluorochemicals, stain
blockers and dye assistants such as levelers, deaerators and dispersants.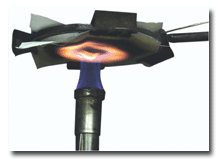 Flame test is performed on a 100-percent cotton sample treated with Apex Chemical's
Flameproof 1725 FR coating. Because we are conventionally a flame retardant manufacturer, we
can look at our market driven somewhat in this order: regulation; innovation; and customer
expectation. We have recently developed a sublimation-fast UV absorber (Uvapex CFW) for
polyester, which contains a unique dispersion package that inhibits spotting on jet-dyed polyester
while offering great lightfastness. The product allows the user to run many more lots of goods
through a jet without cleaning, as our product prevents spotting which commonly occurs due to
build-up of trimer in the jets. Flame RetardantsIf it were not for regulation, there would be
virtually no need for flame retardants, said Chamberlain. We have developed solutions for pending
regulations relating to the manufacturers of mattress ticking and furniture upholstery.We have also
seen an increased need for flame-retardant back coatings, which offer to the consumer a soft hand.
Too often it is felt that certain desirable fabric properties must be compromised in order to meet
flame retardant regulations often this is not true.On other areas of development, Chamberlain
added, There seem to be many innovations introduced using wool. Although wool is an inherently
flame-retardant product, there are certain applications where FR treatment is required. For that we
have developed Apex Flameproof 1694, which rivals the acclaimed Zirpro process in performance but
surpasses it in ease of application.Mike Zavaglia, vice president, Amitech Inc., Oxford, N.J.,
said, We see excellent growth for the domestic textile industry for flame retardants. In the last
few years, we have come out with over two dozen brand new FRs, plus we carry most of the me-too
products. One wrinkle we have focused on is making halogen-free exhaustible FRs for almost every
fiber type. We now have exhaustible products in our line for polyester, nylon, acrylic, wool and
other synthetics. Among the benefits of exhausting over padding [are] softer handle, less color
change from finishing on a frame, better wash durability, better uniformity of the application of
the flame retardant and, in the case of the polyester, the FR actually has increased dye yield
slightly.Our intumescent line is another hot area. We are working with customers in so many
different areas: knits, wovens and nonwovens. The new mattress flame-resistance regulations pending
in California are giving us many opportunities to meet the new requirements with intumescents. Our
intumescent products, we call Pyromescents, can be coated, sprayed or padded on. They can be made
durable to washing, and our entire line has very low smoking properties when the flame is
applied.Pyrozyl 6P is our exhaustible, durable FR we sell mostly into the airline blanket and
automotive industries, said Zavaglia. Improving PerformanceBayer Corp. has a lot of new
protective finishes for textiles and carpets under our BayProtect® hang tag, said Brad Potter,
sales and marketing manager, Technical Textiles. Specific products include Baygard® EDW, which is
an oil/water durability extender based on polyurethane chemistry. Also, along the same lines, is
our line of Baypret® polyurethane finishes for improved abrasion resistance and hand modification.
A recent improvement in our fluoropolymer line of Baygard water repellents is offering new
opportunities in traditional apparel finishing that was not present before.Within the dye
auxiliaries category, Bayer has developed Tanasperse OLG, a unique in-bath trimer reducing
agent.OMNOVA Solutions, Performance Chemicals, Fairlawn, Ohio, recently announced the formation of
RohmNova, a joint venture of OMNOVA and Rohm and Haas Co., Philadelphia. According to OMNOVA, the
joint venture will market, sell and service latex binders, synthetic pigments, and specialty
chemical additives for coating applications in the global paper and paperboard industry. The
parties had been operating successfully as a strategic alliance for more than a year. Products
introduced in late 2001 to the floor care, carpet, and specialties markets, including applications
utilizing the companys proprietary PolyFox fluorochemical technology, are also gaining market
acceptance.Endurion, OMNOVAs high-performance, coated, woven fabric brand, recently was introduced
for upholstery applications in heavy-traffic environments in the hospitality and healthcare
markets.NOVEON Textile Chemicals Inc., Charlotte, reports from a finishing perspective that recent
trends call for apparel manufacturers to produce garments that provide the wearer a new level of
comfort, durability and functionality. Mark Carlough, product manager, textile chemicals, said,
Several products recently introduced to the market to assist textile manufacturers to achieve these
goals are Permax® 200, a first-generation of patent-pending polymers that can be engineered to give
controllable moisture-vapor transport properties in breathable fabrics for sportswear, protective
apparel and other technical fabric substrates. "Fabritone® LT-M8, a new silicone softener, provides
a softer, silkier hand to apparel substrates than previous product offerings. Freecat® brF is a new
catalyst developed for improved efficiencies in Durable Press Resin fixation by utilizing either
lower curing temperatures or greater operating speeds. Unidyne® TG-532, an aqueous fluoropolymer
emulsion originally developed for the nonwoven industry, provides excellent water- and
oil-repellency properties to apparel fabrics with a high level of durability to abrasion and
home-laundering conditions. In addition, the product is free of isocyanate compounds.Carlough
added, Noveon continues to develop new products for the domestic fabric and upholstery markets,
such as print binders and back coatings that enhance end-use properties such as colorfastness,
fabric softness, flexibility and flame retardancy.Cognis Jacobs said, Fabric performance is where
we see the industry moving. There are more and more requirements to improve the hand, moisture
management and durability of soil and water repellency. Cognis has recently introduced a line of
Repellan® durable water and oil repellents to the U.S. market and is in the process of completing
testing of a new line of products called Skin-Tex. These new products are designed to bring the
performance of our cosmetic-base chemistry together with textiles. They would include odor control,
fragrance and other skin nutrients. In addition, we currently have a global agreement with Microban
to provide antimicrobial finishes to the textile industry. Adding ValueRobert Casciani, Ph.D.,
market development manager, Sanitized® antimicrobial products, Clariant Corp., Charlotte, points to
a growing trend of adding value with antimicrobials. The Sanitized brand has offered solutions in
extruded products as well as finishes. Sanitized has been an active brand for over 70 years, and
globally since 1952. Casciani added, The T96-21 product is a versatile antimicrobial finish for
many fabrics and end-uses. On polyester and nylon fabrics it can be applied during dyeing, and can
be applied to polyester, nylon and cotton during frame finishing we need a pH of 5 for the product
to be substantive and provide durable protection.Casciani said, With a growing trend of consumer
awareness regarding chemical finishes on apparel fabrics, the sister product to T96-21 in Europe,
T96-20, has been approved by Oeko-Tex, Switzerland, which certifies products as consumer-friendly.
This is the only antimicrobial product registered under the current Oeko-Tex standard. The trend is
strong in Europe and South America, and we see it strengthening in the United States.As Betty
Tilley, product manager for dyeing and finishing, Apollo Chemical Corp., Burlington, N.C., noted,
Trends that we see are in value-added performance chemicals. Our customers want to separate
themselves from their competitors. Performance is critical, but so is pricing. There are several
segments of the textile industry doing very well, like denim, flat wovens, sheeting these companies
are looking for good products at a very competitive price.Tilley continued, Apollo Chemical Corp.
introduced new patent-pending technology in the area of moisture modifiers. AQUATEK UNO is a
hydrophilic nylon polymer which imparts hydrophilicity to nylon 6 and nylon 6,6 fabrics. When
applied by exhaust to nylon fabric, the product provides absorbency, vertical wicking and moisture
transport to the nylon fabric. With an application of AQUATEK UNO, nylon fabrics have a quicker
evaporation rate than typical nylon fabric. Application by exhaust ensures excellent durability to
home launderings. Application amount varies by weight of fabric and desire to have a durable
finish.Apollo also distributes BioShield AM500, an antimicrobial from BioShield Technologies,
Norcross, Ga. This patented technology inhibits growth of both gram-positive and gram-negative
bacteria, and also controls mold and mildew formation, which often creates odors and discoloration
on fabrics.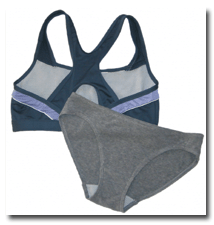 trAPTEK's carbon finishing technique imparts UV protection, as well as odor and moisture
control, to a variety of textile products.Gregory Haggquist, director of technology, trAPTEK LLC,
explained the startup company located in Longmont, Colo., and Bedford Hills, N.Y., is introducing a
durable finishing technique incorporating activated carbon into a wide range of textiles. The
activated carbon adds three major performance features, according to Haggquist: odor management
(trapping odors both from the wearer and the environment); moisture management (increasing the base
fabrics wicking power by up to 100 percent); and UV protection (enhancing the UV protection factor
(UPF) by up to 400 percent) leaving the wearer feeling cool, clean, fresh and natural.
Haggquist continued, The integrity and effectiveness is retained through extensive home laundering,
and potential applications are in the activewear, sock, hunting apparel, carpeting, upholstery,
military, intimatewear, baby products and medical industries. "ATAC" Pretreatment SystemSusan
Cellura, manager, marketing communications, NAFTA, with Ciba Specialty Chemicals, Switzerland,
noted, In pretreatment, we see a trend in simpler recipes at a lower cost constantly trying to make
the pretreatment process more efficient. The demand to reduce cycle times and save water is greater
than ever. Control of iron is becoming a big issue due to customers trying to use a cheaper,
poorer-quality cotton to reduce costs. Preparing cotton under pressure at high temperatures is
becoming more and more common this again is due to mills trying to compensate for a poorer cotton
quality. The use of enzymes to neutralize peroxide is growing rapidly.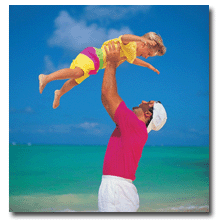 Ciba's Tinofast CEL liquid provides protection against UV radiation when applied to
cellulosics, according to the company. Ciba launched its new ATAC pretreatment system this
year. Cellura reports the system allows mills to significantly reduce the time it takes to prepare
fabric for dyeing and dramatically reduces the amount of water required to effectively prepare the
material. According to the company, it does all this at a price that has saved most plants 10 to 40
percent in their cost to prepare goods. The system includes three products:TINOCLARITE COM is a
combination product and is all that is needed in the bleaching or scouring bath. No additional
lubricant is necessary, and in most machines a defoamer is not required.INVATEX AC is a washing-off
agent that contains special dispersants that allow customers to reduce the number of rinses while
still effectively cleaning up the fabric. It also neutralizes remaining alkali, eliminating the
need to use additional acetic or citric acid. TINOZYM CAT is an enzyme for neutralizing peroxide
that can be carried over into the dyebath without problems eliminating the need for a fresh bath
and saving time and water. Unlike other products in the market, it has an extremely wide pH and
temperature application range this allows you to go straight into any type of dyeing without
worries, Cellura noted.When asked about iron, Cellura said, We are recommending INVATEX AC. This
product is extremely effective at controlling iron. It is effective in a very wide pH range, making
it suitable for addition into any pretreatment step where extra iron control is needed. Dyeing
AuxiliariesThe dyeing industry is constantly seeking improvements in efficiency, energy savings and
product quality, commented Danny Thompson, technical advisor for dyeing auxiliaries, CHT R.
Beitlich Corp., Charlotte. It looks like there are two current trends in the textile industry that
will affect the wet processing of textiles microfibers and stretch fibers particularly in the
apparel area. In general, these fibers create additional challenges for the dyer to achieve level
dyeings with acceptable fastness.Thompson continued, Rewin KMB is used in nylon dyeings as an
in-bath fixing agent. By eliminating the traditional fixation cycle at the end of the dyeing
procedure, this product can save considerable time. The Rewin KMB has leveling properties as well.
And in some cases, it is used as a one-bath leveler and fixative. Because of its special chemistry,
it helps avoid a common problem of residual leveling agent in the yarn or fabric. This residue
carries into the post-treatment fixative bath, where incompatibilities create a precipitation
(usually brown spots) on the dyed substrate. Rewin KMB avoids this precipitation to produce clean,
level, first-quality dyeings.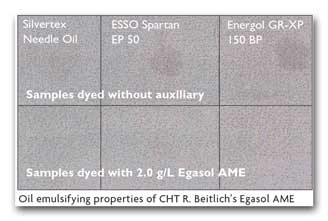 Egasol AME for polyester dyeings has a unique chemistry that allows it to function as
both a leveling agent and an emulsifying agent. This combination of properties can help the dyer
eliminate the traditional pre-scour step on most polyester styles. While still fulfilling its role
as a leveling agent, Egasol AME will emulsify any residual processing oils typically removed during
pre-scour during the dyeing process.For cotton dyeing, CHT R. Beitlich has developed Sarabid LDR,
which can eliminate off-quality dyeings caused by streakiness in piece dyeing and unevenness in
yarn-dyed packages, said Thompson. This product is a special dispersing agent and sequestering
agent that works to prevent agglomeration of reactive dyes. In a non-classical way, the Sarabid LDR
acts as a leveling agent for reactive dyeing of cotton by keeping the dye particles finely
dispersed and protected from water hardness.BASF AG, Germany, has developed the ECOFIT product
range for pretreatment. The ECOFIT products include detergents, wetting agents, extracting agents,
peroxide stabilizers and complexing agents and have been introduced as ecologically and technically
adapted to the meet the requirements of tomorrow.Cyclanon ECO is an ecologically advanced reductive
aftertreatment for use on PES fibers. Cyclanon ECO is supplied in a easy-to-handle liquid form and,
according to the company, the product lowers process costs because there are no pH adjustments
needed anywhere in the process. This, in turn, ensures faster colors in significantly faster
times.Steve Glosson, senior applications chemist, Boehme Filatex Inc., Reidsville, N.C., stated,
Trends that we are responding to with our products are ones that enable savings of cycle/processing
times, energy and water. Our customers are interested in technologies that enable them to get
more performance out of traditionally limited processes. An example would be obtaining better
fastness properties from pigment dyestuffs, enabling darker shades/prints (usually produced with
more expensive dyes with better fastness) to be produced more economically.In the case of the
dyeing of medium to dark shades, our Tabanol RFK-Jet-R, designed for cellulosic dyeing on jets,
enables the dyer to run an abbreviated preparation cycle, along with eliminating several other
chemicals traditionally used in the cycle. The Tabanol RFK-Jet-R eliminates the need for a
defoamer and contains wetting, lubricating, dispersing, and calcium- and magnesium-chelating
properties. Thus, one product takes the place of separate chelate/dispersant, defoamer and
lubricants. This translates into savings of time, energy and chemical inventories.For the
processing of nylon substrates we have developed Durofin SPDX, which is an antioxidant that
protects the fiber from yellowing during dry heat processes during fabric finishing, or, in the
case of intimate apparel, during molding/forming operations. Chemical Supply ChainAt a recent
presentation in Europe titled New Strategies for Catering to Customer Needs, K. Michael Lanham,
commercial director, Xiameter, explained that Xiameter.com is a Web-enabled business introduced by
Midland, Mich.-based Dow Corning that is focused on reducing costs and offering the lowest base
price for standard silicon-based products. Dow invested more than $100 million in back-office over
a five-year period, utilizing the SAP® global platform to create one global Enterprise Resource
Planning (ERP) System. The system offers the ability to view global activities in real-time
ordering, scheduling, production and shipping.Xiameter benchmark product pricing is posted daily on
the site and offers customers choice, low cost and an easy way to do business on-line targeting
customers who buy in large volumes and know what they need in the way of mature silicones.The
company has received a positive reception for Xiameter. According to Lanham, Its a win-win.
Compounders and formulators who know the products they are looking for can get them at lowest cost
with a firm commitment on guaranteed shipping date. Xiameter brings Dow Cornings silicone
technology into the supply chain in an easy, cost-effective way for customers who know what they
want. We still maintain the Dow Corning service level for those who need it as well.DyStar,
Germany, took over the business operations of Color Solutions Inc., Charlotte. As a leading
supplier of color standards to the industry, Color Solutions primary customers are retailers,
producers of brand-name goods and purchasing organizations with global textile interests. Color
Solutions establishes customized color standards on the basis of the customers technical,
commercial and ecological requirements. The company will operate independently under the name Color
Solutions Inc. John Darsey, former co-owner, responsible for global sales, stated, Through its
worldwide presences, DyStar can support the implementation of color standards in textile
mills. Better ChemistryThe textile industry continues to look to suppliers for chemistry that
simplifies processes, improves quality and adds value that differentiates products. There is no
lack of activity in fact, the added-value proposition seems clearly in focus for suppliers. Strong
emphasis on process optimization and quality is a point of consensus, and new products are
appearing on the horizon to assist dyers, printers and finishers to move well beyond commodity
products.

September 2002