A

still-sliding economy continues to take its toll on textiles and other major US
industries. Especially disturbing: The reluctance on the part of consumers to spend the money they
do have. Personal savings (the percent of disposable income not spent), for example, is now running
near 5 percent. That's the highest level for this key business indicator in some four years – and a
significant shift from just a year or two ago, when a negative savings rate prevailed, with people
spending more than they earned. Much of this penny pinching, of course, can be attributed to the
huge drop in net worth occasioned by the housing and stock market meltdowns. In any case, consumer
spending has slipped significantly – falling at about a 4-percent annual rate since last summer,
after more than a quarter century of steady growth. About the only consolation – if you can call it
that – is that declines in big-ticket consumer durables like cars, personal computers and TVs have
been far more precipitous than those reported by the textile and apparel industries. Year-to-date
figures, for example, show auto sales trailing comparable 2008 figures by 40 percent (and by close
to 50 percent in the case of Detroit's "Big Three"). That's far more than the modest slippage noted
by both apparel and home furnishing retailers. Nor is any dramatic change in this pattern expected
anytime soon. Most business analysts see further, though decelerating, gross domestic product (GDP)
declines through summer. And the picture seems to be much the same as far as textiles and apparel
are concerned.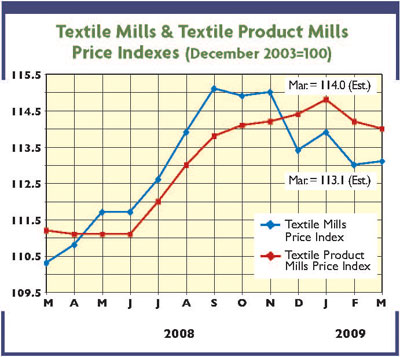 The Impact On Profits


The above near-term outlook can also be expected to keep industry earnings and margins under
downward pressure. Net profit for basic textile products like yarns and fabrics, for example, are
projected to show another decline this year – with totals for the year dropping 5 to 6 percent
below 2008 levels. And a similar picture is seen for more highly fabricated mill products like
carpets and home furnishings, where the earning slippage is put somewhere around the same
magnitude. Apparel companies won't escape unscathed either – though the latest estimates here
suggest a bit more modest 3-percent drop-off in the industry's 2009 after-tax earnings. In all
cases, these declines are larger than those projected as recently as last fall before the extent of
the current business meltdown became apparent. On a somewhat rosy note, however, all these
textile/apparel subgroups should remain profitable – at least on an overall industry-wide basis.
And clearly, there will be no repeat of the negative numbers that were reported as recently as
2000. Also worth noting: These new 2009 profit projections are also a lot better than those being
made for many other consumer-oriented durable goods industries. This absence of any really big
drop-off in mill and apparel manufacturers profits can probably be attributed to three factors: The
above-mentioned more moderate fall-offs in consumer demand; reduced raw materials production costs;
and rising worker productivity – which, when combined with only very modest hourly pay raises, has
helped keep unit labor costs on a relatively even keel.

A Longer Look Ahead


The really big question mark, however, is what happens next year when things hopefully begin
to turn around. Unfortunately, any quick bounceback seems highly unlikely. Right now, most
economists and business analysts are betting on only a very modest 1- to 2-percent increase in the
nation's GDP for 2010. The problem is that this won' t be nearly sufficient to generate enough
purchasing power for any textile and apparel gains. Global Insight, for example, anticipates
further domestic sales deterioration for these industries in 2010 – with declines that year put at
3.5 percent, 6.5 percent and 7.5 percent for basic textiles, textile mill products, and apparel,
respectively. If any positive spin can be put on these numbers, it's the fact that analysts at this
prestigious economic consulting and forecasting firm feel these shipment declines will be far less
than the 15-percent-or-so drops anticipated for all three of these categories over the current
year. Global Insight's profit forecasts also provide some reassurance of better days ahead. The
firm's rough approximation of this key indicator representing sales less labor and material costs
should actually begin to move up again next year in the textile sectors. If correct, it would
follow four consecutive years of textile earnings shrinkage. Bottom line: The industry, while
clearly a lot less smaller than it was a few years back, will still be a major world player as we
move into the second decade of the 21st century.
April 14, 2009