T

he latest round of mill statistics continues to disappoint. Zero in on the basic mill
sector, and output has fallen another 3 percent over the latest available three-month period. And
even more disturbing: Compared to a year earlier, this key barometer of textile health is off by
double-digit amounts. This pretty much checks out with a similar hefty falloff in mill shipment
numbers. Moreover, the picture is not that much better when it comes to more highly fabricated mill
products such as carpets, household furnishings and industrial textiles. Here, the production
numbers are down about 2 percent vis à vis three months earlier and down some 8 percent over the
past year. And again, this yearly decline is confirmed by a comparable drop-off in mill shipments.
To be sure, incoming orders have tended to improve a bit in recent weeks. But these won't be nearly
enough to prevent 2008 from being the worst textile year since 2001, when overall mill production
dropped some 10 percent as the first big onslaught of Chinese imports began to hit the US market.
To sum up: All the evidence now points to another significant drop for 2008 – with mill
slippage expected to be somewhere in the 7- to 9-percent range. All this, in turn, is contributing
to more excess domestic capacity, even with continuing mill closings and some slowdown in new plant
and equipment investment. At last report, for example, mills were producing at only around 65
percent of their potential – some 5 percent points under the last year and about 9 percent below
levels prevailing as recently as 2006.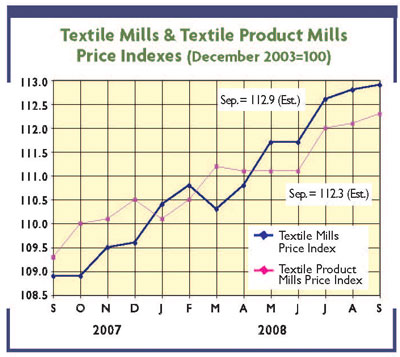 The Bottom Line Impact


Given all these reductions in overall mill activity, it should come as no surprise that
industry profits are also shrinking. Analysis at Global Insight, for example, sees dollar earnings
this year dropping in all three major textile/apparel sectors. Using their rough measure of profits
– dollar shipments less raw material and labor costs, this prestigious economic forecasting firm
now sees earnings of basic textile mills falling to near $5.3 billion this year – well under the
$5.9 billion reported last year. And it's pretty much the same story for more highly fabricated
textile product mills, where last year's $9.5 billion profit total is projected to slip to near
$8.6 billion. Finally, a somewhat smaller decline, from $6.1 billion to $5.9 billion, is
anticipated for apparel manufacturers. Compare these latest estimates to the profit levels
prevailing only four years earlier – and the new numbers look even more dismal – with profits in
these sectors down 30 percent, 15 percent and 11 percent, respectively.
On the other hand, Global Insight analysts project a somewhat better performance for the
next two years, when earnings are seen bottoming out in all three sectors. Equally significant, the
firm remains modestly upbeat about the really long term – with profits expected to remain on a
relatively even keel in all three textile/apparel areas well into the second decade of the new
century.

Behind The Slowdown


Why all these industry woes? This time, it's not so much a new drop in textile and apparel
imports, but rather the negative impact of the Wall Street meltdown and a sluggish economy, which
together have made consumers a lot more cautious. Again, the numbers tell the story. Backing up the
feeling that imports aren't the problem is the fact that incoming shipments so far this year have
actually declined a bit. Obviously, then, the import share of the US textile/apparel market hasn't
really increased. The blame, instead, can only be attributed to a shaky economy. And this is a
situation that isn't likely to get any better as we enter the last quarter of the year. One reason,
aside from Wall Street concerns, is the still-high price of gasoline. True, pump quotes have
slipped a bit of late. But it would take an additional 10- to 15-percent drop to get them back to
where they were earlier this year. Another problem is slowing income growth. So far this year,
gains have tapered off to less than 3 percent at an annual rate – well under the increases of
recent years.
To a large extent, it's this slowdown – when combined with rising unemployment and declining
home values – that is continuing to undermine consumer confidence. Not surprising, one recent
survey of economists suggests little more than a flat consumer spending pattern for the immediate
future. True, new government business-propping moves – along with the end of uncertainties
engendered by the upcoming election – will eventually make for some turnaround. But it will take
time, with even a modest recovery not expected before next spring.



October 2008