G

rowing concern about the 2008 general business picture is raising some new questions and
fears as to how our textile and apparel industries will fare over the next few quarters. It's
pretty clear, for example, that most consumers are beginning to tighten their purse strings –
reflecting the negative effects of both the subprime mortgage meltdown and today's $3-per-gallon
and higher gasoline prices.
If nothing else, buyer confidence has taken a hit. Nevertheless,

Textile World
continues to remain cautiously optimistic that a full-blown business correction can be
avoided. The Fed, for example, has already taken steps to brake any slide by continuing to lower
interest rates. Washington lawmakers, fretting about the impact of a business slowdown on the
upcoming November elections, also are taking action, in the form of new fiscal simulae, to
jump-start our shaky economy. That's not to say, of course, that these current problems won't
result in somewhat lower-than-hoped-for first- and second-quarter textile shipments. But despite
this,

TW
still sees only a modest overall decline in mill activity for the year as a whole – something
only in the 4-5 percent range, and actually a bit less than the slippage noted over the past year.
Also on a reassuring note: While overall retail clothing sales slipped during the latest reported
month, December, they still managed to stay some 2-percent ahead of year-earlier levels.
Implication: Big-ticket consumer items – rather than apparel – are bearing the brunt of the current
consumer slowdown.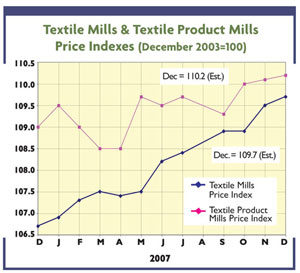 Changing Import Trends

Still another potentially positive sign: decelerating textile and apparel import gains.
Indeed, the latest monthly government report shows incoming totals on a square-meter-equivalents
basis actually running fractionally under year-earlier levels. If nothing else, it represents a
refreshing change from the steady tattoo of increases recorded over the past few years. To be sure,
one month doesn't make a trend. And

TW
certainly does not expect negative numbers to become the norm. On the other hand, it does
seem to suggest that 2008 incoming textile and apparel shipments may not turn out to be all that
much above last year's total. Part of this import deceleration reflects the fact that overseas
producers have already captured the lion's share of these industries' vulnerable commodity markets
– making further import penetration considerably more difficult. Another part of the import
slowdown can be attributed to the growing success of domestic mills and manufacturers in
establishing niche markets that are a lot less sensitive to cutthroat overseas competition.
Finally, today's somewhat smaller import gains may also be a reflection of an improving
international exchange rate situation – one where a generally weaker dollar is making it somewhat
more expensive for Americans to buy overseas textile and apparel items. Indeed, there is already
some evidence of this kind of price effect – with Uncle Sam's import price index for basic textile
products now running some 4 percent above year-ago levels.

A Closer Look At Exchange Rates

The fact that currency rate swings have tended to show significant country-by-country
differences can't be ignored either. Indeed, in many cases, such changes are forcing major shifts
in global procurement strategies. One case in point: India, whose currency – the rupee – has jumped
11 percent vis-à-vis the dollar over the past year. This rupee runup, by driving up the cost of
Indian apparel, has been forcing US buyers to shift procurement over to neighboring countries like
Pakistan, Bangladesh and Sri Lanka – nations whose currencies are now a lot cheaper.
One JCPenney buyer perhaps best sums it all up: "If we don't get the right price in India,
we will move elsewhere." Nor is India the only glaring example of sizable exchange rate swings –
shifts that are making for significant changes in buying patterns. Thus, the better-than 10-percent
and 7-percent appreciations of the euro and the yuan, respectively, over the past year are having
some impact on trade flows from these countries as well.
Perhaps the most important change may now be occurring in China – the United States' major
source of textile and apparel imports. Note, for example, that Beijing's currency jumped a
surprisingly large 2.3 percent during the final two months of 2007. Add that onto earlier 2007
gains, and the yuan's value has advanced some 7 percent in just one year. Moreover, go back to July
2005, when the yuan was first unpegged from the dollar, and the yuan is up a sizeable 13 percent.
All this may already be having some impact on imports from that nation. Incoming Chinese textile
and apparel shipment gains are now running well below the double-digit levels of the previous few
years.