E

arly 2006 activity continues to hold up tolerably well despite still-rising import
levels. The January report from the Tempe, Ariz.-based Institute for Supply Management – a
grassroots group that surveys the nation's leading purchasing executives – puts textiles and
apparel on the list of industries reporting growth in both new orders and production. To be sure,
the sample of firms queried is small and might well be slightly off the mark.
Nevertheless, these findings lend credence to the feeling that the bottom isn't about to drop
out from under the textile market. In any event,

TW
's near-term forecasts for domestic production of basic textiles like yarns and fabrics over
the next six months or so suggest little more than a 4-percent annual rate of decline. Moreover,
any losses in this sector could be partially offset by steady to even a bit higher activity in the
more highly fabricated home furnishings and floor covering areas.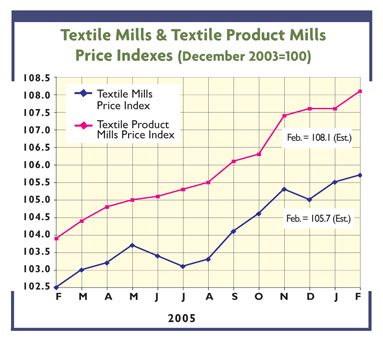 A Long Look Ahead


There's also some indication the long-term prognosis for the industry isn't all that bad. Key
evidence here comes from brand-new production projections by the Bureau of Labor Statistics (BLS).
A just-released 10-year study calls for an average annual decline of only about 3.2 percent overall
for basic textile mills – with no specific subsector expected to experience any catastrophic
decline. While hardly bullish, this does seem to suggest the American textile industry is here to
stay. In looking a bit closer at three key basic textile subgroups, a 3.7-percent average annual
decline over the next decade is seen for fabric mills; 2.8 percent for textile and fabric finishing
and coating mills; and 2.4 percent for fiber, yarn and thread mills. Moving over to the textile
product mill area, some small gains are forecast – 2.5 percent overall – with a higher 3.1-percent
advance seen for textile furnishing mills. On the other hand, as might be expected, apparel
manufacturing output will continue to disappoint, falling by about 2.9 percent annually over the
next 10 years.

A Smaller Workforce


The downward pressure on textile and apparel employment, however, looks a little more
disturbing, primarily because of expectations for continuing solid industry productivity gains –
advances that will allow each employee to turn out more units of product for each hour worked. More
to the point, BLS projections call for these substantial productivity advances: 3.5 percent a year
for basic textile mills; 4.5 percent for textile product mills; and 5.8 percent for apparel. While
all this should be great for holding costs down, such efficiency gains will tend to intensify job
losses, which for the basic textile mill sector are as follows over the next decade: overall, 6.7
percent a year; fabric mills, 7.5 percent; and textile and fabric finishing and coating mills, 6.2
percent. Average job declines for the textile mill product sector should be somewhat more modest –
about 2 percent a year, with the textile furnishing mills subsector dropoff put at only 1.3 percent
a year. Look for considerably rougher sailing for the hard-pressed apparel industry, where an
average annual 8.7-percent employment decline is anticipated.

Imports


Some hints on how the ongoing US/China trade conflict may play out are emerging. US
officials, in an effort to slow down Chinese import gains, are not calling for much tougher
enforcement of existing trade laws. Results of next month's Washington meeting between President
George W. Bush and Chinese President Hu Jintao will also bear close monitoring. White House
officials are expected to argue the yuan is still grossly undervalued and press for a much more
significant upward yuan revaluation, pointing out the US trade deficit with China – the largest for
any single country – rose to a record $202 billion last year – more than 20-percent above 2004's
level. The textile and apparel subsector deterioration was even greater – with 2005 Chinese
incoming shipments here soaring 44 percent on a square-meter-equivalents basis. To be sure, 2005
overall textile and apparel imports rose by a much smaller 8.3 percent, but only because the huge
Chinese influx was partially offset by sizeable declines in shipments from Taiwan, Hong Kong and
Korea.



March/April 2006