D
espite recent sluggishness, there's now some hope of a modest business pickup by fall,
which sooner or later should translate into better apparel and household furnishings sales. In any
event, economists, citing new stimuli, now predict better second-half growth. One survey of 54 top
analysts sees the gross domestic product growing at a 3.5-percent annual rate over this period — a
lot faster than the 1- to 2-percent pace of the first half. And for the first six months of 2004,
these same economists look for an even bigger 3.8-percent advance.
One factor behind this new optimism: US households will have an additional $47 billion in
cash to spend over the second half, thanks to the recent tax cuts. A somewhat more buoyant stock
market and improving business profits also should help. Ditto, consumer reluctance to spend on
big-ticket items like autos, leaving more money available for purchases of less expensive items
such as apparel.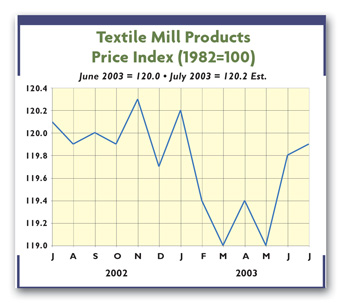 Impact Of Textiles

What does all this mean for hard-pressed textiles? While nobody is predicting a dramatic
turnaround, the hemorrhaging of the past few years should end — certainly with no repeat of the
past 24 months, during which US textile production tumbled 10 percent. Best bet: a flattening out —
with even some fractional gains, but that should be about it. Given the current competitive climate
— exacerbated by soaring Chinese imports — it would be unrealistic to expect any really substantial
bounceback. A lot could depend on how the United States plays the Chinese import card.
The American Textile Manufacturers Institute sees three import-slowing solutions: imposition
of China textile safeguards that would restrain that nation's shipments when all quotas are removed
in 2005; World Trade Organization action on the ministerial level to retain quota controls; and
pressure on China to abandon currency manipulation, export tax rebates and state subsidy
programs.

Pricing Problems Will Persist

There's no indication of any meaningful price relief anytime soon. Indeed, despite a weak
dollar, which eventually could make imports more expensive, foreign price competition remains as
strong as ever.
China again is the glaring example of this. Last year, a study of 29 Chinese apparel
categories showed tags slipping a hefty 46 percent. The trend has continued into early this year,
when these same quotes fell another 2 percent.
Today's more-than-ample domestic supply is another price depressant. US mills are operating
at only around 70 percent capacity. That's a rate that tends to reinforce already-strong price
competition, as mills push to keep their facilities operating at economically viable
levels.

An Early Look At 2004 And 2005

New projections by the Global Insight economic consulting firm provide some hints about the
longer term — notably 2004 and 2005. In 2004, the firm sees industry revenues basically unchanged
from this year. But that's still a lot better than the 9.6-percent, 3.6-percent, and estimated
6.2-percent declines for 2001, 2002 and 2003, respectively. For 2005, Global Insight analysts
anticipate some fractional gains, expecting revenues to inch up 0.6 percent. If these numbers
materialize, it would be the first meaningful gain in eight years. And with little overall change
in material and service input costs, these revenue gains are expected to drop down to the bottom
line.
Specifically, Global Insight sees gross operating profits up for both years. Ditto, the gross
profits/sales ratio, estimated at 19.4 percent and 20.1 percent for 2004 and 2005, respectively.
That's significantly better than the 18.2-percent estimate for the current year. These profit gains
are pretty much across the board — shared by broadwoven fabrics, knitting mills, and carpets and
rugs.

Statistical Note

As promised last month, the employment data shown in the table below have been revised and
expanded to reflect the replacement of the Standard Industrial classification system with the North
American Industry Classification System. The industry has been split into two sectors — Textile
Mills and Textile Product Mills — with the items covered by each shown in the table footnote.

August 2003