Federal Reserve Will Most Likely Avoid A New Rate Hike; No Visible
Signs Of Inflationary Pressures

The evidence from latest set of economic reports is that the American economy is on a high year
despite the two quarter point increases in short-term rates.
The Federal Reserve is on the lookout for possible signs of a pickup in the cost of labor and
the inflation measures before stepping in with a third rate increase.
While the unemployment rate came down again to a 29-year low and oil prices crossed the $24
per barrel mark there are no visible signs of inflationary pressures. As a result, the Federal
Reserve will most likely avoid another rate hike in its October meeting.
Strong consumer spending and business investment, coupled with a turnaround in U.S. exports
led to the creation of 124,000 nonfarm payrolls in July, after adding 338,000 jobs in June.
The pace of factory job losses narrowed in the last two months to an average of 9,500 from
36,000 per month during the first half of the 1999.
The August jobless rate dipped again to a 29-year low of 4.2 percent in August from 4.3
percent in July. Since March the rate has been 4.2 percent or 4.3 percent in each month.
The Producer Price Index for finished goods rose 0.5 percent in August, the largest gain
since April.
A surge in energy prices pushed consumer prices up 0.3 percent in August for the second month
in a row. Core inflation was up just 0.1 percent after rising 0.2 percent in July, signalling that
inflation is under control.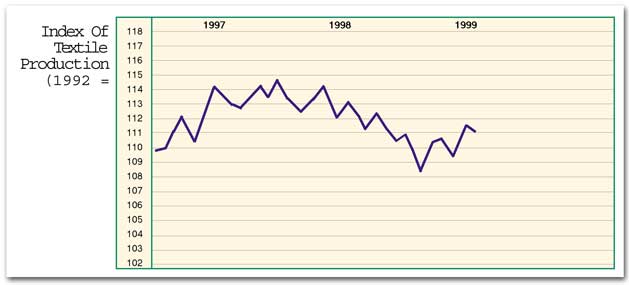 Industrial Production Increases Again, Factory Output Up After
Rising In July

Industrial production grew 0.3 percent in August, after gaining 0.7 percent in July. A
4.4-percent surge in motor vehicles and parts output accounted for most of the August gain.
With temperatures back down to normal levels utility output declined 1.6 percent following
sharp increases the previous two months.
Factory output was up 0.4 percent after rising 0.6 percent in July. And, the operating rate
of industrial capacity edged up to 80.8 percent from 80.7 percent in July.
With the jobless rate at a 29-year low, demand for new housing units continued to be strong
despite the rise in mortgages rate above 8.15 percent. Housing starts rose 0.4 percent in August to
a still booming annual rate of 1.68 million units. Single-family units declined 1.3 percent in
August to 1.30 million.
Business sales advanced 0.4 percent in July, as durable goods sales jumped 0.8 percent.
Meanwhile, business inventories grew 0.3 percent. As a result, the July inventory-to-sales
ratio was left intact at 1.34 in July.

Results For Textiles And Apparel Mixed Despite Strong Overall
Economic Activity

Despite strong overall economic activity, results for textiles and apparel were mixed.
Industry payrolls inched up 0.1 percent in August, after plunging 1.3 percent in July. The
jobless rate for textile mill workers edged down to 5.2 percent from 5.3 percent in July.
Textile output declined 1.1 percent in August erasing July's 1.1-percent gain. Despite the
gain, output remained 0.6-percent below the year-ago level. The utilization rate for textiles eased
to 82.8 percent of capacity from 83.6 percent in July.
Shipments by textile producers rose 1.5 percent in July after falling 1.3 percent in June.
Inventories fell 0.7 percent. As a result, the inventory-to-sales ratio came down to 1.53 from
1.57.
U.S. retail sales surged 1.2 percent in August paced by brisk demand for new cars and
clothing, the largest gain in six months. Retail sales were strong in July rising by 1.0 percent.
At apparel and accessory stores sales helped by back-to-school purchases rose 1.3 percent, the
first gain in three months.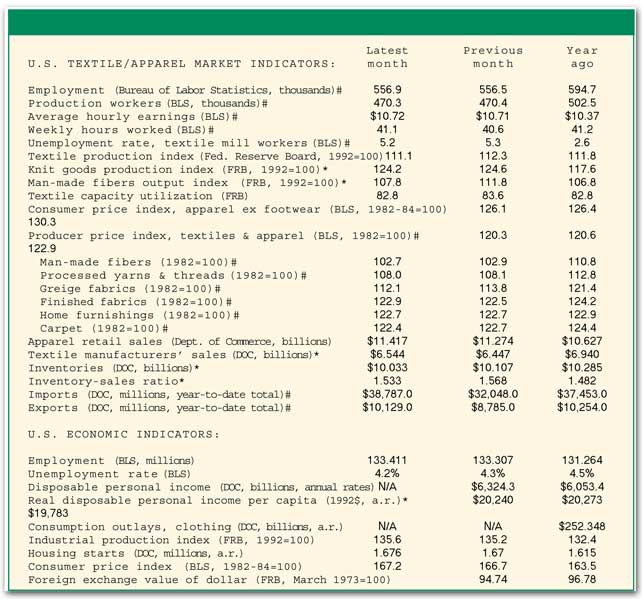 October 1999