Kinetex, a textile composite flooring product manufactured by Dalton, Ga.-based J+J Flooring Group, was named a grand prize winner in the flooring solutions category in Buildings magazine's annual Product Innovations Awards.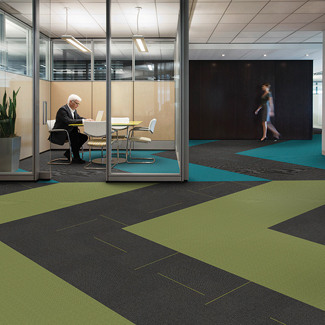 Kinetex flooring from J+J Flooring Group
Minneapolis-based G&K Services Inc. has introduced a new line of enhanced-visibility garments featuring GlenGuard FR® from Glen Raven Inc., Glen Raven, N.C. The line, manufactured by Workrite Uniform Co., Oxnard, Calif., includes 4.5-ounce work shirts and coveralls, and 6.4-ounce work pants.
Klüber Lubrication, Londonderry, N.H., has introduced Klübertherm HB 88-182 for the long-term lubrication of rolling bearings.
AmeriPride Services Inc., Minnetonka, Minn., was recognized by the Textile Rental Services Association with the SafeTRSA Innovation Award and the Clean Green Innovation Award.
United Kingdom-based Federation of European Screen Printers Associations (FESPA) has relaunched its Planet Friendly Guide into one introductory guide and 10 subject-specific guides.
Research Triangle Park, N.C.-based AATCC, the Association of Textile, Apparel and Materials Professionals, still has small quantities of L2 lightfastness control fabric Lot 8 available. Lot 9 has been manufactured and approved, and will go on sale as soon as supplies of Lot 8 are exhausted.
Carmel, Ind.-based Top Value Fabrics has launched a new website, TVFMedia.com for its print media products.
Stockholm, Sweden-based Atlas Copco's ZS screw blower range currently is celebrating its fifth year of production.
Italy-based RadiciGroup has released its 2013 Sustainability Report, the 11th such report published by the company.
November/December 2014