Cuyahoga Falls, Ohio-based
Americhem Inc. has updated its nFinity™ Field and Logo Color Selector Guide to
include card wrapped color samples and the latest accelerated weathering data for colors that have
been subjected to 6,000 to 10,000 hours of accelerated testing.
Ann Arbor, Mich.-based
CIMdata Inc. has launched a new website, cimdata.com, that incorporates its
cpd-associates.com website.
The Research Triangle Park, N.C.-based
American Association of Textile Chemists and Colorists (AATCC) Foundation Inc. has
launched the AATCC Foundation Endowed Scholarship Program, which will allow a sponsor to donate
funds that will form the basis for an ongoing, annual scholarship.
Dalton, Ga.-based
Shaw Industries Group Inc. has released a Health Product Declaration (HPD) and
Environmental Product Declaration (EPD) for its EcoWorx® carpet tile backing system.
Portsmouth, N.H.-based
Loftware Inc.'s Loftware Spectrum® 2 labeling solution has achieved SAP-certified
integration with the SAP NetWeaver® technology platform.


The
American Apparel & Footwear Association (AAFA), Washington, has published the
13th edition of its Restricted Substances List (RSL) covering apparel, footwear and home textiles.
The Brussels-based
World Customs Organization has added Australia-based
Authenticateit Pty Ltd.'s Authenticateit system to its global network of track and
trace and authentication solutions.
The
International Oeko-Tex Association, Switzerland, named Laconia, N.H.-based
Madeira USA Ltd. its Company of the Month for October.



Trade Benefits America, Washington, has published "Reality Check: Time to Get the
Facts Right on TPA."
Lawrenceville, N.J.-based
Datacolor has relocated its
Datacolor Asia Pacific (HK) Ltd. division to: Flat 11, 9/F Wing on Plaza, 62 Mody
Rd., Tsimshatsui East, Kowloon, Hong Kong. Phone number and email address remain the same.
Mount Holly, N.C.-based
American & Efird LLC (A&E) has been named to EHS Today's 2013 list of
America's Safest Companies.
The
International Cotton Advisory Committee (ICAC), Washington, has made available
free of charge the Technical Seminar Papers presented during the 72nd Plenary Meeting of the ICAC,
held Sept. 29-Oct. 4, 2013, in Cartagena, Colombia.
Paris-based
JEC Group has issued a call for papers to be presented at the Innovative
Composites Summit (I.C.S.) programs presented in conjunction with the JEC Americas Composites Show
& Conferences; and is accepting applications for the JEC Innovation Awards, presented at the
shows. Applications for JEC Americas Spring, to be held May 13-15, 2014, in Atlanta, are due Feb.
3, 2014; and for JEC Americas Fall, to be held Oct. 28-29, 2014, in Boston, are due July 15, 2014.
For more information, contact Nicolas Baudry =864-314-3381; baudry@jeccomposites.com.
Wellford, S.C.-based
StarChem LLC has launched its new website, located at star-na.com.
Switzerland-based
Sanitized AG has been given the Swiss Technology Award in the "Sustainable Leader"
category for its new Sanitized® Pluma technology, which inhibits bacteria formation on prostheses.
TenCate Advanced Armor Primarette, France, has received the Highly Protected Risk
Award from
FM Global, Johnston, R.I.
The
Secondary Materials and Recycled Textiles (SMART) Association, Bel Air, Md., has
launched the Recycling Rangers program for elementary school teachers to promote awareness among
students of clothing and textile recyling.
Tuscaloosa, Ala.-based
Phifer Inc. has updated its website, phifer.com; and has launched its social media
presence at facebook.com/phiferincorporated and youtube.com/phiferincorporated.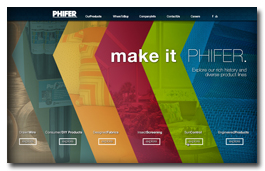 Phifer's new website



Minneapolis-based
AmeriPride Services Inc. has opened a safety apparel store at 5211 22nd Ave. West,
Williston, N.D., 58801.
New York City-based
Setlog Corp. as relocated its Amityville office to 708 3rd Ave., 6th floor, New
York, NY, 10017; +212-209-3969; fax +212-209-7111.
The
International Apparel Federation (IAF), the Netherlands, has named the
African Cotton Textiles Industry Federation (ACTIF) an association member.
Cincinnati-based
Cintas Corp.'s Maumelle, Little Rock and Searcy, Ark., facilities have received
ARVets' Outstanding Veteran Employer award.
The
Sustainable Apparel Coalition (SAC) has launched the 2.0 version of the Higg
Index, a tool for measuring product sustainability across the industry value chain.
Erie, Pa.-based
Eriez now offers a downloadable brochure for its Eriez® Xtreme® Metal Detector.
The brochure is available free-of-charge in PDF format at http://purity.eriez.com.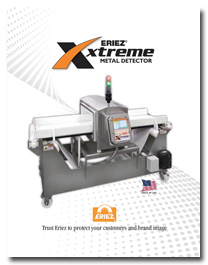 Eriez's Xtreme® Metal Detector brochure




Rivierenland Water Board won the 2013 Water Innovation Award in the Dry Feet
category for a vertical sand-tight geotextile that allows water but not sand to pass through. The
geotextile features the Netherlands-based
TenCate Geosynthetics EMEA's TenCate Geotube® and GeoDetect® technologies.
November/December 2013