New York City-based
Anvil Knitwear Inc. is sponsoring the Earth Day Organic Indoor Learning Garden
program in partnership with Earth Day New York, to be held April 22, 2012.
Dalton, Ga.-based
Shaw Industries Group Inc.'s Shaw Contract Group division has opened Leadership in
Energy and Environmental Design (LEED®)-registered Commercial Interior (CCI) showrooms in Mexico
City and Shanghai. Shaw partnered with Mexico-based Terza Inc. to open the Mexico City showroom,
which is pending Retail certification. The Shanghai showroom is pending LEED CI Gold certification.
Los Angeles-based
Tuftex Carpets
of California's Color Coordinates Display received a Gold Outstanding
Merchandising Achievement Award from The Global Association for Marketing At Retail (POPAI) at the
2012 annual GlobalShop Trade Show in Las Vegas.
Austria-based
Lenzing AG announces that all of its fibers have been certified to The European
Eco-label and the Nordic Ecolabel. In addition, nonwovens made from 100-percent Tencel® and Lenzing
Viscose® have received TÜV Rheinland Group's Deutsches Institut für Normung e.V. (DIN) Certco
certification as compostable products; Tencel Sun fiber won the Sustainability Award in the
category "Fabrics & Fibers" at the 2011 International Trade Fair For Sporting Goods and Sports
Fashion (ISPO); Tencel fiber has been certified as 100-percent Biobased by the U.S. Department of
Agriculture (USDA); and Lenzing FR® fiber has been certified as 96-percent Biobased by the USDA.
Jefferson, Ga.-based
Buhler Quality Yarns Corp.'s Supima® cotton, MicroModal® and MicroTencel® yarns
have received Oeko-Tex® Standard 100 Class I certification.
Newark, Del.-based
W.L. Gore & Associates Inc. has launched its new website, located at
GoreProtectiveFabrics.com.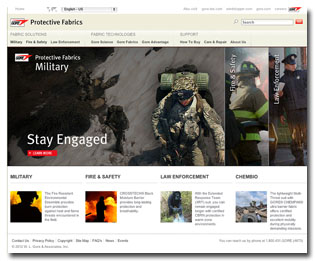 Gore's new website


The Arlington, Va.-based
American Apparel & Footwear Association (AAFA) has released the tenth edition
of the AAFA Restricted Substances List (RSL) for home textiles, apparel and footwear applications.
AAFA also now offers its members access to iSupplier Intelligence, a global directory of suppliers.
Wichita, Kan.-based
Invista's Cordura® HP fabric has been selected for use in Herschel Supply Co.'s
Spring 2012 Woodland Camo Collection of bags.


The
NewMerino™ brand of Australian Merino wool has launched a Facebook page, located
at
facebook.com/NewMerino.
Laconia, N.H.-based
Madeira USA has released the 2012 version of "Source Guide, The Commercial
Embroiderers' Complete Catalog of Suppliers," available online and as a printed copy.
The
Technical Association of the Pulp, Paper, Packaging and Converting Industries
(TAPPI), Norcross, Ga., is accepting nominations through August 1, 2012, for the 2013
TAPPI Awards. Nominations may be emailed to standards@tappi.org; faxed to +770-446-6947 ATTN:
Awards Department; or mailed to TAPPI, Awards Department, 15 Technology Pkwy S, Norcross, Ga.,
30092. TAPPI also is offering the William L. Cullison Memorial Scholarship to students for the
2012-13 school year. Application deadline is May 1, 2012. For more information, contact
tappi.org/About-TAPPI/Award–Honors.aspx.
Vancouver, Canada-based
Recovery Systems International (RSI) has acquired the rights to license The
Official Sleep Products of Ironman®, and will manage the global rights to sub-license the Ironman
brand in the sleep products category.
Ventura, Calif.-based
Patagonia Inc. has released a video to promote its partnership with NewMerino®.
The video is available for viewing at

http://video.patagonia.com/video/Global-Merino.
France-based
Mermet's Cortina and Siena 100-percent recyclable polyvinyl chloride-free solar
protection fabrics have received Cradle to Cradle certified (CM) Silver certification by McDonough
Braungart Design Chemistry LLC (MBDC).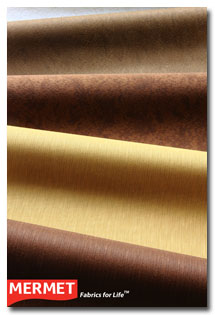 Mermet's Cortina and Siena Solar protection fabrics
Germany-based
Terrot GmbH has launched its new website, located at
terrot.de.
Zepol Corp., Minneapolis, has released the "2011 U.S. Port Report," available at
zepol.com; and has enhanced searching capabilities of its online
TradeIQ™ trade intelligence tool.
Shirley, Mass.-based
Bemis Associates Inc. has opened an office in Vietnam, located at Unit 708, Tung
Shing Square Bldg, 2 Ngo Quyen St., Hoan Kiem District, Hanoi, Vietnam; phone +84-4-3-9352620/1;
fax 84-4-3-9352623.
Visual 2000 International Inc., Montreal, has launched the Visual 2000 On-Demand
Training program to provide its clients with exclusive remote training classes.
Camira Fabrics Ltd., United Kingdom, has launched in North America its Xtreme and
Urban upholstery fabrics manufactured from 100-percent post-industrial recycled polyester and
featuring engineered stretch and good flammability performance.
Michigan City, Ind.-based
Sullair Corp. has launched its new website, sullair.com.
The
U.S. Department of Commerce Office of Intellectual Property Rights has redesigned
stopfakes.gov, its website offering U.S. government tools and resources on intellectual property
rights (IPR). The website, administered by the International Trade Administration, offers new
resources, improved usability and a helpful tool to access targeted assistance from a number of
U.S. Government offices.
Ferndale, Wash.-based
Samson Rope Technologies Inc. has been awarded U.S. Patent No. 8,109,072 for its
MLX rope, which is the first fiber rope on the market comprising a blend of high modulus
polypropylene (HMPP) and high modulus polyethylene (HMPE).
Edison, N.J.-based
ADI Logistics has opened a distribution center in Carson, Calif.
Hoboken, N.J.-based
John Wiley & Sons Inc. has published the book "Zennovation," by Tomio Taki.
The book details how Taki turned his family's 200-year-old textile manufacturing company into a
global business.
SGS Consumer Testing Services, Fairfield, N.J., announces it has relocated its
textile testing laboratory in Egypt to 6th of October City, 3rd Industrial Area, Block 60, Oil
Station St., Cairo.
The
Textile Rental Services Association of America (TRSA), Alexandria, Va., is
celebrating its 100th anniversary this year.
Los Angeles-based
Robert Kaufman Fabrics and Durham, N.C.-based
Spoonflower Inc. have launched Fabric8, a competition to find eight new, modern
fabric designers. Deadline for submissions is April 24, 2012. For more information, contact
fabric8contest.com.
April 2012