The Chicago Athenaeum Museum of Architecture and Design has presented two Good Design awards to
Atlanta-based
Interface Inc. The awards recognize international design excellence for
InterflaceFLOR's World Textiles Collection™ and FLOR's Reoriented™ floorcovering solution.
Dalton, Ga.-based
Beaulieu of America Inc. has been named the Soft Surface Supplier of the Year by
Manchester, N.H.-based Flooring America.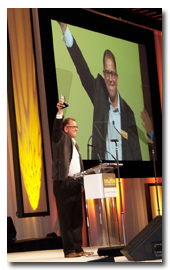 Ken Sherwood,
vice president of national accounts for

Beaulieu of America, accepts the Supplier of the Year award from Flooring
America.
Carlstadt, N.J.-based
Pantone LLC has released the Pantone® Fashion Color Report Fall 2012 featuring the
top 10 colors for men's and women's fashion for Fall 2012.
Sweden-based
Atlas Copco has been named to Corporate Knights' 2012 Global 100 Most Sustainable
Corporations list.
Florence, Ky.-based
Ticona — the engineering polymers business of Dallas-based Celanese Corp. — and
Tokyo-based
Kureha Corp. are celebrating the 20th anniversary of their joint venture Fortron
Industries LLC, which produces Fortron® polyphenylene sulfide at its plant in Wilmington, N.C.
Camira Fabrics Ltd., United Kingdom, has joined the International Interior Design
Association as an industry member.
Miami-based
Radiation Shield Technologies' Demron® Class 2 Full Body Suit has been certified
compliant to the International Organization for Standardization's 8194:1987 Radiation Protection —
Clothing for protection against radioactive contamination — Design, selection, testing and use.
Beresford, S.D.-based
Sioux Corp. has launched its new website, located at
Sioux.com. The company also has announced that all
non-explosion-proof Sioux equipment operating at 600 volts AC or lower has been third-party
approved to UL508A and CAN/CSA-C22.2 No. 14-10.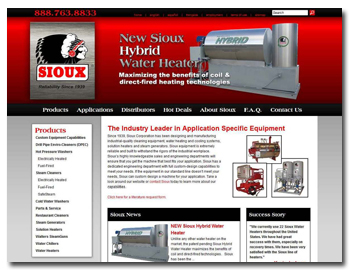 Sioux Corp.'s new website
Organic fabric designer
Harmony Art, Gualala, Calif., and organic online fabric retailer
Organic Cotton Plus, Ridgefield, Conn., have received Global Organic Textile
Standard (GOTS) certification.
United Kingdom-based
Textile Media Services Ltd. has published "China Technical Textiles: key producers
and market trends to 2015," by Chen Nan Yang.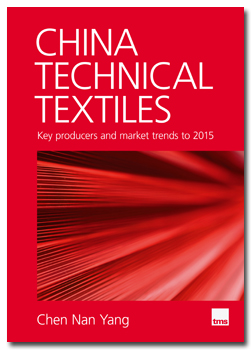 "China Technical Textiles: key producers and market trends to 2015," published by Textile Media
Services Ltd.
The U.S. Customs and Border Protection's (CBP's)
Office of International Trade now offers online editions of the quarterly Textile
and Quote Newsletter to provide outreach to CBP and the trade assisting in compliance and
uniformity.
Spain-based
Valentin Rius Clapers S.A. has launched a YouTube channel.
Ann Arbor, Mich.-based
CIMdata has released "The Next Industrial Revolution," a research paper focused on
the global industrial machinery market.
The
Cashmere and Camel Hair Manufacturers Institute, Boston, has released a brochure
to educate consumers on how to choose genuine cashmere apparel. The brochure is available in
Chinese, German, English and Italian.
The
Federal Trade Commission (FTC) is seeking public comments on the continuing need
for, benefits, costs, and impact of the Wool Product Labeling Rules; as well as how the Commission
should modify the rules to implement the Conforming Act. Comments should be submitted with the
subject Wool Rules, 16 CFR part 300, Project No. P124201″ at
https://ftcpublic.commentworks.com/ftc/woolanpr.
Italy-based
RadiciGroup has released "RadiciGroup for Sustainability — The Cartoon," a video
covering the company's sustainability efforts.
February 2012