Testex Swiss Textile Testing Institute
, Switzerland, has opened a representative
office in Melbourne, Australia, to introduce and promote textile quality standards including
Oeko-Tex
®
Standard 100.
MarChem CFI Inc., New Haven, Mo., has launched a new website, located at
www.marchemcfi.com. The site details MarChem's product
offering and includes a Textile University section that educates visitors on industry standards and
test procedures.
DyStar Textilfarben GmbH, Germany, is now a member of the Organic Exchange.
EzTextiles LLC, New York City, now offers an online digital library of more than
25 million fully editable royalty-free, production-ready textile designs including woven plaids,
stripes, prints and knits. The service is available at
www.eztextiles.com.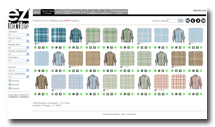 ExTextiles' digital library page
The
American Association of Textile Chemists and Colorists (AATCC), Research Triangle
Park, N.C., offers a downloadable, searchable version of its book "Dyeing for a Living," a history
of the organization, online at
www.aatcc.org. AATCC also has released the Textile Fiber
Supplement, a companion document to its AATCC Test Methods 20 and 20A, for complete fiber
identification and analysis.
The
Synthetic Yarn and Fiber Association (SYFA), Gastonia, N.C., now offers the
Hoechst Celanese Dictionary of Fiber & Textile Technology on its website,
www.thesyfa.org.
RadiciGroup, Italy, has launched a new website,
www.radelast.com, dedicated to its RadElast
® elastane fiber product line, manufactured by its U.S. subsidiary, RadiciSpandex Corp.
Atlanta-based
Messe Frankfurt Inc. is offering the Techtextil North America 2010 Symposium
proceedings for purchase.
Anvil Knitwear Inc., New York City, has elected to have its entire product line
certified according to Oeko-Tex
® Standard 100.
The
FabricLink Network, Reseda, Calif., has added the California Fashion Association's
Glossary of International Trade Terms and Glossary of Environmental Issues; and the National
Association of Uniform Manufacturers and Distributors' Uniform Glossary to its website,
www.fabriclink.com.
July/August 2010